Helsinki Biennial's second edition opens to the public on Sunday 11 June
By envisioning various speculative futures, Helsinki Biennial: New Directions May Emerge brings together 29 international artists and collectives to explore alternative ways of living in, and understanding, the world. Curated by Joasia Krysa with five curatorial collaborators, the second edition engages with some of the pressing issues of our time, addressing environmental damage, political conflict and the impact of technology. On view until 17 September 2023, the biennial comprises around 50% new commissions and site-specific works that span installation, sculpture, film and performance.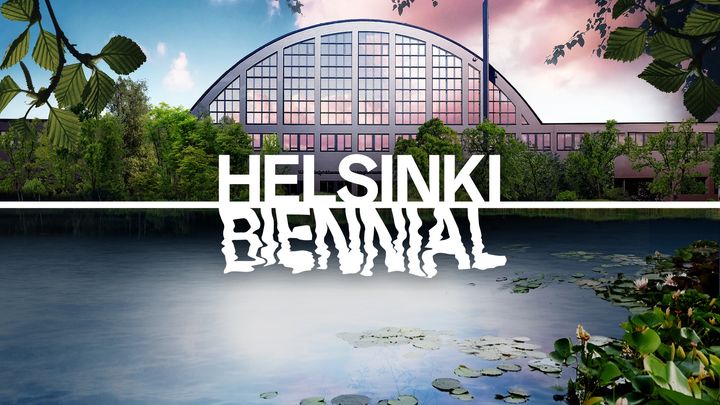 Building on the first edition's responsible approach to exhibition making, the biennial fosters collaboration with sustainability agency Positive Impact to create a new sustainability programme for both the biennial and wider HAM Helsinki Art Museum. Furthermore, it has continued to work closely with organisations and experts to make informed choices about hosting its second edition. For example, the idea and placement of each artwork has again been assessed with Metsähallitus (Parks and Wildlife Finland) and the Finnish Heritage Agency, with a focus on the conservation of both nature and historical buildings.
Juhana Vartiainen, the Mayor of Helsinki, says:
"We are proud of our international biennial which showcases Helsinki's cultural richness and spirit to the world. This year, Helsinki Biennial will be even closer to the people of Helsinki so that each resident and visitor will be able to experience art and be inspired by it. Art and culture are a great asset and source of pride for us; by bringing them to the heart of the city, we can spark conversations and strengthen community, togetherness and creativity – the very things that Helsinki is built upon."

Arja Miller, director of HAM Helsinki Art Museum, says:

"Helsinki Biennial, now launching its second edition, has become an intrinsic part of what HAM does. The biennial is both internationally ambitious while remaining a truly local event realised through the shared efforts of HAM and the City of Helsinki. Global challenges, such as biodiversity loss and the climate crisis, affect us all. In this time, we need fresh ways of understanding, perceiving, and finding answers to difficult questions. Artists have a special skill to give new forms to history, places, feeling, and thought: their artworks can represent the present and create the future, inviting visitors to gain new points of view, insight, and at times, consolation."
Helsinki Biennial 2023 expands across Vallisaari Island, HAM and the wider city
This year, Helsinki Biennial returns to Vallisaari, a former military island that is the most diverse natural and recreational destination in the Helsinki archipelago. 15 artworks will be situated on the island, both outdoors and within its historical gunpowder cellars, each operating in subtle dialogue with the surrounding environment and its unique ecosystem.
Joasia Krysa, curator of Helsinki Biennial, elaborates:
"The biennial takes its point of departure from Vallisaari Island, the regenerative energy of multispecies landscapes, and data which is manipulated by algorithms. It gathers ideas from an eclectic mix of influences – from natural science and cosmology, the supernatural and artificial intelligence, data science and science fiction, the sense-making practices of humans and nonhumans, the actions of sentient and other worldly beings – to identify some of the conditions through which new directions may emerge."
Installed in a wooden cabin on Vallisaari Island, Technoshamanic  Systems  by Suzanne Treister presents microcosmic non-colonialist plans for alternative visions of survival on earth and inhabitation of the cosmos. Treister's watercolour paintings are accompanied by a new AR component which makes the Interplanetary Meditation and Biospheres Islands element of the artwork appear to float up in the sky.
Jenna Sutela's Pond Brain, a water-filled bronze bowl expanding upon the shape of the artist's head, is also located on Vallisaari. The instrument invites the viewer to rub it in order to make it 'sing'. When played, it interacts with sound produced using machine learning technology to create an ever-emerging soundscape based on signals from the wider environment, including sounds from outer space and under the sea.  
Works by Diana Policarpo, Bita Razavi, Tabita Rezaire, Tuula Närhinen and INTERPRT will take over the large arched halls and a gallery space at HAM Helsinki Art Museum. Following her representation of Estonia at the 59th Venice Biennale, Bita Razavi's participatory sculptural work considers the political and colonial structures of different countries. Diana Policarpo's installation consists of massive, rock-shaped sculptures with embedded video and sound which investigate how humans treat the world as their property. Tuula Närhinen's Deep Time Deposits: Tidal Impressions of the River Thames depicts the river as a cyclical time machine and an archive of human life that is shaped by nature. Tabita Rezaire's Deep Down Tidal highlights water's complex narratives by examining how the submarine fibre optic cables that transfer digital data are layered upon old colonial shipping routes. INTERPRT's new work, Colonial Present: Counter-mapping the Truth and Reconciliation Commissions in Sápmi, is a case study which explores the histories of assimilation, land dispossession and state violence which continue to impact Sámi people through green colonialism.
Located in the city's Market Square, Dineo Seshee Bopape's work evokes connections to land and family through a new departure: a billboard in sculptural form made of rammed earth that is textured with organic material and rocks of various sizes. The new work seeks to find a path to remembering and re-membering through fragmented parts of personal and collective family histories. 
Helsinki Biennial 2023's public programme
The main exhibitions will be complemented by events, performances, workshops and discussions throughout the summer.
Lotta Petronella, Lau Nau and Sami Tallberg have created a transdisciplinary artwork interacting with the diverse inhabitants of Vallisaari Island through live events and performances. The work contains an apothecary, a lamenting choir, nightly recordings of moths, and a commemorative tribute to Ilma Lindgren – the person who secured the freedom to roam and forage in Finland. The work further invokes an oracle or cosmology of the island, with Lotta Petronella conducting personal oracle readings from hand-made cards created specifically for the artwork.
Danielle Brathwaite-Shirley invites visitors to take part in a role-playing performance event and installation exploring a new mythology for Vallisaari Island. Extending Brathwaite-Shirley's practice, which intertwines lived experience with fiction to imaginatively retell the stories of Black Trans people, visitors journey through various scenarios with characters guiding their collaborative decision-making. The characters take the form of physical sculptures on the island, with an online counterpart allowing visitors to listen to their background stories. While live events will take place over several days in June, August and September, the sculptures and online content can be experienced throughout the duration of the biennial.
Sonya Lindfors' common moves is a new collaborative artwork which can be described as a 'social choreography' or 'choreography of the community'. By occupying public space with simple scores and choreographies, the piece questions our conception of what we have 'in common': whether social norms and habits, or something shared, public, or regularly occurring. Rooted in local conversations and urgencies, common moves takes place across several sites around central Helsinki and is in collaboration with BIPOC artists and volunteers.
Created as a collaboration between anthropologists Yen-Ling Tsai and Anna Lowenhaupt Tsing, filmmaker Isabelle Carbonell, and farmer and translator  Joelle Chevrier, the  Golden Snail Opera is a multispecies enactment of experimental natural history. The golden treasure snail, first imported to Taiwan from Argentina in 1979 to start an escargot industry, is now a major pest for rice agriculture. While pesticides are often used in their extermination, a new generation of friendly farmers in Taiwan's Yilan County hand-pick the snails and integrate them within the ecology of the rice paddy. Golden Snail Opera incorporates percussion from Yilan opera, combining it with the noises of snails, water, birds, and other beings. Rather than just forming an accompaniment, the sounds engage in a dialogue with a script comprising material from interviews, participant observation, and imagination. Through video and text, various beings of the rice fields offer an enactment of harmonious coexistence. For Helsinki Biennial 2023, screenings with live performance readings of the Golden Snail Opera will be staged at Central Library Oodi in June and August.
The public programme also incorporates initiatives from many of Helsinki Biennial's curatorial collaborators. For example, Critical Environmental Data will create The Environmental Audiotour which comprises six audiostories that listeners can follow across various in-person locations in Helsinki or online. Museum of Impossible Forms will develop the Biennial's discursive program of lectures, screenings, performances, and gatherings titled Polyphonic Entanglements, as well as an Agonistic Intelligence/s Summer School in partnership with HAM. As part of the Helsinki Biennial 2023 Art Mediation Forum, ViCCA @ Aalto Arts will also organise and lead three collective experiences from the Curatorial School of "May", activating specific themes of the biennial through and beyond the artworks. Lastly, AI entity launches a website that combines HAM's collection with machine learning technology to create an online map of the city, inviting users to explore new groupings from the collection based on geolocations and machine-made metrics.
Read more about the programme here.
Please find a full list of the Helsinki Biennial 2023 artists here.
PRESS IMAGES FOR MEDIA USE Password: HB21media
Notes to Editors
Helsinki Biennial
Helsinki Biennial is an international contemporary art event which takes place on Vallisaari Island and extends to other locations on the mainland. Informed by Vallisaari – a former military island fusing wild nature and urban heritage – sustainable and responsible values lie at the core of Helsinki Biennial. Each edition includes major site-specific commissions by leading international artists. Helsinki Biennial embodies the city's ambitious cultural vision, committed to developing Helsinki's art scene both on a grassroots and institutional level. A major initiative of the City of Helsinki, the Biennial is produced by HAM Helsinki Art Museum. Its inaugural edition in 2021, 'The Same Sea', was curated by HAM's head curators Pirkko Siitari and Taru Tappola. www.helsinkibiennial.fi
Arja Miller, director of Helsinki Biennial and Helsinki Art Museum (HAM)
Arja Miller joined Helsinki Art Museum (HAM) and Helsinki Biennial as director in March 2023. Prior to this, she was Chief Curator of EMMA, Espoo Museum of Modern Art (2017-2023) and Chief Curator of Collections at Kiasma, Museum of Contemporary Art (2008-2017).
Her curatorial work includes numerous solo exhibitions for prominent artists such as Pierre Huyghe (Pierre Huyghe: Chimeras opens at EMMA on 7 June 2023), Elmgreen & Dragset, Chiharu Shiota, Daniel Buren, Tatsuo Miyajima and Alicja Kwade. Miller has also organized thematic group exhibitions, including "In Search of the Present" at EMMA, which explored the relationship between art, technology, and nature. She has co-curated major international group shows at Kiasma, such as ARS11 and ARS17, which focused on contemporary African art and artists' responses to the digital revolution, respectively. An accomplished writer, her areas of focus include museums as discursive spaces, installation art, new media art, and the intersections of art, sound, and music. She holds a Master of Arts degree from the University of Helsinki (1997) and a qualification in Business management in the museum context from the Management Institute of Finland (2012-2014).
Joasia Krysa, curator of Helsinki Biennial 2023
Joasia Krysa is a curator and academic working at the intersection of contemporary art and technology. She is Professor of Exhibition Research and Head of Art and Design at Liverpool John Moores University. Between 2012–2015 she was Artistic Director of Kunsthal Aarhus, Denmark. She was part of the curatorial team for Documenta 13 (2012), and co-curator of the 9th Liverpool Biennial (2016). Past projects have been presented at, amongst others, The Whitney Museum of American Art, ZKM Center for Art and Media, and Tate Modern. Her current research focuses on AI and curating.
Curatorial Collaborators
Critical Environmental Data, a research group at Aarhus University, exploring nature as data and the many possible futures that might emerge.
Museum of Impossible Forms (MIF), a cultural centre located in Kontula, East Helsinki, and the coming together of communities of art and cultural workers working to build anticolonial, antipatriarchal, and non-fascist practices and futures.
TBA21-Academy, a contemporary art organization and cultural ecosystem fostering a deeper relationship to the Ocean through the lens of art to inspire care and action.
ViCCA @ Aalto ARTS, Visual Cultures, Curating and Contemporary Art (ViCCA), a transdisciplinary major at Aalto University's School of Arts, Design and Architecture.
A.I. Entity, created as a collaboration between HAM Helsinki Art Museum Collections, artist Yehwan Song and the Digital Visual Studies, a Max Planck Society project hosted at the University of Zurich.
Creative Collaborations
The Helsinki Biennial 2023 visual presentation is a collaboration between graphic design studio The Rodina and spatial consultancy Diogo Passarinho Studio (Project Team: Diogo Passarinho and Gonçalo Reynolds).
Supporters
The main partners of Helsinki Biennial include Metsähallitus, S Group and Clear Channel. It is also supported by Saastamoinen Foundation.

Helsinki Biennial 2023 co-commissioners include Copenhagen Contemporary, KANAL – Centre Pompidou, TBA21-Academy, and University of Zurich.

With thanks to  Aalto University, Aarhus University, British Council and British Embassy Helsinki, Frame Contemporary Art Finland, Liverpool John Moores University, MO.CO.ESBA Montpellier Contemporain - Ecole Supérieure des Beaux-Arts, Uniarts Helsinki, and Uniarts Research Pavilion.
Contacts
International PR 

Pelham Communications 
Alexia Menikou, alexia@pelhamcommunications.com 
Yaz Ozkan, yaz@pelhamcommunications.com 
+44 20 8969 3959 

Local PR
HAM Helsinki Art Museum
Reetta Haarajoki, reetta.haarajoki@hamhelsinki.fi, +358 4016 83669