Laura Dahlberg: Abiotic Variables feat. Alien Babies, HAM gallery, 5 August – 17 September 2023
Laura Dahlberg's Alien Babies is an installation set in a dim space where robots cast from silicone move with air pressure. The work has motors that blow air in cycles. The trajectories of the installation's soft robots are based on living organisms' motor functions. The exhibition's mechanical creatures react to environmental stimuli by adjusting and transforming. Organisms require movement to survive, and the artist suggests that the same may be true for these tiny mechanical creatures.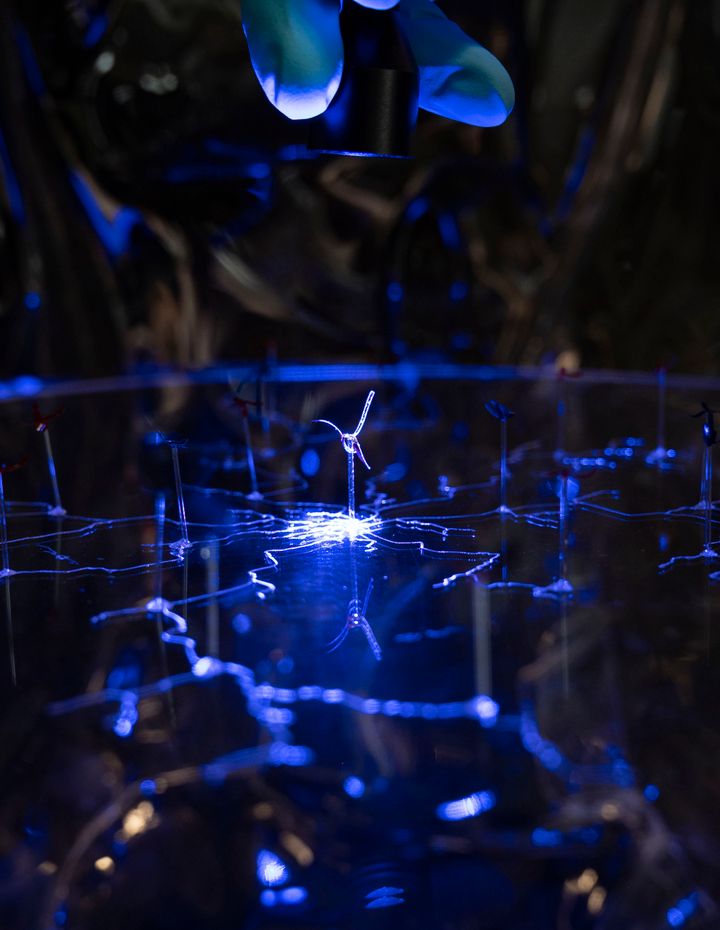 "I have contemplated if movement defines a creature as a living individual. But according to the theory of panpsychism, for example, all creatures have a mind or a mind-like quality. Panpsychism asserts that physical constituents of the universe possess mind-like qualities whether they are parts of living and moving organisms or not," Dahlberg describes.
Abiotic Variables is a project studying the potential of liquid crystal plastic implemented in cooperation with Professor of Chemistry Arri Priimägi and PhD student Zixuan Deng from Tampere University. The liquid crystal plastic parts' movements are produced by conditioning material to move in response to light and warmth. In the videos included in the work, plastic parts are moved with a strong blue light with a wavelength of 450–550 nanometres. The liquid crystal plastic's molecules are organised so that they remember where to turn.
Laura Dahlberg (b. 1991) is a visual artist whose practice focuses on the co-existence of current species and technology, while also incorporating ancient beliefs on the power of natural elements. She is interested in creating spaces where we can establish contact with mechanical creatures. Dahlberg earned a BA in fine arts from the Saimaa University of Applied Sciences (2016) and graduated from the University of the Arts Helsinki's Academy of Fine Arts with an MA in fine arts (2022).
The Finnish Cultural Foundation and the Arts Promotion Centre Finland have supported the exhibition. Helsinki Hacklab has supported the exhibition's technical implementation.
Soundscape for Abiotic Variables has been created in cooperation with musician Eemeli Dahlberg.
Laura Dahlberg: Abiotic Variables feat. Alien Babies, HAM gallery, 5 August – 17 September 2023
More information:
Curator Sanna Tuulikangas (from 27th of July onwards), +358 40 178 3537, HAM Helsinki, sanna.tuulikangas(at)hamhelsinki.fi
Communications planner Reetta Haarajoki (from 2nd of August onwards), +358 40 168 3669, reetta.haarajoki(at)hamhelsinki.fi
A press conference about the exhibition will not be held.
HAM gallery
Tennis Palace / Eteläinen Rautatiekatu 8, 00100 Helsinki  
Open: Tue 10-17.30, Wed-Sun 11.30-19, Mondays closed  
Always free admission to HAM gallery.