DNA has achieved EFQM 5-star recognition
DNA Plc has been given a 5-star rating in an independent EFQM assessment. With an excellent result of over 500 points, DNA will be competing against other high-scoring companies for the Finnish National Quality Award next autumn.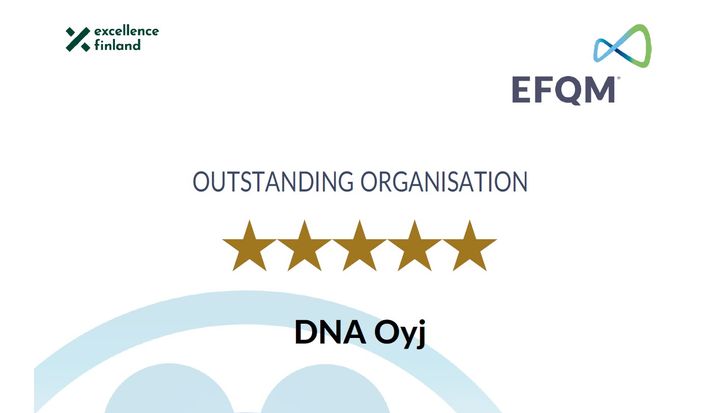 The comprehensive quality assessment examined DNA's operational quality and performance across all its business activities. The assessment was carried out by EFQM's national partner Excellence Finland following an extensive examination of DNA's operations through documentation and interviews. The assessment resulted in DNA receiving a 5-star recognition certificate.
DNA's customer-centric approach and ability to turn high-level strategy into practical targets and day-to-day functions received special attention from the assessment team. The assessors also noted DNA's value-based management: Fast, bold and straightforward all describe how DNA's personnel approach and think about their work, and this can be seen in everything the company does. For example, one of the everyday core goals of DNA's personnel is to solve customers' problems promptly without needlessly redirecting them.
"We are extremely pleased about our high score. EFQM assessment provides companies with an independent, external and comprehensive evaluation that covers all the different areas of their operations. The assessment gives our customers and other important stakeholders a clear picture of our organisation's commitment to excellence in everything we do," says DNA's CFO Timo Kipinoinen.
The recognition certificate is valid for three years. During these three years, DNA aims to further develop its operations so it can achieve even better results in the future.
Media enquiries:
CFO Timo Kipinoinen, DNA Plc, tel. +358 44 044 8131, timo.kipinoinen@dna.fi
DNA Corporate Communications, tel. +358 44 044 8000, communications@dna.fi