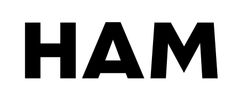 Hop on Board the Algorithm Operated Robot Bus and Take a Tour of Kalasatama
During Night of the Arts, a self-driving robot bus will start navigating in the streets of the Kalasatama district. R-Bus is an artwork by artist Laura Beloff and working group that utilises algorithms and randomly chooses its route within a predetermined area. On board the bus passengers hear the area's soundscape that twists the familiar into strange. The artwork can be experienced from 17 August to 3 September 2023.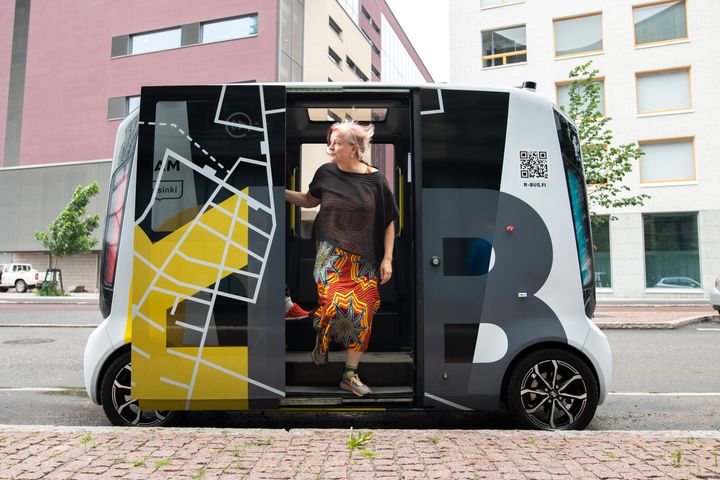 What kind of experience is created when we let a robot take control of the route? R-Bus invites us to hop on a robot bus without knowing where it will take us. The bus has four stops in the Kalasatama district, indicated by the R-bus symbol, and the bus stops at them according to a schedule that changes daily. The bus uses algorithms in its route selection. Artist Laura Beloff is interested in exploring how our everyday life is guided by hidden data, algorithms, and smart technology that we have to trust.
On board, passengers are greeted by a strange yet somehow familiar soundscape – as if the environment's recognisable sounds echoed from an alien planet. The soundscape consists of sounds from Kalasatama and imaginary sounds created by artificial intelligence. Devices collecting sounds of the environment and its living organisms have been placed in Kalasatama. Machine intelligence analyses this mass of sound and produces sounds of imaginary living beings that resonate on a different frequency from other sounds. The robot bus' real-time streamed soundscape makes us consider our impact on the environment and its ecology. The Kalasatama district is being built at the moment, and the relationship between the urban and natural environment is changing: as humans we generate noise to which organisms try to adapt by for instance changing their own frequency.
R-Bus is a temporary artwork, and it will operate in Kalasatama on Night of the Arts, 17 August at 14.00–17.00 and 19.00–22.00. During the Helsinki Festival from 18 August to 3 September, the bus operates daily (except Mondays) at 11.00–14.00 and 16.00–19.00. The bus ride is free, and its duration is 10–15 minutes. The bus can take a maximum of six passengers at a time. The daily schedules and bus stop information are available at www.r-bus.fi.
Media is invited to experience the artwork in advance on 16 August between 11–14 o'clock. Please arrive at the bus stop at crossroads of Parrulaituri and Koksikatu. Journalists will be escorted to the bus, and artist Laura Beloff will be present and available for interviews.
Laura Beloff is an environmental artist and researcher interested in the cross-sections of art, biosciences, and technology. In her work, she often investigates the relations between humans, non-human agencies, and society: "I consider my artistic practice as a kind of free laboratory within everyday life and the environment that has the potential to bring forth new and unexpected relations. With R-Bus, I want to invite passengers to break away from daily life and to experience Kalasatama from a new perspective – that of non-humans."
The working group includes Marko Tandefelt, Petri Ruikka, Jani Hietanen, Calvin Guillot Suarez, Sebastian Schlecht, Andrea Mancianti, Esther Saraste, and John W. Fail.
R-Bus is part of Kalasatama's and HAM Helsinki Art Museum's A Stream among Streams environmental art project, curated by Aleksandra Kiskonen and Kristiina Ljokkoi. The works included in the project will spread across the Kalasatama district over the coming decade, and they will become part of the City of Helsinki's art collection.
In collaboration: Aalto University, Auvetech, Ecoflow, Helsinki Festival, JCDecaux, Metropolia, REDI, Rolan, Tector, and Uusix
Images