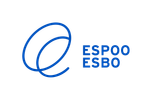 Digitalisation sport a focus point of design guidelines for Espoo school yards
The design guidelines for school yards define the yard design of both schools to be renovated and new schools. The guidelines have been supplemented so that they take into account the digitalisation occurring in children and young people's world and how the change impacts being physically active.
Supplementing the design guidelines for yards means that in the future, Espoo school yards will be equipped for the installation of digital, physically activating games. These include interactive ball walls where the participants can be challenged to hit a particular point on the wall with a ball or score a certain number of goals within a set time limit.
Kimmo Leinonen, Project Manager of the City of Espoo's project on the digitalisation of sports and exercise, considers the reform to be significant. Children spend a lot of time at school, which is why it is natural to provide schools with more digital, physically activating games.
"The guidelines for yard design determine all the things to be considered in the design of school yards, from pick-up and drop-off traffic to yard equipment. Therefore, it is great that the possibilities of digital exercise are also taken into account as early as the planning phase," says Leinonen.
According to the 2022 Gamer Barometer, 76.2 per cent of people aged 10–19 play digital games weekly or more often. Digital exercise games can be especially inspiring to the people who have no sports hobbies. They make moving fun.
Leinonen wants to refute the common misconception that the digitalisation of physical activity threatens or reduces being physically active in a more traditional manner.
"The key strength of digital exercise games is their way of combining fun and benefits, which for many people is the starting point for gaming. Exercise can become a by-product of gaming without the player even feeling like they are exercising," says Leinonen.
Experts from the City of Espoo's Sports and Exercise Unit consult designers so that digital exercise can be taken into account in yard design.
The digital exercise and sports project promotes the effectiveness of digital phenomena, improves Espoo residents' opportunities to engage in recreational activities and enables the testing of digital phenomena. New technologies impact all kinds of sports and exercise, and digital services enable the creation of new phenomena and ways of engaging in recreational activities.
Read more about the project Modernizing sport to foster a new active generation.
Subscribe to releases from Espoon kaupunki - Esbo stad
Subscribe to all the latest releases from Espoon kaupunki - Esbo stad by registering your e-mail address below. You can unsubscribe at any time.
Latest releases from Espoon kaupunki - Esbo stad
In our pressroom you can read all our latest releases, find our press contacts, images, documents and other relevant information about us.
Visit our pressroom