Albert Edelfelt exhibition returns home from Paris and Gothenburg
An exhibition of works by Albert Edelfelt (1854–1905) will be displayed at the Ateneum Art Museum from 5 May to 17 September 2023. The comprehensive exhibition will examine the entire career of one of Finland's most famous and beloved artists. Edelfelt was an influential international figure who was a trailblazer and builder of connections for later Finnish artists, especially in Paris. Advance ticket sales for the exhibition will begin on 14 March.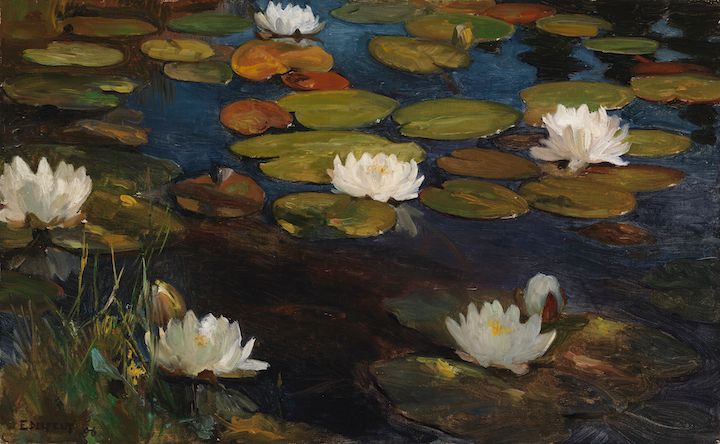 Ateneum exhibition to present Albert Edelfelt as an international influence
Albert Edelfelt (1854–1905) was socially talented, and he understood the importance of networks early on in his career. He spoke several languages and mixed easily with people from different social classes. Edelfelt travelled in Europe and the Nordic countries, and he lived much of his life in Paris.
In France, he met many of the leading artists of his time, and prominent figures in the fields of culture and science, as well as art collectors and art dealers. Edelfelt's colleagues and friends included the American artist John Singer Sargent, the French artists Charles Baude and Pascal Dagnan-Bouveret, and the Swedish artist Anders Zorn. Edelfelt was a technically very skilled draughtsman and painter, and the most internationally known Finnish artist of his time.
The Edelfelt exhibition will present portraits of the artist's family members, prominent figures of the time, and artist colleagues. Other exhibits will include landscapes and views from Paris, as well as depictions from Edelfelt's travels in the south of France, Italy and Spain. He painted familiar landscapes in Porvoo, at his villa in Haikko, and in Helsinki. The exhibition will include many beloved works that are considered to be Finnish national treasures, such as Boys Playing on the Shore (1884), The Luxembourg Gardens, Paris (1887), Women of Ruokolahti on the Church Hill (1887), and Conveying the Child's Coffin (1879).
The exhibition will also include several works that have not previously been shown in Finland. In addition to works from the Finnish National Gallery collection, the exhibits include loans from public and private collections both in Finland and abroad.
The curators of the Edelfelt exhibition are Anne-Maria Pennonen and Hanne Selkokari, curators at the Ateneum.
Edelfelt's Paris exhibition 2022 was his first solo exhibition in the city
Edelfelt has been studied extensively, which is an indication of his central role in the history of Finnish art. Before opening at the Ateneum, the artist's touring exhibition was on display at the Petit Palais in Paris and the Gothenburg Museum of Art. In Paris, the exhibition exceeded the expected number of visitors, at nearly 140,000 visitors.
The two highly successful showings of the exhibition have produced new research and information on Edelfelt's life and art. The exhibition and the accompanying catalogue, to be published in Finnish and English, will provide completely new perspectives on the artist's life. A Swedish-language catalogue, produced in conjunction with the exhibition at the Gothenburg Museum of Art, will also be available.
Advance tickets for the Ateneum from Lippu.fi
If you want to guarantee your admission to the Ateneum at a specific time, we recommend buying an advance ticket. Tickets are also sold at the door. Advance tickets will go on sale on Tuesday 14 March. The Lippu.fi service and booking fee will be added to the ticket price. Read more about advance tickets.
Book an exhibition intro – for example, for a group of friends
In the exhibition intro, an expert guide introduces visitors to Edelfelt's art with the help of a rich visual presentation. Unfortunately, there are no guided tours of the exhibition to avoid crowding in the exhibition galleries. Read more about exhibition intros for groups.
Ateneum theme: Lectures on Albert Edelfelt
A series of four lectures in the Ateneum Hall, given by different experts, will offer perspectives on Albert Edelfelt and his art. Read more in the events calendar.


Opening hours
Tue–Fri 10:00–20:30 | Sat, Sun 10:00–17:00 | Mon closed
Admission fees
Normal admission fee €20 | Concessions €12 | 18–24-year-olds €12 | Under 18-year-olds free of charge
Twitter: @AteneumMuseum | Facebook: AteneumArtMuseum | Instagram: ateneummuseum
Subscribe to releases from Ateneumin taidemuseo / Konstmuseet Ateneum / Ateneum Art Museum
Subscribe to all the latest releases from Ateneumin taidemuseo / Konstmuseet Ateneum / Ateneum Art Museum by registering your e-mail address below. You can unsubscribe at any time.
Latest releases from Ateneumin taidemuseo / Konstmuseet Ateneum / Ateneum Art Museum
In our pressroom you can read all our latest releases, find our press contacts, images, documents and other relevant information about us.
Visit our pressroom