Bonnier and Varma sign lease agreement for Lönnrotinkatu 18
Varma and Bonnier Books Finland have signed a long-term lease agreement on the premises located at Lönnrotinkatu 18 in Helsinki. Bonnier will move into the newly renovated loft-inspired premises in September 2017.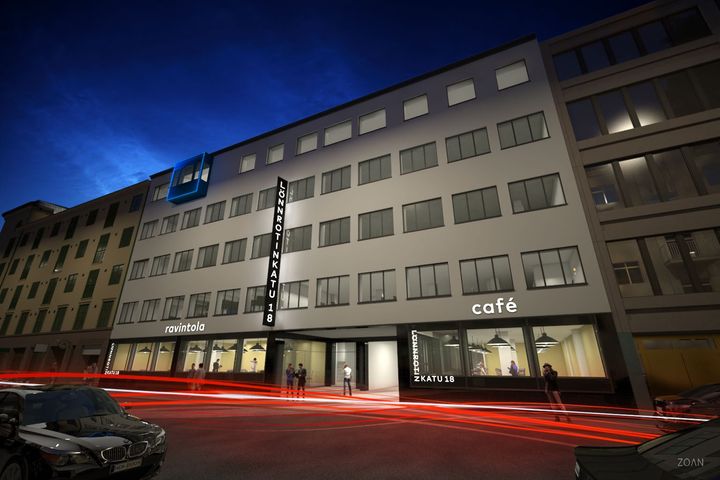 "We were looking for premises that meet the changing needs of modern publishing operations and working life. The good location and the personal interaction that the convertible spaces allow are what drew us to Lönnrotinkatu," says Bonnier Books Finland's CEO, Timo Julkunen.
The functionalist building, which was completed in 1939, was renovated from top to bottom.
"Lönnrotinkatu 18 is a good example of a successful real estate development project. The renovation made use of the building's old structures, while still emphasising the convertibility and usability of the spaces – the end result is modern office premises," says Benjamin Kalliola, Real Estate Developer at Varma.
"A sense of community is a visible trend in property development, and today's office premises highlight the possibility of encountering and interacting with others," Kalliola continues.
Other tenants of Lönnrotinkatu 18 include the winner of MasterChef Finland Miro Kurvinen's new restaurant Kungfu Kitchen, Detur Finland Oy and MaaS Finland Oy. Nearly all the spaces in the building have been leased, and negotiations on the remaining vacant spaces are currently under way.
Varma Mutual Pension Insurance Company is the most solvent earnings-related pension company and largest private investor in Finland. The company is responsible for the statutory earnings-related pension cover of some 873,000 people in the private sector. Premiums written totalled EUR 4.7 billion in 2016 and pension payments stood at EUR 5.3 billion. Varma's investment portfolio amounted to EUR 44.4 billion at the end of March 2017.
Bonnier Books Finland is the largest publisher of general literature in Finland. Its publishing houses are WSOY, Tammi, Johnny Kniga and Readme. Bonnier Books Finland is part of the global media conglomerate owned by the Bonnier family.
Further information:
Benjamin Kalliola, Real Estate Developer, tel. +358 500 996 688, firstname.lastname@varma.fi
Tarja Koskela, Real Estate Manager, tel. +358 40 519 5121, firstname.lastname@varma.fi
Timo Julkunen, CEO, Bonnier Books Finland, tel. +358 40 549 0434, firstname.lastname@bonnierbooks.fi
Leena Rantasalo, Communications Manager, tel. +358 50 300 7980, firstname.lastname@varma.fi
Tietoja julkaisijasta

Varma
Salmisaarenranta 11
00180 Helsinki
010 2440
http://www.varma.fi
Varma on suomalaisen työn eläkevakuuttaja ja työkykyjohtamisen edelläkävijä. Tehtävämme on turvata eläkkeet nyt ja tulevaisuudessa. Varma on myös vastuullinen ja vakavarainen sijoittaja.
Tilaa tiedotteet sähköpostiisi
Haluatko tietää asioista jo ennen kuin ne uutisoidaan? Kun tilaat tiedotteemme tältä julkaisijalta, saat ne sähköpostiisi yhtä aikaa suomalaisen median kanssa. Tilauksen voit halutessasi perua milloin tahansa.
Lue lisää julkaisijalta Varma
Uutishuoneessa voit lukea tiedotteitamme ja muuta julkaisemaamme materiaalia. Löydät sieltä niin yhteyshenkilöidemme tiedot kuin vapaasti julkaistavissa olevia kuvia ja videoita. Uutishuoneessa voit nähdä myös sosiaalisen median sisältöjä. Kaikki STT Infossa julkaistu materiaali on vapaasti median käytettävissä.
Tutustu uutishuoneeseemme