Dance House Helsinki combines simplicity, surprises and playfulness
EMBARGO: Free for publication: 17 August 2017 at 4 pm. Dance House Helsinki will open its doors in 2020 at the Cable Factory in Helsinki. The architectural look of the house has now been published and it is called "Kite". The chief architect of the dance house is Teemu Kurkela from the award-winning architecture office JKMM Architects. Architect Pia Ilonen from Architecture & Design Talli Oy is responsible for the protection of Cable Factory as a responsible building designer.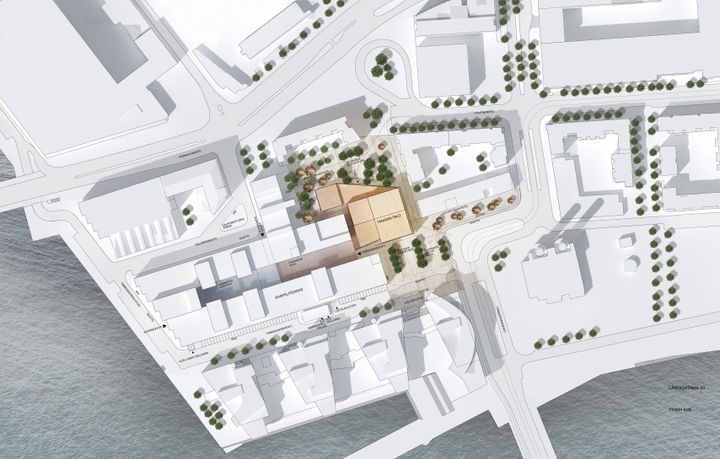 A kite that defies gravity. Industrial and robust. A machine rooted to the earth. A magical box that is not ready before it is filled with dance.
This is how Dance House Helsinki is described by its chief architect Teemu Kurkela from the architecture office JKMM. JKMM has been involved in the project since the beginning and is known for the design of OP's head office in Vallila, Verkatehdas Factory in Hämeenlinna and the new Amos Anderson Art Museum that is about to be completed.
Architect Pia Ilonen has been involved in many Cable Factory refurbishment projects over the years - ever since she was rescuing the building for cultural use in the early 1990s.
According to Kurkela and Ilonen, designing the architectural look of Dance House Helsinki was not about a fancy exterior, but combining old with new from a functionality perspective. Materials include polished aluminum, rusted steel and brass-colored aluminum screw mesh.
According to architects, the building is extremely plain and even surprisingly simple.
- It does not try to be ready before it is filled with dance, Kurkela describes.
This simplicity is, however, flavoured with details that open up in different ways the more you enter the house. Some of the exterior walls are mirrored, creating a unique magic experience and melting the building into its surroundings.
- In the main direction of approach to the building, a view will appear that shows the old end of Cable Factory as well as the new extension, and between them the entrance passage characteristic of the building: a courtyard, but now covered. Looking at the building, new and old elements go hand in hand and invite you to come in, Ilonen says.
– The goal was to make Dance House Helsinki intoa "magic box". It is like a huge sea container washed ashore that dance finds and conquers for itself. When you approach the building, it seems to defy gravity and be almost intangible. It is like an enormous kite that seems to float in the air, Kurkela says.
- But as you walk closer and touch the house, the impression changes. It's like a big "machine" - industrial and robust, heavy and rooted in the ground. And when you enter the building, the magic box reveals itself: it is a real experience and a surprise. The huge interior is completely different and constantly changing.
The house has been created with its own distinctive look that is naturally combined with Cable Factory's industrial architecture.
- Dance House Helsinki has its own unique identity and architecture. There is only a handful of similar projects in the world. Cable Factory and Dance House Helsinki are completely different buildings, but together they create a tension that sparks interest, Kurkela explains.
It all starts with functionality
Both dance professionals and those working in Cable Factory have participated in the design and planning the house.
- The process has been great and it has worked well. Those who are involved in the field of dance, Cable Factory as well as the whole neighborhood have together tried to figure out how the house could be made as functional as possible, and this I shown in the architectural design. However, the work does not end there. It continues, says Hanna-Mari Peltomäki, the executive director of Dance House Association.
- This look stands the test of time and fits really well with Cable Factory while it is an independent dance house in its own right.
According to Kai Huotari, CEO for Kiinteistö Oy Kaapelitalo, Kite respects the old Cable Factory while it brings new levels to the building, for example through reflective surfaces.
- The choice of materials fits well to the industrial milieu creating a playful look. In a way, the reflective surface reproduces the gable to which the dance house is built, Huotari says.
Pia Ilonen explains that several alternative locations were studied for the dance house during the design process.
- Planning and design have also meant that Cable Factory's functional solution has been renewed and synergies have been explored. Above all, Cable Factory is a center of artistic work; its spirit is born of it! The design ensures that the logistics of the factory will continue to work in the future, Ilonen says.
With Dance House Helsinki, Cable Factory will be renewed in many ways. For example, the inner courtyard will be covered, and part of the covered yard will form Cable Factory's new heart - it will become a lobby for all actors - and a long-awaited one.
- For years, our tenants have hoped that the inner courtyard would be used for cultural events. With this joint lobby, Cable Factory will become a more accessible place. Customers can buy their tickets from one place, and we can serve and help visitors much better than we can from our current information point at the bottom of the yard. The covered inner courtyard brings an additional 1 000 squares meters for cultural events and activities, Huotari says.
The building project will start in summer 2018 and Dance House Helsinki will be opened in 2020. The budget is 34.8 million euros. 15 million euros comes from Jane and Aatos Erkko Foundation, 6 million from the City of Helsinki, 6 million from the Finnish State and the remaining 7.8 million euros from the real estate company Kiinteistö Oy Kaapelitalo. The premises of Dance House Helsinki are being built by Kiinteistö Oy Kaapelitalo. Dance House Helsinki Association will be responsible for the activities in the house.
Yhteyshenkilöt
Kai Huotari, Kiinteistö Oy Kaapelitalo, kai.huotari@kaapelitehdas.fi, tel. 050 384 1557
Hanna-Mari Peltomäki, Dance House Association, hanna-mari.peltomaki@tanssintalo.fi, tel. 044 513 1069

Tietoja julkaisijasta
Kiinteistö Oy Kaapelitalo
Tallberginkatu 1 C 15
00180 HELSINKI
info@kaapelitehdas.fi, 09 4763 8330
http://www.kaapelitehdas.fi
Kaapelitehtaan ja Suvilahden kulttuurikeskuksia hallinnoi Helsingin kaupungin omistama Kiinteistö Oy Kaapelitalo, joka peruskorjaa ja vuokraa vanhoja teollisuusrakennuksia taiteen, kulttuurin ja käsityön tarpeisiin. Se tarjoaa yrityksille, järjestöille, taiteilijoille ja tapahtumatuottajille tiloja Kaapelitehtaalla ja Suvilahdessa.
Kaapelitehdas on Suomen suurin kulttuurikeskus, jossa toimii mm. 3 museota, 12 galleriaa, ravintola, kirjakauppa, tanssiteattereita, taidekouluja sekä taiteilijoita, bändejä ja luovien alojen yrityksiä.
Suvilahden entisen sähkövoimalan ja kaasulaitoksen alueeseen kuuluu 9 rakennusta, 2 kaasukelloa sekä 2,5 hehtaaria piha-aluetta. Suvilahden ovat ottaneet omakseen monenlaiset kulttuuritoimijat kirjailijoista esittäviin taiteisiin ja uudesta sirkuksesta graffitigalleriaan.