Data traffic volume in DNA's mobile network reaches record level
Data traffic in DNA's mobile network grew by 60 per cent from the year before. Also data volume per subscription continued to grow in DNA's network. According to a recent report* published by Tefficient, DNA users are the most frequent mobile data users in Finland.
The bulk of mobile data traffic comprises streaming – i.e. video traffic – over the 4G network. Videos downloaded from Netflix and YouTube are typical examples of video traffic in mobile network.
According to a recent study**) published by DNA, in particular young people have increased their TV content viewing: 42 per cent of people aged 15 to 24 years, who responded to the enquiry performed in May 2017, said they had increased their viewing of TV content over last year.
"As networks and terminals have improved, and since the price of data traffic will remain affordable, people will increasingly spend time viewing videos on mobile devices," says Jarkko Laari, Director, Radio Networks, at DNA.
In 2016, the average subscription-specific amount of mobile data transferred per month amounted to 10.7 gigabytes. In the beginning of this year the average is 14.8 gigabytes, and now it is 15.2 gigabytes. 
A year ago, the volume of data traffic in DNA's mobile networks surpassed data traffic in fixed network, and this year the difference is growing even larger: last year the volume of data transmitted over DNA's mobile network surpassed that transmitted over the fixed network by 18 per cent, while this year the corresponding figure was 30 per cent.
According to Tefficient, Finland is the world's leading country in terms of mobile data usage per subscription.
DNA's 4G network covers more than 99 per cent of Finns and is in the process of expanding to become even more efficient and provide even more coverage. Several capacity expansions are made each day. 4G traffic is on a steep growth path: today, over 80 per cent of all data is transmitted over the 4G network. Traffic over DNA's fixed network is also growing. Over the course of the last year, DNA's fibre network was updated to become DNA Fibre Optic Plus, enabling broadband speeds of up to one gigabyte without any changes to the intranet of housing companies. In a few years, DNA Fibre Optic Plus will enable speeds of several gigabytes, up to 10 Gbit/s.
*Source: Tefficient is an international analysis, benchmarking and consulting company in the telecommunications industry. The reports they published are available at http://tefficient.com/more-for-more-isnt-happening/ (country view) and http://tefficient.com/the-luxury-of-the-commodity-gigabyte/ (operator view).
Further information for the media:
**) https://corporate.dna.fi/lehdistotiedotteet?type=stt2&id=62047856 (in Finnish)
Director, Radio Networks, Jarkko Laari, DNA Ltd., tel. +358 (0)44 044 4949, jarkko.laari@dna.fi
DNA Corporate Communications, tel. +358 (0)44 044 8000, communications@dna.fi
Tietoja julkaisijasta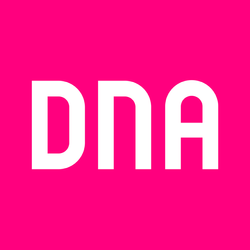 DNA Oyj
PL 10
01044 DNA
http://www.dna.fi
DNA Plc is a Finnish telecommunications group providing high-quality voice, data and TV services for communication, entertainment and working. DNA is Finland's largest cable operator and the leading pay TV provider in both cable and terrestrial networks. For DNA, the key area for growth in corporate business is the new way of working, independent of time and place, facilitated by smart terminal devices, diverse communications services and rapid connections. In 2016, DNA recorded net sales of EUR 859 million and an operating profit of EUR 91 million. DNA has more than 3.8 million subscriptions in its fixed and mobile communications networks. The Group also includes DNA Store, Finland's largest retail chain selling mobile phones. DNA shares are listed on Nasdaq Helsinki Ltd. For further information, visit www.dna.fi or follow us on Twitter @DNA_fi, @DNA_Business and @DNA_Palvelu and Facebook.