Decline in equity prices interrupted continuous growth of households' equity and fund holdings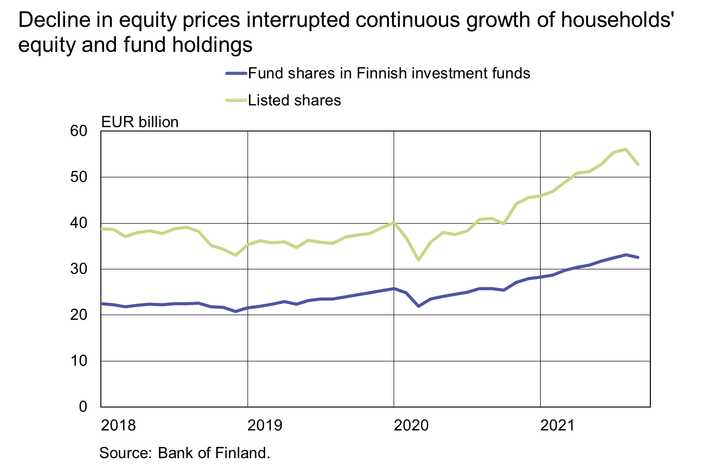 The value of households' listed shareholdings decreased in September 2021 reflecting a decline of equity prices after ten months of growth In August 2021, households' listed shareholdings were at their all-time high (EUR 56.1 billion), but they decreased to EUR 52.8 billion in September. In September, the value of these shareholdings decreased by EUR 3.4 billion. At the same time, however, households invested EUR 130 million more in net terms [1] in equities. The most (90%) of households' equity investments was in domestic non-financial corporations' shares, but shareholdings in foreign companies have grown in relative terms somewhat over the past two years.
Holdings in investment funds also decreased due to declining equity prices for the first time since October 2020. In August 2021, households' investments in Finnish investment funds were at their all-time high (EUR 33.1 billion), decreasing to EUR 32.5 billion in September. The decrease was primarily due to revaluations in equity funds. As equity prices rose during the COVID-19 pandemic, equity funds clearly surpassed bond funds as the largest type of holdings. At the end of September, households had EUR 12.9 billion of investments in equity funds and EUR 9.7 billion in bond funds.
In September, households made net subscriptions[2] worth EUR 50 million in investment funds, which was the lowest monthly outcome in 2021. In September, the highest net subscriptions were made in mixed funds and real estate funds. In January–September 2021, investment funds received large net subscriptions (EUR 2 billion). This year, the highest net subscriptions have been made in equity funds.
A significant proportion of households' assets is channelled into investment funds also via unit-linked insurance policies entered into with insurance institutions. In addition, Finnish households owned fund shares in foreign investment funds. These holdings also decreased from August, to stand at EUR 4.8 billion at the end of September 2021. In September, households invested EUR 80 million more in foreign investment funds, while the value of holdings decreased by EUR 170 million.
Households' deposits continued to grow in September. The amount of financial assets on Finnish households' current accounts exceeded EUR 100 billion, to stand at EUR 100.3 billion at the end of September 2021. The average interest rate on the funds on current accounts was 0.02%. In September, the amount of funds on current accounts grew by EUR 1.3 billion. Overall, households' deposits amounted EUR 109.5 billion. The annual rate of growth of the deposit stock has slowed down from early 2021 but remained brisk (6.7%) in September 2021.
For further information, please contact:
Markus Aaltonen, tel. +358 9 183 2395, email: markus.aaltonen(at)bof.fi.
Related statistical data and graphs are also available on the Bank of Finland website: https://www.suomenpankki.fi/en/Statistics/saving-and-investing.
The next news release on saving and investing will be published at 10 am on 9 February 2022.
[1] Net investments refer to share purchases – disposals.
[2] Subscriptions for fund shares in investment funds less redemptions of fund shares.
About Suomen Pankki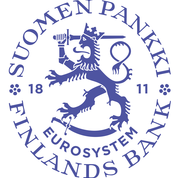 Suomen Pankki
Snellmaninaukio, PL 160
00101 HELSINKI
09 1831
http://www.bof.fi
The Bank of Finland is the national monetary authority and central bank of Finland. At the same time, it is also a part of the Eurosystem, which is responsible for monetary policy and other central bank tasks in the euro area and administers use of the world's second largest currency – the euro.