DNA expands 5G to Evijärvi, Humppila, Karstula, Muurame and Pornainen – new coverage map shows current status and future improvements
Five more locations have been added to DNA's 5G network coverage with the construction of base stations in Evijärvi, Humppila, Karstula, Muurame and Pornainen. The network now covers over two thirds of Finland's population (68%) based on their place of residence, which amounts to almost 3.8 million people in 155 municipalities. DNA's new coverage map makes it easier than ever to quickly check if your location is covered by the 5G network and what the maximum internet speed is in your area.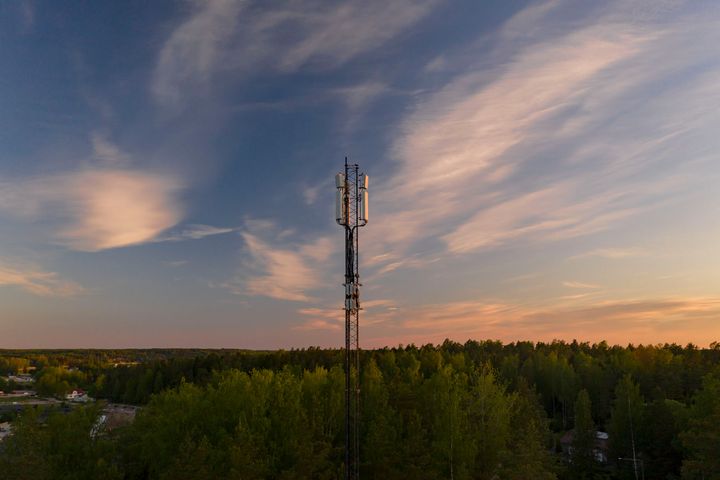 In Evijärvi in South Ostrobothnia, the 5G network covers areas on the southeast and south side of lake Evijärvi almost as far as Lappajärvi.
In Humppila in Kanta-Häme, the 5G network is strongest in the southeastern and northwestern parts of the city centre and covers the villages of Huhtaa, Murto and Venäjä, among others.
In Karstula in Central Finland, the 5G network covers areas west of the village centre around lake Pääjärvi.
In Muurame in Central Finland, the 5G network already has extensive coverage around Muurame village centre, and the network will be improved further by the end of summer.
In Pornainen in Uusimaa, the 5G network now extensively covers the village centre in Kirveskoski.
"It's great to be able to report our successes in strengthening our 5G network in these areas. As fast internet becomes more widely available, information workers around Finland have more freedom in where and when they work. In many cases, 5G also offers an excellent alternative to fixed-network broadband at home, which improves local competition and consumers' freedom of choice," says Jarkko Laari, VP, Radio Networks at DNA.
The 5G rollout is also helping to upgrade the rest of the mobile network as old base stations are replaced. This means faster 4G speeds and an improved user experience in the areas where the network is being modernised.
Redesigned coverage map makes it easier to track the current status of the mobile network and future upgrades
DNA is building its 5G network to operate in two different frequency bands: 700 megahertz and 3.5 gigahertz. The lower frequency band is available across a larger area, and the speed and indoor signal strength that it provides are generally more than enough for most internet users. The higher frequency band provides ultra-high-speed internet access with minimal latency with more restricted coverage. The lower frequency band is typically used in sparsely populated areas and the higher in built-up areas.
"In Southern Savonia, for example, 5G network with a frequency of 700 megahertz has been commissioned this spring on a large scale by the Finnish Shared Network. This can be seen in the spread of 5G to sparsely populated areas. Therefore, in the future, 5G's geographical service area will expand faster than before also to the sparsely populated areas," says Laari.
DNA's redesigned coverage map at www.dna.fi/5G (in Finnish) shows the status of the mobile network in your area in more detail. You can use the map to check the theoretical maximum speed of the 4G or 5G network anywhere in Finland. By selecting "Lisätietoja verkosta", you can also see the 4G and 5G frequencies in the selected area. More than one frequency may be in use in the same area, in which case the mobile device usually selects the fastest option automatically.
You can also view ongoing network upgrades by selecting "Verkon parannustyöt" in the left-hand menu. Ongoing upgrade projects often give a good idea of whether connections can be expected to improve in the area in the next few months. The status is shown for each base station separately.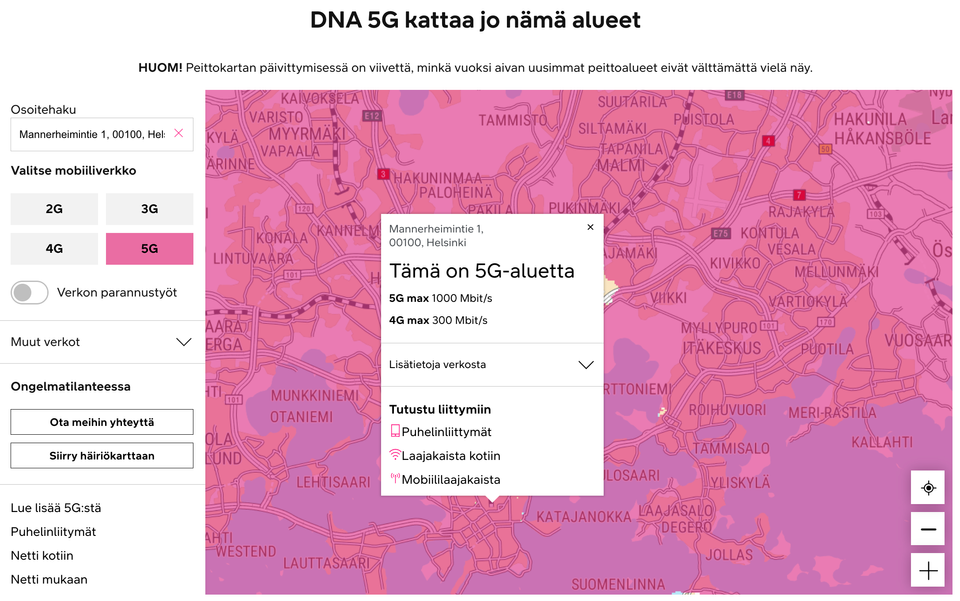 Although fixed ultra-high-speed 5G internet access is only available in areas where the 3.5-GHz 5G network has been deployed, a 5G antenna fitted to the outside wall can give a substantial boost to the mobile broadband signal in sparsely populated areas as well. A correctly positioned external antenna improves the reliability of both the 4G and the 5G network and delivers the best possible user experience. The popularity of fixed 5G modems has increased significantly since the start of last year.
DNA's 5G network already covers the following 155 municipalities:
Akaa, Alajärvi, Alavus, Asikkala, Askola, Aura, Espoo, Eura, Eurajoki, Evijärvi, Forssa, Haapavesi, Hanko, Harjavalta, Hattula, Hausjärvi, Heinola, Helsinki, Hollola, Humppila, Hyvinkää, Hämeenkyrö, Hämeenlinna, Ii, Iitti, Ikaalinen, Ilmajoki, Inari, Ingå, Isokyrö, Jakobstad, Janakkala, Joensuu, Jokioinen, Joroinen, Juupajoki, Juva, Jyväskylä, Jämsä, Järvenpää, Kaarina, Kangasala, Kankaanpää, Karkkila, Karstula, Kaskinen, Kauhajoki, Kauhava, Kauniainen, Kaustinen, Kerava, Kimitoön, Kirkkonummi, Kitee, Kittilä, Kokemäki, Kokkola, Kolari, Kouvola, Kristinestad, Kronoby, Kuopio, Kurikka, Kuusamo, Kärkölä, Lahti, Laihia, Lapua, Larsmo, Laukaa, Lempäälä, Leppävirta, Lieto, Liminka, Lohja, Loimaa, Loppi, Luhanka, Masku, Merikarvia, Muhos, Muurame, Mynämäki, Mäntsälä, Mänttä-Vilppula, Naantali, Nakkila, Nivala, Nokia, Nousiainen, Nurmijärvi, Nykarleby, Orimattila, Orivesi, Oulu, Padasjoki, Paimio, Pargas, Parikkala, Pedersöre, Pertunmaa, Pieksämäki, Pirkkala, Pori, Pornainen, Porvoo, Punkalaidun, Puumala, Pyhäjoki, Pälkäne, Pöytyä, Raahe, Raisio, Rantasalmi, Raseborg, Rauma, Rautjärvi, Riihimäki, Ruokolahti, Ruovesi, Rusko, Saarijärvi, Salo, Sastamala, Sauvo, Savonlinna, Seinäjoki, Siilinjärvi, Sipoo, Siuntio, Somero, Sulkava, Suonenjoki, Sysmä, Säkylä, Taivassalo, Tammela, Tampere, Teuva, Turku, Tuusula, Ulvila, Uusikaupunki, Vaasa, Valkeakoski, Vantaa, Varkaus, Vehmaa, Vesilahti, Vihti, Virrat, Ylivieska, Ylöjärvi and Äänekoski.
Some of these locations already have comprehensive 5G coverage in town centres and other built-up areas, while others only have a few localised areas where 5G is available. For detailed information on each location, see DNA's coverage map at www.dna.fi/5G. The map is updated with a slight delay, so the latest upgrades are not necessarily visible yet.
Further information for the media:
Jarkko Laari, VP, Radio Networks, DNA Plc, tel. +358 (0)44 044 4949, jarkko.laari@dna.fi
DNA Corporate Communications, tel. +358 (0)44 044 8000, viestinta@dna.fi
DNA's 5G coverage map (site is in Finnish): https://www.dna.fi/5G
Images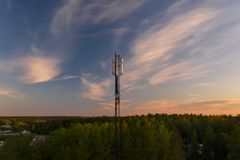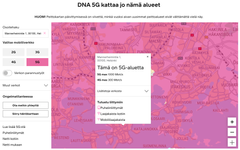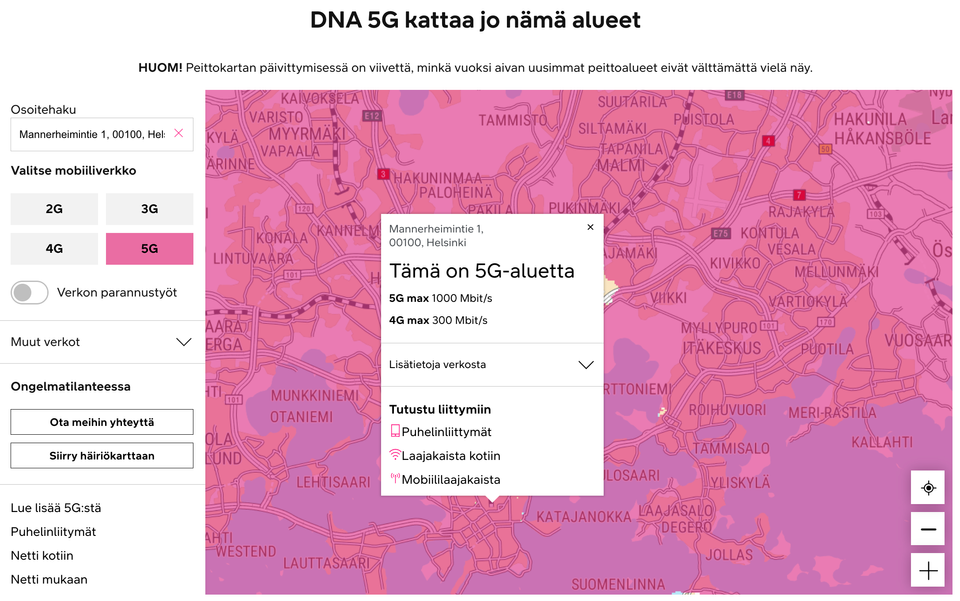 About DNA Oyj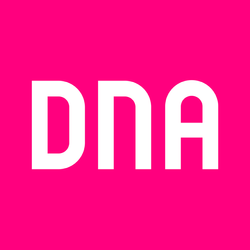 DNA Oyj
PL 10
01044 DNA
http://www.dna.fi
DNA is one of the leading telecommunications companies in Finland. We want to make our customers' daily lives less complicated. We offer connections, services and devices for homes and workplaces, contributing to the digitalisation of society. DNA's customers are continuously among the world mobile data usage leaders. DNA has about 3.6 million subscriptions in its fixed and mobile communications networks. The company has been awarded numerous times as an excellent employer and family-friendly workplace. In 2021, our total revenue was EUR 956 million and we employ about 1,600 people around Finland. DNA is a part of Telenor Group, a leading telecommunications company across the Nordics. More information: www.dna.fi, Twitter @DNA_fi, Facebook @DNA.fi and LinkedIn @DNA-Oyj.