DNA rated as the best in the Nordic countries in the Digital Leaders 2018 research
DNA has been ranked as the best company in the Nordic countries in the Digital Leaders 2018 research. Last year, DNA came in second in the study.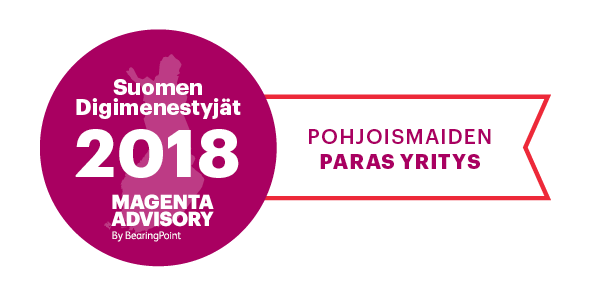 The Finnish telecommunication operator DNA has been rated as the best company in the Nordic countries in the Digital Leaders research measuring digital maturity. This year, more than 200 companies from Finland, Sweden and Norway were assessed in the annual research conducted by Magenta Advisory by BearingPoint. The research included 64 Finnish brands.
Companies were evaluated across six different digital dimensions: digital marketing, digital product experience, e-commerce, e-CRM, mobile experience and use of social media. In the study, DNA's digital capabilities were estimated to be at the level of international forerunners.
DNA's performance was excellent in nearly all of the dimensions assessed. DNA was rated the best telecommunication operator in the Nordic countries in terms of mobile experience. Both DNA's mobile website and applications were rated to be of very high quality even at the international level. In e-commerce, the emphasis was noted to be in mobile e-commerce, the importance of which is increasing as consumer behaviour changes.
"We are happy and proud to accept this acknowledgement for which we can thank both our competent and customer-oriented personnel and a work culture that encourages experimentation. Our success is very indicative of the fact that digitalisation must be approached and developed through customer needs and behaviour. Digital success is based on understanding customers and utilising that understanding, which expressly benefits the customers", says Kati Sulin, Chief Digital Officer at DNA.
According to Sulin, the data collected on customer behaviour is at the core of customer understanding. DNA reviews this data and makes decisions based on it.
"We also study Finnish preferences in the annual digital way of life survey. The data clearly shows that digital services and traditional on-site transactions are complementary rather than mutually exclusive approaches."
The use of digital service is often natural for the oldest age group of Finns, the 65–74-year-olds, too – they would much rather complete their tax return online than on paper, for example. However, three out of four (75%) respondents say that they want to use both physical and digital services in diverse ways, depending on the situation and errand.
"We do not force customers to use a particular channel. We monitor how and where our customers want to run their errands, and then strive to serve them as well as possible, both online and in physical stores. It is precisely due to data-driven customer understanding that DNA fares well even in international review", Sulin says.
The Digital Leaders in the Nordics research was conducted in Finland for the fifth consecutive year. Sweden and Norway were included in the research for the second year in a row. The companies involved in the research were evaluated using 256 objective criteria across six digital dimensions.
The Digital Leaders in the Nordics 2018 results: http://www.magentaadvisory.com/2017/11/07/digital-leaders-in-finland-2018/
Further information for the media:
CDO Kati Sulin, DNA Plc, tel. +358 (0)44 044 3000, kati.sulin@dna.fi
DNA Corporate Communications, tel. +358 (0)44 044 8000, viestinta@dna.fi 
Tietoja julkaisijasta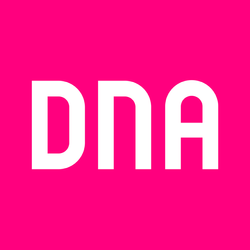 DNA Oyj
PL 10
01044 DNA
http://www.dna.fi
DNA Plc is a Finnish telecommunications group providing high-quality voice, data and TV services for communication, entertainment and working. DNA is Finland's largest cable operator and the leading pay TV provider in both cable and terrestrial networks. For DNA, the key area for growth in corporate business is the new way of working, independent of time and place, facilitated by smart terminal devices, diverse communications services and rapid connections. In 2016, DNA recorded net sales of EUR 859 million and an operating profit of EUR 91 million. DNA has more than 3.8 million subscriptions in its fixed and mobile communications networks. The Group also includes DNA Store, Finland's largest retail chain selling mobile phones. DNA shares are listed on Nasdaq Helsinki Ltd. For further information, visit www.dna.fi or follow us on Twitter @DNA_fi, @DNA_Business and @DNA_Palvelu and Facebook.