EMMA in 2019: Stardust and Strong Characters
EMMA's programme of 2019 gets under way with a rare show featuring three leading contemporary painters of our time, Jonathan Meese, Daniel Richter and Tal R. The exhibition will be the most extensive overview of their work ever seen in Finland.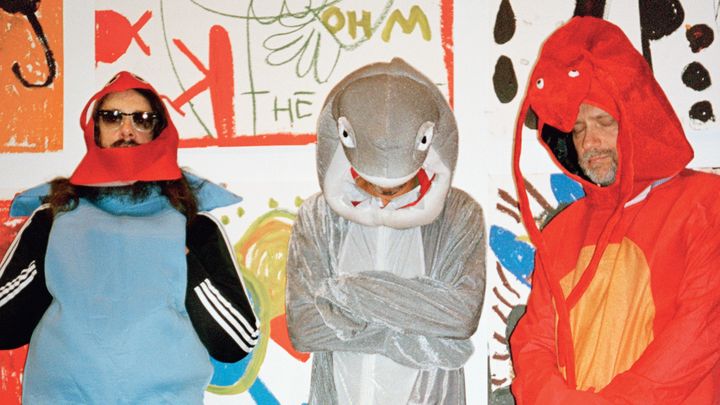 A year of big names continues at EMMA with Michael Jackson: On The Wall. Opening in August, the extensive exhibition showcases works by famous artists who have drawn inspiration from the legendary pop icon. Spanning many decades, their wide array of works offer highly original interpretations of Jackson's enduring resonance in western culture.
EMMA continues its collaboration with the Saastamoinen Foundation this autumn by commissioning an immersive installation from the Japanese contemporary artist Tatsuo Miyajima.
Sharpening its international profile, EMMA will tour Japan with an exhibition featuring ceramic art by Rut Bryk. The Visible Storage gallery will meanwhile showcase an unprecedentedly wide range of Bryk's Seita textile designs, and the temporary exhibitions space will host a Bryk-inspired show looking at contemporary trends in textile art.
Jonathan Meese, Daniel Richter, Tal R: The Men Who Fell from Earth 30.1.–7.7.2019
Emma kicks off a bumper year with The Men Who Fell from Earth, a group exhibition featuring three leading contemporary painters of our time: Jonathan Meese, Daniel Richter and Tal R.
Revisiting to the roots of contemporary art, the exhibition presents three painters who have had a lasting influence on younger generations of artists with their fresh take on neo-expressionism. This marks the most comprehensive showing of their work ever seen in Finland, featuring installations co-created by the three artists, a video piece, as well as an overview of each artist's recent work.
The title of the exhibition refers to the 1976 cult film by Nicolas Roeg, The Man Who Fell to Earth starring David Bowie. The film's themes – ecological crisis, xenophobia and ubiquitous commercialism – are more topical today than ever. The trio share their observations on the sad state of the world through a veil of absurdist humour and playful performativity. The exhibition is a co-production between Denmark's Holstebro Kunstmuseum, Germany's Stade Museum and EMMA. 
Juhana Moisander: Ethology of a Man 26.3.–7.7.2019
Juhana Moisander's Ethology of a Man was custom-designed for EMMA's Areena space. It looks at human behaviour from a scientific and social perspective, underscoring how powerless we are in the face of group pressure. The piece is a collaborative project executed together with an amateur improvisational theatre group. Known for his spatially evocative media art, Moisander takes his work to a new monumental scale in Ethology of a Man, which won an invited round of applications organized by EMMA and the Promotion Centre for Audiovisual Culture AVEK offering a subsidy for a new media work and an exhibition at EMMA for the best submitted entry.
Interwoven 5.6.2019–March 2020
June sees the opening of an exhibition exploring ties between art and textile design, including a glimpse of bold new materials used by experimental designers. The exhibition interweaves fibres, techniques, textures and diverse materials into a tapestry fusing the legacy of contemporary art, ancient handicrafts, new technology and futuristic visions. A timeless source of warmth and security, textiles preserve an important fragment of human history, while also carrying on ancient techniques and narratives from generation to generation.
Michael Jackson: On the Wall, 21.8.2019–26.1.2020
The London National Portrait Gallery's recent smash-hit exhibition Michael Jackson: On the Wall arrives at EMMA as part of its European tour in August 2019. Our flagship exhibition of 2019 will showcase the legendary King of Pop in creative interpretations by over 40 leading contemporary artists, including famous names such as Andy Warhol, Grayson Perry, Isa Gentzken and Jordan Wolfson. The featured works reflect on Jackson's iconic persona and how his life story has had a lasting impact on western culture. Produced by the National Portrait Gallery in collaboration with Michael Jackson's estate, Michael Jackson: On the Wall is curated by the Director of the National Portrait Gallery, Dr Nicholas Cullinan.
Tatsuo Miyajima: Sky of Time 9.10.2019–8.3.2020
Sky of Timeis an upcoming exhibition featuring the world-famous Japanese artist Tatsuo Miyajima. The show marks the continuation of a new form of collaboration between EMMA and the Saastamoinen Foundation. Every year, a new work will be commissionedfor the Foundation's collections from a topically relevant contemporary artist.The work will be custom-designed for EMMA's exhibition space, accompanied by a curated exhibition highlighting the artist's recent work.
Tatsuo Miyajima (b.1957) is known for his experiential, philosophical works reflecting on time and eternity. His signature use of ever-changing digital LED counters symbolizes the ceaseless flow of time and our place in the vast universe.
Bryk & Wirkkala Visible Storage
Visible Storage is a gallery-cum-workspace that offers a glimpse into the personal archives of two leading names in Finnish design history, Rut Bryk (1916–1999) and Tapio Wirkkala (1915–1985). The museum's photographers and conversation team work in the same space, offering visitors a rare behind-the-scenes peek at the work done by museum professionals. Visible Storage will be re-curated in 2019, presenting previously unseen works from the Bryk and Wirkkala archives, a broad selection of Bryk's Seita textiles as well as a new documentary about Bryk produced by EMMA.
In the centre of the Visible Storage gallery there is a changing exhibitions space bringing the work of Bryk and Wirkkala into cross-disciplinary dialogue with contemporary designers and timeless classics of industrial design.
Touch, curated picks from the Saastamoinen Foundation Collection
With the overarching theme of humanity at its core, the Touch exhibition presents an extensive selection of contemporary works ranging from drawings and installations to media art. The Saastamoinen Foundation owns one of Finland's leading art collections, selected picks of which are on permanent display at EMMA, offering audiences fresh perspectives on Finnish and international contemporary art. Artists recently added to the exhibition include Jacob Dahlgren, Grönlund-Nisunen, Henna-Riikka Halonen, Emma Helle and Iina Terho. In spring the media space will present Arr. for a Scene (2017) by Jonna Kina, followed in summer by Pilvi Takala's Players (2010). The exhibition is re-curated at regular intervals.
Rut Bryk in Japan, Spring 2019–Autumn 2020
EMMA is proud to visit Japan with an exhibition featuring the work of Rut Bryk. The exhibition highlights selected works from the Tapio Wirkkala Rut Bryk Foundation Collection, which is deposited at EMMA. The content will focus on Bryk's ceramic art, accompanied by a selection of sketches, graphic art and textile designs. EMMA is producing a documentary about Bryk's life and art especially for the tour. Confirmed tour venues include Tokyo Station Gallery, Itami City Art Museum and the Gifu Modern Ceramic Art Museum. We are currently negotiating with two further venues to be included in the tour.
EMMA is an experiential museum inviting visitors to enjoy art through active participation and interaction. In 2019 we will continue organizing expert guided tours, workshops and our EMMA Talks series, shedding light on topical themes and behind-the-scenes developments in art and design. In March all the museums at the WeeGee Exhibition Centre will take part in the tenth Children's Museum Festival. This year's theme is Traffic Jam!
For in-depth insights into design and architecture, join us this autumn for the Design+WeeGee event, which features a line-up of expert presentations and participatory workshops.
Visit our new website and read more about EMMA's current events.
Press images: https://kuvat.emma.museum/kuvat/Lehdistokuvat-Press/Ohjelmisto+2019/
Password: emmamuseum
Exhibitions:
Jonathan Meese, Daniel Richter, Tal R: The Men Who Fell from Earth 30.1.–7.7.2019
Juhana Moisander: Ethology of a Man 26.3.–7.7.2019
Interwoven 5.6.2019–March 2020
Michael Jackson: On the Wall 21.8.2019–26.1.2020
Tatsuo Miyajima: Sky of Time 9.10.2019 – 8.3.2020
Touch, a curated pick of works from the Saastamoinen Foundation Collection
Bryk & Wirkkala Visible Storage
Upcoming events:
Children's Museum Festival 2019: Traffic Jam 30.–31.3.2019
Design+Weegee / Autumn 2019
Yhteyshenkilöt
Pilvi Kalhama, Executive Director, EMMA
pilvi.kalhama@emmamuseum.fi , T +358 (0)40 533 4070

Asta Teräväinen, Communications Coordinator, EMMA
asta.teravainen@emmamuseum.fi, T +358 (0)44 760 1930

Kuvat
Tietoja julkaisijasta
Espoon kaupunki - Esbo stad
PL 1 / PB 1
02070 ESPOON KAUPUNKI / ESBO STAD
+358 9 816 21
http://www.espoo.fi
EMMA – Espoo Museum of Modern Art showcases Finnish and international modernism, contemporary art and design. EMMA is located in Espoo's Tapiola at the Exhibition Centre WeeGee, an iconic example of Brutalist architecture designed by Professor Aarno Ruusuvuori. EMMA has the largest exhibition space in Finland. The clean-lined modern architecture enhances the experiential presentation of works from the changing exhibitions and the permanent collections of EMMA, Saastamoinen Foundation and Tapio Wirkkala Rut Bryk Foundation.
#emmamuseum
EMMA has been awarded Museum of the Year 2018. Welcome!
EMMA - Espoo Museum of Modern Art
WeeGee Exhibition Centre, Ahertajantie 5, Tapiola
p.o.box 6661, 02070 Espoon Kaupunki
info@emmamuseum.fi
Mon Closed, Tue, Thu 11am—6pm, Wed 11am—7pm, Fri 11am—7pm (free admission 5pm—7pm) Sat—Sun 11am—5pm
Customer service on Mon-Fri 10am—2pm
Tel. +358 43 827 0941
Tilaa tiedotteet sähköpostiisi
Haluatko tietää asioista ensimmäisten joukossa? Kun tilaat mediatiedotteemme, saat ne sähköpostiisi välittömästi julkaisuhetkellä. Tilauksen voit halutessasi perua milloin tahansa.
Lue lisää julkaisijalta Espoon kaupunki - Esbo stad
Uutishuoneessa voit lukea tiedotteitamme ja muuta julkaisemaamme materiaalia. Löydät sieltä niin yhteyshenkilöidemme tiedot kuin vapaasti julkaistavissa olevia kuvia ja videoita. Uutishuoneessa voit nähdä myös sosiaalisen median sisältöjä. Kaikki STT Infossa julkaistu materiaali on vapaasti median käytettävissä.
Tutustu uutishuoneeseemme