Habi Kids to offer a sea adventure with the Moomins
The partner of the Habitare furniture, design and interior decoration event's Habi Kids family-themed area is the world's only Moomin Museum. The area will be all about play and fun activities in a sea landscape. Habitare will be held at Messukeskus in Helsinki from 7 to 11 September 2022.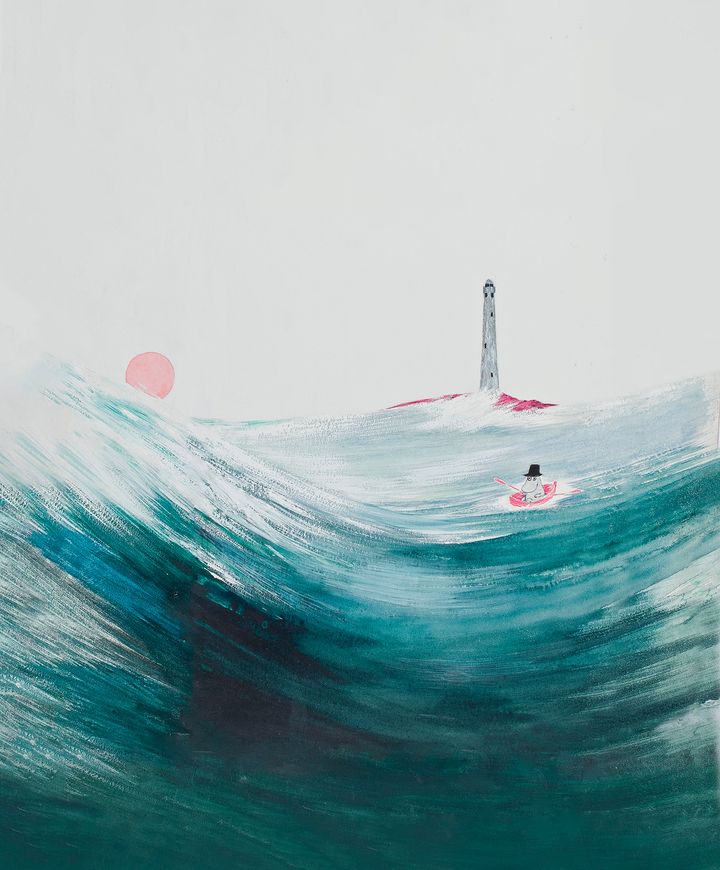 The Habi Kids area, realised in cooperation with the Moomin Museum, offers activities for fair-goers of all ages. In September 2022, Habi Kids will be set in a sea landscape from the Moomin world, in which the whole family can take boat rides from one islet to another or head to a mysterious lighthouse island.
Habitare's theme is Reimagine, and in the Habi Kids area, the little ones can let their imaginations run free together with the Moomins. For the creator of the Moomins, Tove Jansson, the sea was an important source of inspiration that fed her imagination. Jansson lived her whole life by the sea, and in the Moomin stories the sea is a recurring theme.
"Having adventures with others is central to the Moomin books, and the Moomin Museum wants to offer fair visitors a fun and action-packed sea journey. While on the adventure, or as an experience in its own right, you can take a break on the cliffs and enjoy, say, a picnic", says the producer, Minna Honkasalo from the Moomin Museum.
Habi Kids offers art education through play and adventure
In the Habi Kids area, the youngest members of the family can enjoy and learn about art through play. Habi Kids is a dedicated children's area, in which the whole family can relax while taking in the fair. In the area, you can make a boat out of bark, draw your own sea creature, write your own story, and take a break on a cliff.
"It's wonderful to have the Moomins and the sea at Habitare! Habi Kids has been an important part of the Habitare offering since the inception of the event. We are happy finally to be able to realise the area that has been a long time in the planning with the Moomin Museum and to, once again, offer families a beautiful and action-packed programme that includes an art and design education element", says the creative director of Habitare, Laura Sarvilinna.
The Habi Kids programme will be announced in May in connection with the rest of the Habitare programme.
More information:
Habitare, communications manager Marissa Rämänen, marissa.ramanen@messukeskus.com, tel. +358 44 046 7220
Moomin Museum: producer Minna Honkasalo, minna.honkasalo@tampere.fi, tel. +358 40 518 1491
Habitare
Habitare, the largest furniture, design and interior decoration event in Finland, will be held at Messukeskus in Helsinki, from 7 to 11 September 2022. Habitare offers experiences and ideas on interior decoration, and on the functioning and look of homes and other spaces. Habitare highlights the ideas and works by a new generation of designers, and sparks discussion. The International Friend of Habitare in 2022 is Joseph Grima. |www.habitare.fi | @HabitareFair | www.facebook.com/habitare | #habitare2022
The world's only Moomin Museum
The Moomin Museum is an experiential art museum in Tampere for all lovers of the Moomins and visual arts, whatever their age. The original illustrations by Tove Jansson (1914–2001) and the three-dimensional tableaux by Tuulikki Pietilä (1917–2009) tell the whole story of the Moomins. Experience the great flood, midsummer madness with the floating theatre, the puzzle of the lighthouse island, and the mysterious disappearance of the Moomin family in November! The wisdom, humour, adventurous spirit and warm kindness of the Moomins appeal to fans around the world. | www.muumimuseo.fi | @moominmuseum | www.facebook.com/muumimuseo | #muumimuseo
Photo, Video & Sound
Partially coinciding with Habitare, the Photo, Video & Sound event will be held from 9 to 11 September 2022, focusing on photography and video, and sound recording, editing and sharing. | kuvamessut.fi | #kuvajaääni