Heads'n Tails, the winner of the Future City Challenge competition, aims to improve the condition of indoor air in Espoo's schools
Organised by IBM, Digita and Etteplan, the Future City Challenge competition culminated in a Grande Finale and the selection of a winner on Valentine's Day. The aim of the FCC competition was to design new solutions and applications to ease the everyday lives of city dwellers. The cities participating in the competition were Helsinki, Espoo, Vantaa, Oulu, Jyväskylä and Tampere. The winning team is Heads'n Tails, which proposed a solution for the City of Espoo. The team won with its "Schools into shape" solution; as the name suggests, the idea is to get schools into shape and ensure a healthy indoor air environment for schools and kindergartens.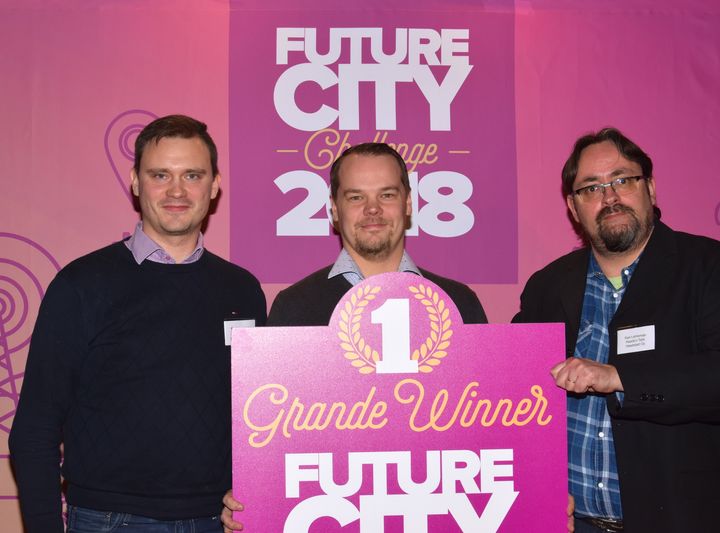 "We are very pleased with the overall level of the competitors' solutions. The solution presented by the winner, Heads'n Tails, was an excellent fit with the requirements. It will benefit city residents, has commercial potential, ingenuity, and applies the technologies provided. Heads'n Tails' solution could help to solve the current, widespread problems with indoor air by providing an easy and versatile way to measure it," says Rasmus Roiha, CEO and chairman for the jury.
"We can also assume that learning outcomes will improve due to the better quality of life provided by healthy indoor air. Taxpayers will save on real-estate maintenance costs and health services, when problems can be rectified in good time, before they escalate," says Tuukka Martikainen of the Heads'n Tails Team.
The solution combines sensor data with feedback based on the human, physical experience of a site, as well as data from various systems. Implementation will enable predictive analytics, allowing intervention before problems occur.  
In addition, the cities gave prizes for the best solutions from their own perspectives. "On behalf of the cities, I should add that we are delighted with the Future City Challenge competition and its easily deployed solutions," says Tuula Antola, Director of Economic Development for the City of Espoo.
Municipal directors of economic development, such as Tuula Antola of Espoo, Timo Antikainen of Tampere, José Valanta of Vantaa and Marja-Leena Rinkineva of Helsinki acted as judges in the Future City Challenge. The jury also included Rasmus Roiha, CEO of the Finnish Software Entrepreneurs Association. He also acted as the chairman of the jury.
Video: https://www.youtube.com/watch?v=jS9eiE5SbmU
Team: Jussi Nikki, Tuukka Martikainen, Olli Paavola, Kari Lehtomaa, Antti Ryysy
The competition winner will present its solution at IBM's largest customer and partner conference in the autumn of 2018. In addition, the winner will gain a year's access to IBM's Cloud services. Digita will provide a year's worth of LoRaWAN connections for 1,000 terminals. Etteplan will provide training and support services for the pilot project.
Additional information:
http://futurecitychallenge.fi
Facebook group:
https://www.facebook.com/groups/357535631335885/
Media contacts:

IBM Finland, Kim Johnsson, Business Development Manager Partners, tel. 050 554 1647 Digita Oy, Ari Kuukka,Director, IoT Services, tel. 040 (0)149 7942 7942
Etteplan Oyj, Jaakko Ala-Paavola, Technology Director, tel. 044 755 2936
IBM is a technology company specialising in cognitive data processing and cloud platforms, supporting the digital transformations of its customers and entire industries. New innovations are at the heart of our strategy, and we offer sector-specific solutions in the fields of cognitive data processing, cloud services, big data, analytics, mobility, social business and information security. IBM operates in more than 170 countries. www.ibm.fi
Digita transmits radio and television programmes to everyone living in every corner of Finland every day of the year. We also apply the latest digital technology in order to develop and offer versatile online television and radio services. In addition, our service portfolio includes IoT services based on our comprehensive network, as well as world-class Data Centre Services. Our clients include media companies as well as mobile and broadband operators offering first-class content. www.digita.fi
Etteplan provides industrial equipment and plant engineering, embedded systems, IoT (Internet of Things), and technical documentation solutions to the world's leading companies in the manufacturing industry. Our services are geared to improve the competitiveness of our customers' products and engineering processes throughout the product life cycle. The results of Etteplan's innovative engineering can be seen in numerous industrial solutions and everyday products.
In 2017, Etteplan had a turnover of approximately EUR 215 million. The company currently has over 2,800 professionals in Finland, Sweden, the Netherlands, Germany, Poland and China. Etteplan's shares are listed on Nasdaq Helsinki Ltd under the ETTE ticker. www.etteplan.com
Kuvat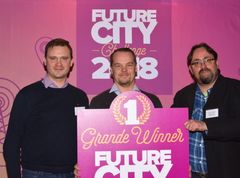 Tietoja julkaisijasta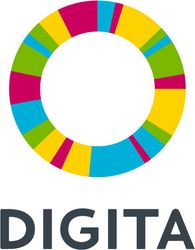 Digita
Jämsänkatu 2
00520 Helsinki
020 411 711
http://www.digita.fi
Digita välittää radio- ja tv-ohjelmat luotettavasti kaikille suomalaisille vuoden jokaisena päivänä. Viimeisimmän digitaalisen tekniikan soveltajana kehitämme ja tarjoamme myös monipuolisia internet-tv- ja radiopalveluita. Lisäksi palveluvalikoimaamme kuuluvat kattavaan verkkoomme pohjautuvat IoT-palvelut sekä huippuluokan DataCenter-palvelut. Asiakkaamme ovat parhaita sisältöjä tarjoavia mediayhtiöitä sekä mobiili- ja laajakaistaoperaattoreita.
Tilaa tiedotteet sähköpostiisi
Haluatko tietää asioista ensimmäisten joukossa? Kun tilaat mediatiedotteemme, saat ne sähköpostiisi välittömästi julkaisuhetkellä. Tilauksen voit halutessasi perua milloin tahansa.
Lue lisää julkaisijalta Digita
Uutishuoneessa voit lukea tiedotteitamme ja muuta julkaisemaamme materiaalia. Löydät sieltä niin yhteyshenkilöidemme tiedot kuin vapaasti julkaistavissa olevia kuvia ja videoita. Uutishuoneessa voit nähdä myös sosiaalisen median sisältöjä. Kaikki STT Infossa julkaistu materiaali on vapaasti median käytettävissä.
Tutustu uutishuoneeseemme