Heat pump plants increase much-needed energy self-sufficiency and bring cost benefits
Energy and cost efficiency, sustainability and energy self-sufficiency are drivers for better solutions in energy production.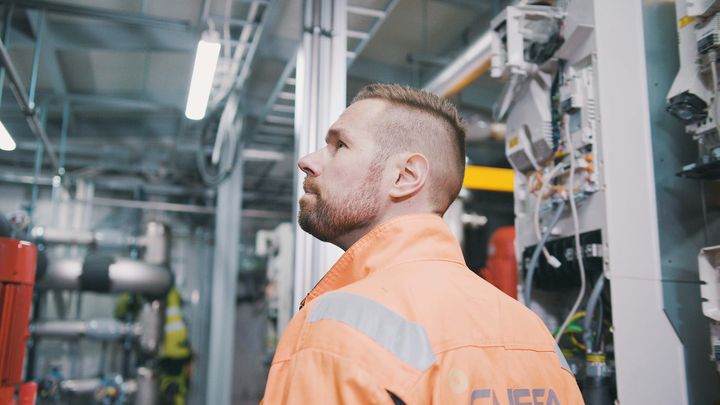 – In the current global situation energy self-sufficiency has become the number one priority. Energy production needs to be based on other sources than gas or oil. In addition energy efficiency needs to be improved so that energy consumption is minimized. Energy should be produced without CO2 emissions, Petri Vuori, the CEO of Calefa Oy lists the guidelines of fight the energy crisis.
Heat pump technology has developed in giant steps during the last years. It will have a major role in the energy transformation.
Environment offers multiple energy sources
– AmbiHeat heat pump power plants, designed and manufactured in Finland, produce efficient heat from industrial waste heat, outdoor air, waterbodies, geothermal and solar energy, in other words from ambient sources available.
The zero-emission heat can be utilized as district heating and for industrial needs. The same heat pump plant can also produce district cooling or cooling for industrial processes.
– Unfortunately there is still too little discussion on the possibilities to cover a major part of energy need by advanced heat pump technology. Property heating could be dealt with entirely, and many industrial processes could be handled as well, without the need for fossil fuels, says Petri Vuori.
The core of the AmbiHeat heat pump plants are specially designed HotLevel heat pumps, which are capable of reaching even 130 ˚C with good efficiency.
Industrial energy solutions are becoming not only self-sufficient but also carbon-neutral
Examples of zero-emission, affordable heat production systems pop up around Finland.
The Paroc Panels factory in South-Western Parainen replaced their oil consumption completely last year, by switching their property heating self-sufficient with an AmbiHeat heat pump plant. The heat is produced from production waste heat and also stored in geothermal wells, where it can be utilized during the coldest season and when there is a break in production.
The CEO of Calefa points out that energy ecosystems are a smart way to save energy and decrease CO2 emissions.
– Industrial manufacturing units and energy companies can decrease emissions and improve energy efficiency through sharing economy, while operational reliability and energy self-sufficiency improve.
In Lempäälä at the Kiilto chemical factory, the heating demand of the properties has mainly been covered by a heat pump system and the reuse of industrial waste heat.
Starting this year, gas will no longer be used, not only at the factory but also in the Sääksjärvi district heating network. The chemical factory and the local energy company Lempäälän Lämpö will start to share the excess, zero-emission heat from the production. The peak demand for heating will be delivered from Lempäälän Lämpö as carbon-neutral district heating.
The municipal wastewater plant of Kymen Vesi in Kotka replaced natural gas entirely, as they started to use waste heat as the heating source for the buildings. The new heating method is completely emission-free.
– The heat pump plant is the answer to the long-term targets in terms of both CO2 emissions and energy and cost efficiency. Also, energy self-sufficiency can be reached with these systems, CEO Petri Vuori concludes.
Yhteyshenkilöt
Petri Vuori
040 553 4427
petri.vuori@calefa.fi

Tietoja julkaisijasta

Calefa Oy
Muovite 1
15860 Hollola
0102190280
http://www.calefa.fi/fi/
Calefa delivers total energy systems based on world-leading heat pump technology. Our customers are industrial and energy companies plus large properties. The heat pump systems utilize industrial waste heat and ambient energy.
We implement total solutions as turnkey deliveries and ensure the functionality of the whole system throughout its entire lifetime. With our systems, our customers get significant savings and cut their CO2 emissions by utilizing waste heat and clean, ambient energy.
Tilaa tiedotteet sähköpostiisi
Haluatko tietää asioista ensimmäisten joukossa? Kun tilaat tiedotteemme, saat ne sähköpostiisi välittömästi julkaisuhetkellä. Tilauksen voit halutessasi perua milloin tahansa.
Lue lisää julkaisijalta Calefa Oy
Uutishuoneessa voit lukea tiedotteitamme ja muuta julkaisemaamme materiaalia. Löydät sieltä niin yhteyshenkilöidemme tiedot kuin vapaasti julkaistavissa olevia kuvia ja videoita. Uutishuoneessa voit nähdä myös sosiaalisen median sisältöjä. Kaikki tiedotepalvelussa julkaistu materiaali on vapaasti median käytettävissä.
Tutustu uutishuoneeseemme