Ilona Partanen creates a windy work of art for Tapiola construction site
The fencing around the Tuultenristi (Cross of the Winds) construction site in Tapiola has been transformed into a work of wind illustrations by Finnish illustrator Ilona Partanen. YIT Group is constructing residential and office buildings on the site, and the artwork is a collaboration between YIT and EMMA – Espoo Museum of Modern Art. The project is designed to delight and inspire passers-by and residents by bringing art to the streets of Tapiola and brightening up its unfinished spaces. After the fencing is dismantled, the work of art will be accessioned to EMMA's collections. Some of the motifs will be placed on display in the entrance halls of the new residential buildings.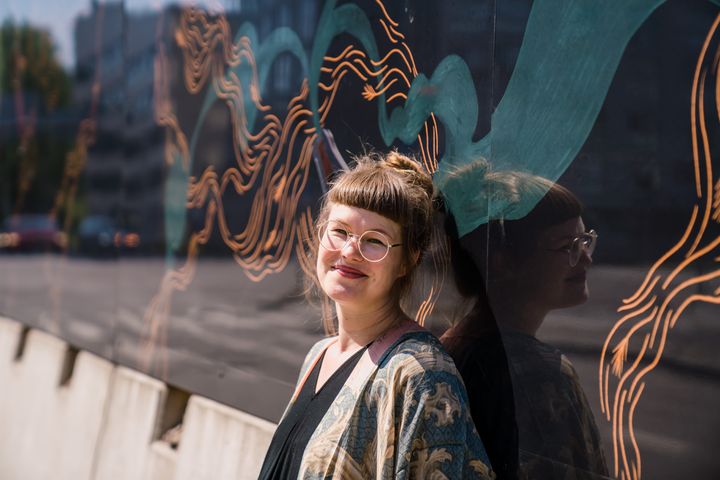 The three residential buildings under construction are named Länsituuli (West Wind), Etelätuuli (South Wind) and Itätuuli (East Wind). The idea behind Ilona Partanen's artwork is to visually bring out the character of each wind, the swirling air currents being combined with a variety of landscapes, animals, and everyday objects from hats to flags and boats. The visual style of the artwork is influenced by the maritime setting and by myth and folklore. The illustrations are printed on aluminium and acrylic plates that are affixed to the construction fence.
Partanen works as an illustrator and graphic designer, but she also has experience with public art. Her style is recognizable for its bold colours, painterly brushwork, and organic treatment of form. Her prior public works can be viewed at venues such as Myyrmäki metro station, which features a mural executed in collaboration with the Multicoloured Dreams collective. Partanen is also a member of Grafia's street art G-Rex guild.
After the fence is dismantled, Partanen's artwork will live on as part of EMMA's collection. In the future, selected panels can be displayed in other public spaces around Espoo. The illustration is easy to reproduce, and its elements can be customized for specific sites.
"This collaboration offers EMMA a wonderful opportunity to extend our reach beyond our museum by sharing high-quality visual art with the people of Espoo and the city's visitors. The project also marks a valuable opportunity to augment our collection," enthuses Henna Paunu, Chief Curator at EMMA.
Located immediately adjacent to Tapiola's metro station and bus station, YIT's Tuultenristi (Cross of the Winds) project comprises one nine-storey and two twelve-storey residential buildings, five five-storey office buildings, and a residential parking garage. Construction of the first residential complex, Asunto Oy Espoon Itätuuli (East Wind) began this spring.
EMMA – Espoo Museum of Modern Art is part of the WeeGee Exhibition Centre in the Espoo district of Tapiola. In addition to hosting its own exhibitions, EMMA's art can be seen throughout the city of Espoo. A significant portion of the EMMA Collection is always accessible to Espoo residents as part of the townscape, as public monuments in outdoor spaces, and as works displayed in schools, hospitals, day care centres and public swimming pools. EMMA also commissions public artworks for the City of Espoo.