INVITATION for media: Daniel Buren: Sail/Canvas – Canvas/Sail and Ployer/Déployer 105 couleurs aux vents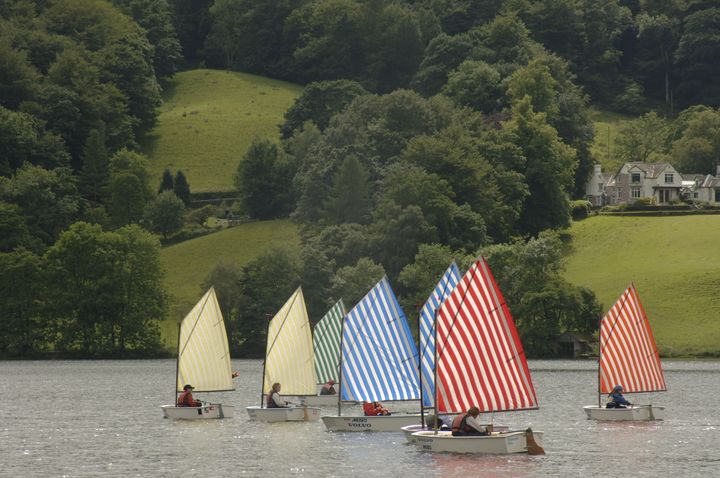 Sail/Canvas – Canvas/Sail (Voile/Toile – Toile/Voile)
EDIT: On 21 May at 2pm (Finnish time)
You are cordially invited to experience Daniel Buren's two-part public artwork Sail/Canvas – Canvas/Sail (Voile/Toile – Toile/Voile) in Espoo's Nuottaniemi Bay. In the event, Buren's famous stripes will appear on the Optimists' sails in a regatta organized in collaboration with the Espoo Pursiseura Yacht Club EPS. After the race, the sails will be displayed at EMMA until the end of the exhibition, 17.7.2022.
Edit: The regatta will take place on Saturday May 21 at 2pm (Finnish time), weather permitted. Artist Daniel Buren will be present in the event.
Please address further inquiries, requests for interviews and registrations of media representatives to iris.suomi@emmamuseum.fi by Thursday 19 May.
Adress: Nuottatie 19, 02230 Espoo. Please note that there is very limited amount of parking spaces in the area. We recommend the audience to arrive with public transport.
Ployer/Déployer 105 couleurs aux vents
20.5.–28.8.2022
Daniel Buren's new in situ work opens on Friday 20 May in Tapionaukio, Espoo. Among the most iconic of Daniel Buren's works are those made with flags, which feature his signature visual tool, 8.7 cm-wide vertical stripes. This work Ployer/Déployer 105 couleurs aux vents created especially for the square consists of 105 yellow, red, turquoise, green and violet flags designed by the artist.
Daniel Buren's in situ pieces are a part of his exhibition at EMMA, Going for a Walk in a Zigzag. The exhibition is curated by EMMA's Chief Curator Arja Miller in collaboration with the Director of the Danish art agency Creator Projects, Simon Friese.
About EMMA – Espoo Museum of Modern Art
EMMA – Espoon modernin taiteen museon kokoelma- ja näyttelytoiminta profiloituu kotimaiseen ja kansainväliseen modernismiin, nykytaiteeseen sekä designiin. EMMA sijaitsee Espoon Tapiolassa, professori Aarno Ruusuvuoren suunnittelemassa betoniarkkitehtuuria edustavassa Näyttelykeskus WeeGeessä. Näyttelytilat ovat pinta-alaltaan Suomen suurimmat, ja pelkistetty moderni arkkitehtuuri tukee EMMAn, Saastamoisen säätiön ja Tapio Wirkkala Rut Bryk Säätiön kokoelmien sekä vaihtuvien näyttelyiden kokemuksellista esittämistä. Tervetuloa!
@emmamuseum