Johan Kurkela appointed Executive Chef at The Hotel Maria
With its grand opening scheduled for December 2023, The Hotel Maria in Kruununhaka, Helsinki, is delighted to announce the appointment of Finnish Bocuse d'Or candidate Johan Kurkela as Executive Chef at à la Carte restaurant Lilja. Johan Kurkela is already hard at work at designing the restaurant's culinary concept.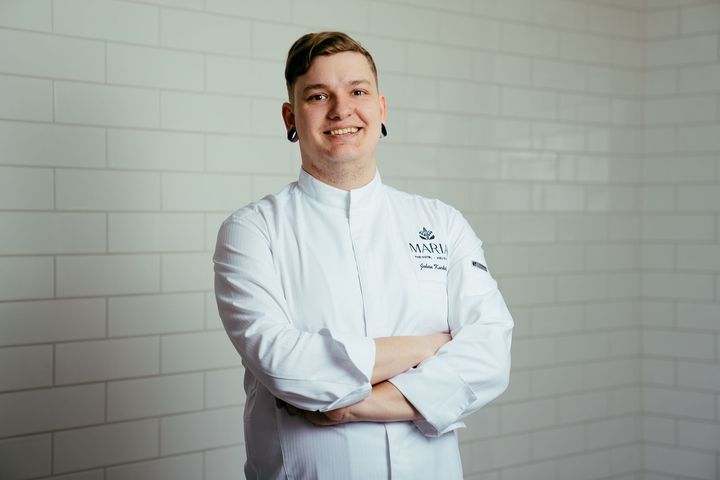 The Hotel Maria's à la Carte restaurant Lilja will serve patrons with a food concept offering culinary experiences to meet the tastes of both international luxury travelers and locals of the area.
Chef Johan Kurkela explains that Lilja's culinary style stands on the foundation of classic French cuisine while favoring seasonal Finnish and Nordic ingredients as much as possible.
"We want to become the most high-end Finnish hotel restaurant, operating with the reverence and passion to match the most distinguished restaurants of the world. Inspiration for our work and food stems from near and far in perfect balance, and same goes for our cooking methods. The concept is based on classic French cuisine, but with a modern twist and a lighter touch. We will have an international clientele that we need to consider, but we also want to provide an attractive culinary experience to the citizens of Helsinki and the residents of Greater Helsinki area."
In addition to the à la Carte restaurant, the hotel will accommodate restaurant Garden Terrace, two bars and an event venue.
Bocuse d'Or - the hardest culinary school for Kurkela
Johan Kurkela, 26, is one of Finland's most promising young chefs. He already has almost 10 years of experience under his belt from some of the most esteemed Finnish restaurants, including Olo and Grön. Currently, he is best known as the Finnish Bocuse d'Or candidate for season 2022–2023. The last two years have been spent entirely on preparing for Bocuse d'Or.
"Bocuse has been in my life for a total of four years now, as I was part of the delegation also during season 2019–2020. The competition and training are hard work, but also extremely rewarding", Kurkela says.
The Hotel Maria's Director responsible for kitchen functions, Petri Rauha, is delighted to have Johan Kurkela join The Hotel Maria team.
"Johan brings to the table his strong gastronomic expertise, visionary thinking, and current and up-to-date insights on culinary concepts and trends. He also has extensive knowledge of the necessary quality standards to support the high-end functions of the new restaurant", Petri Rauha explains.
Executive Chef Kurkela wants to create memorable culinary experiences for the patrons.
"The Hotel Maria is an exceptional challenge for me, for this is the first time I get to be involved in designing and opening a new restaurant. As part of the team, I get to use my ambition and expertise to build a culinary concept that supports the hotel in providing the experience and hospitality our guests seek from us", he says.
About The Hotel Maria
The Hotel Maria in Kruununhaka, Helsinki, offers a new alternative and service experience for guests who appreciate Nordic hospitality and a more refined luxury hotel stay. The hotel will open its doors on December 15, 2023 at Mariankatu 23, 00170 Helsinki.
Subscribe to releases from The Hotel Maria
Subscribe to all the latest releases from The Hotel Maria by registering your e-mail address below. You can unsubscribe at any time.
Latest releases from The Hotel Maria
In our pressroom you can read all our latest releases, find our press contacts, images, documents and other relevant information about us.
Visit our pressroom