Kempower powers the Arctic Race of Norway 2022, providing fast-charging infrastructure
Kempower has been chosen for the second year running to be a sponsor of the 9th annual Arctic Race of Norway 11th-14th August 2022. The company will supply its chargers throughout the race to power staff and athlete cars. The use of EVs is part of the Arctic Race of Norway's target to become the world's most sustainable cycling race.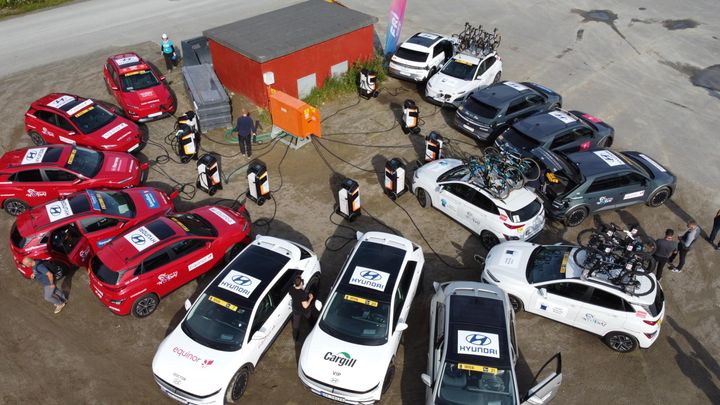 The Arctic Race of Norway is an annual multiple stage bicycle race held in Northern Norway. Organized by UCI, the same governing body that organizes the Tour de France, the race is a test of the endurance of the world's best cyclists as they come together in August to navigate Northern Norway's mountainous terrain.
The event has a strong sustainability message and is one of the first cycling races to use predominantly electric vehicles in-race. This year the race will employ 90 electric cars for transporting athletes and staff, making up 75% of the fleet and building towards an aim of being 100% electric in 2025.
Kempower has been chosen as a sponsor of the event for the second time. It will provide 8 of its T-Series DC fast charging units throughout the route. Together with other sponsors, Kempower's team will manage fast charging with altogether 11 Kempower T-Series chargers during the race. The movability and light weight of Kempower T-series mean they can easily travel alongside the cycling teams and are able to access even the remotest of locations. Furthermore, the T-Series' fast-charging ability is crucial for this event as the event's EVs will travel upwards of 250km some days, meaning they will need to be quickly charged overnight.
Commenting on the project, Paula Savonen, Communications Director of Kempower, said:
"We're delighted to sponsor this prestigious event once again. Our movable Kempower chargers, which are designed for durability and easy charging, are ideal for powering such a remote event navigating challenging environments. Our ability to power EVs even in the most challenging of locations is evidence that the e-mobility revolution is unstoppable."

Follow our social media channels 12-14 August to see the Kempower charging team in action!
Instagram: www.instagram.com/kempower_oyj
Twitter: www.twitter.com/KempowerOyj
LinkedIn: www.linkedin.com/company/kempower-corporation
Facebook: www.facebook.com/kempowerfi

Arctic Race of Norway 2022 Route:
Stage 1: Mo i Rana > Mo i Rana 185 km
Stage 2: Mosjøen > Brønnøysund 155 km
Stage 3: Namsos > Skallstuggu summit (Levanger) 180 km
Stage 4 Trondheim > Trondheim 160 km
More information about the event: https://www.arctic-race-of-norway.com/en/

Kempower, media relations:
Paula Savonen, Director, Communications, Kempower
Tel. +358 29 0021900