Lehti, Pisa and Venezia exhibition displays the printed fabrics designed by Aino, Elissa and Alvar Aalto
The first exhibition "Lehti, Pisa and Venezia" in the Alvar Aalto Shop's new exhibition space in the centre of Jyväskylä is showing printed fabrics designed by Aino, Elissa and Alvar Aalto.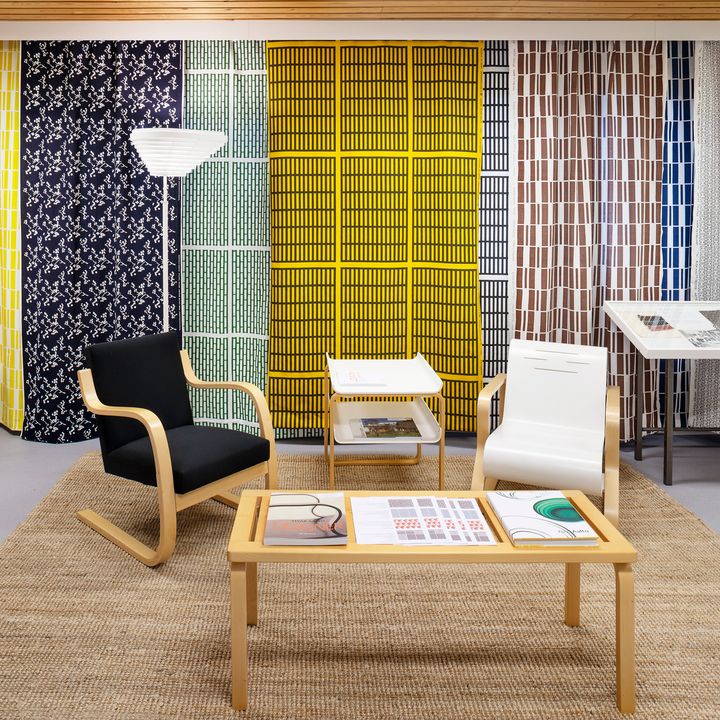 The architect Aino Aalto (1894–1949) was one of the pioneers in designing models of printed fabrics in Finland from the 1930s onwards. "The development of fabric-printing technology extended the range of possible pattern designs, and Aino, who was Design Director of the interior-design company Artek at the time, kept up with international textile trends and designers of the day," says Chief Curatorof the Alvar Aalto Foundation, Katariina Pakoma. Aino's interest in natural forms is reflected, for instance, in the cotton fabrics that she designed, with stylized flower and plant motifs, examples being Lehtikangas (leaf) and Kirsikankukka (cherry blossom). These timeless patterns were subsequently added to Artek's new production.
As the printed-fabric industry developed and with the arrival of the 1950s, colourful, richly patterned cotton fabrics became more common. At that time, Artek, too, was keen to produce a new range of printed fabrics. In 1954–55, the architects Elissa (1922–1994) and Alvar Aalto (1898–1976) designed a range containing geometric patterns for Artek, the fabrics being suitable for both home textiles and clothing. The architect couple named some of the fabrics after the north-Italian cities of Pisa, Siena and Venice – their brick architecture had presumably inspired the creation of the fabrics. Elissa Aalto's Patio fabric takes our thoughts to the sheltered courtyard of their then just-completed summer home, the "Experimental House".
This joyously multicolouredexhibition shows numerous examples of originals and later variants on all the fabrics mentioned. It consists of fabrics from the Museum's collections and almost all of the Aino, Elissa and Alvar Aalto´s pattern designs. Also on display are swatches, along with variants in the original colours, and Swedish and Italian versions of the patterns. The exhibition texts are supplemented by articles (in Finnish) by the architect Igor Herler on the history and origins of the Aalto fabrics and on fabric-printing techniques.


LEHTI, PISA AND VENEZIA. Aino, Elissa and Alvar Aalto's printed fabrics
3.2.–1.9.2022, Alvar Aalto Shop
Kauppakatu 8, Jyväskylä, Finland
Contacts
Alvar Aalto Foudantion
Chief Curator Katariina Pakoma
Tel. +358 400 849 315
katariina.pakoma@alvaraalto.fi

Images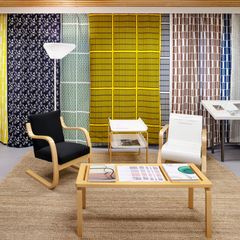 About Alvar Aalto -säätiö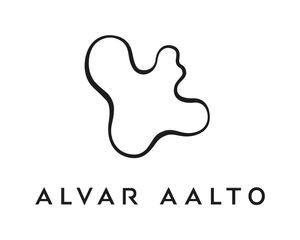 Alvar Aalto -säätiö
JYVÄSKYLÄ ja HELSINKI
040 135 6210
https://www.alvaraalto.fi
Alvar Aalto -säätiö toimii paremman arkiympäristön ja muotoilukulttuurin hyväksi lähtökohtanaan Alvar Aallon ja hänen elämäntyönsä humanistiset ja ekologiset arvot. Alvar Aalto -museo, säätiön osana, pitää yllä ja kartuttaa kokoelmiaan ja arkistojaan sekä tuottaa monipuolisia yleisön- ja asiantuntijapalveluita.