May 2021 was lively for housing loan drawdowns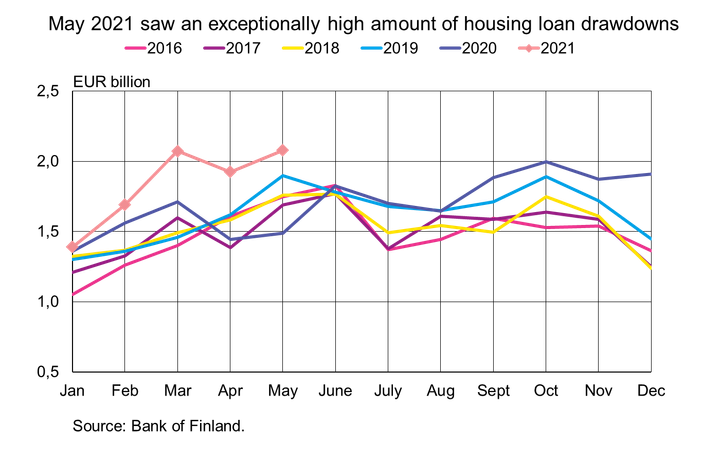 In May 2021, the amount of new housing loans drawn down by Finnish households was exceptionally high, totalling EUR 2.1 bn. The last time housing loans taken out within a single month exceeded this total was 13 years ago, in June 2008. The level of new drawdowns was markedly higher than in previous years in the early part of the year as a whole –notably the spring months. In January-May 2021, drawdowns of new housing loans grew by 21% on the corresponding period a year earlier, while in April-May 2020 they had been fewer than usual on account of the COVID-19 pandemic. In May 2021, 9.2% of new housing loans were buy-to-let mortgages. The average interest rate on new owner-occupied residential mortgages was 0.69%, while the average rate on new buy-to-let mortgages was 0.86%.
The share of loans with the longest repayment periods (over 29 years) has grown further. In May 2021, these loans accounted for 12.9% of all new housing loans, compared with 9.1% a year earlier. In May, almost all of the new drawdowns of housing loans with longer repayment periods were drawdowns of owner-occupied residential mortgages. The average repayment period for new owner-occupied residential mortgages was 21 years 10 months, while that for new buy-to-let mortgages was 18 years 8 months.
Fuelled by the high level of drawdowns and longer repayment periods, annual growth in the housing loan stock accelerated to 4.1% in May. The last time annual growth has been equally strong was 8 years ago, in May 2013. At the end of May 2021, the stock of housing loans stood at EUR 104.4 bn. Of this, 7.9% were buy-to-let mortgages.
Loans
At the end of May 2021, the stock of loans to Finnish households comprised EUR 16.6 bn in consumer credit and EUR 17.6 bn in other loans. Drawdowns of new loans (excl. overdrafts and credit card credit) by Finnish non-financial corporations (NFCs) in May totalled EUR 1.6 bn. The average interest rate on these rose slightly from April, to 1.88%. The stock of loans to Finnish NFCs at end-May stood at EUR 97.2 bn, of which loans to housing corporations accounted for EUR 38.1 bn.
Deposits
The stock of Finnish households' deposits at end-May amounted to EUR 106.6 bn, and the average interest rate on the deposits was 0.04%. Overnight deposits accounted for EUR 96.9 bn and deposits with agreed maturity for EUR 3.0 bn of the deposit stock. In May, households concluded EUR 56 million of new agreements on deposits with agreed maturity, at an average interest rate of 0.21%.
For further information, please contact:
Antti Hirvonen, tel. +358 9 183 2121, email: antti.hirvonen(at)bof.fi
Markus Aaltonen, tel. +358 9 183 2395, email: markus.aaltonen(at)bof.fi
The next monthly statistical release will be published at 10 a.m. on 2 August 2021.
Related statistical data and graphs are also available on the Bank of Finland website: https://www.suomenpankki.fi/en/Statistics/mfi-balance-sheet/.
About Suomen Pankki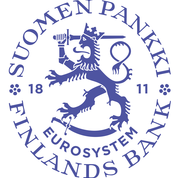 Suomen Pankki
Snellmaninaukio, PL 160
00101 HELSINKI
09 1831
http://www.bof.fi
The Bank of Finland is the national monetary authority and central bank of Finland. At the same time, it is also a part of the Eurosystem, which is responsible for monetary policy and other central bank tasks in the euro area and administers use of the world's second largest currency – the euro.