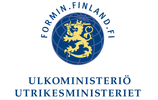 MFA: Meeting of the chairs of the Finnish-Russian Intergovernmental Commission for Economic Cooperation
MINISTRY FOR FOREIGN AFFAIRS
http://formin.finland.fi/english
Press release 4/2018
15 January 2018
Meeting of the chairs of the Finnish-Russian Intergovernmental Commission for Economic Cooperation
The chairs of the Finnish-Russian Intergovernmental Commission for Economic Cooperation will meet in Moscow on 16 January. The Economic Commission will be co-chaired by Finland's Minister for Foreign Trade and Development Kai Mykkänen and Deputy Prime Minister of Russia Dmitri Kozak.
""Trade between Finland and Russia is developing favourably. At the same time, Russia's tightening import substitution policy causes problems, and several separate challenges need to be discussed, such as a possible export ban on birch logs to be imposed by Russia. I intend to discuss the situation with Deputy Prime Minister Kozak and to help in reaching a solution to the problems," Minister Mykkänen says. 
In Moscow, Mykkänen will also attend the Gaidar Forum. The Forum is an annual event, convened to discuss the economic situation in Russia and the trends in world economy. It gathers together experts in economic questions and opinion leaders from different countries. Minister Mykkänen will hold a speech in the main panel discussion of the Forum. Prime Minister Dmitry Medvedev will also speak at the event.
Mykkänen will also visit Finnish companies in Moscow and hold discussions with Russia's Minister for Economic Development Maksim Oreshkin.
The aim of the Intergovernmental Commission for Economic Cooperation is to support Finnish and Russian companies' business opportunities and to promote the commercial and economic relations between Finland and Russia. It consists of fifteen sectoral working groups and nine regional working groups. At the meeting, the chairs will handle, for example, questions related to trade, energy cooperation and the business environment in Russia. The chairs will also discuss challenges encountered by individual Finnish companies in Russia.
The trade between Finland and Russia has been on the increase starting from the end of 2016. Russia is the sixth most important destination of Finnish exports and second among the most important countries of Finnish imports. The value of Finnish investments in Russia is approximately EUR 12 billion.
Trade with Russia is subject to the economic sanctions imposed by the EU and Russia's counter-sanctions. The EU sanctions are aligned to the implementation of the Minsk agreements.
Inquiries: Tuuli-Maaria Aalto, Diplomatic Adviser to Minister Mykkänen, tel. +358 295 350 633 / +358 50 4377 560, Jaakko Lehtovirta, Director of Unit, tel. +358 295 351 784 / +358 50 3120 537.
The Foreign Ministry's email addresses are of the format firstname.lastname@formin.fi.