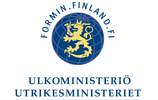 MFA: Minister for Foreign Affairs Soini to Madrid
MINISTRY FOR FOREIGN AFFAIRS
http://formin.finland.fi/english
Press release 7/2018
17 January 2018
Minister for Foreign Affairs Soini to Madrid
Minister for Foreign Affairs Timo Soini will visit Madrid from 17 to 19 January.
During his visit, Minister Soini will meet the Spanish Foreign Minister, Alfonso Dastis, and hold a lecture on security questions in Europe at the International Affairs and Foreign Policy Institute (INCIPE).
The main objective of the visit is to develop dialogue on key foreign and security policy matters and to advance bilateral cooperation in commercial and economic and EU questions. The topics on the agenda of the ministerial visit will include the future of the EU, mediation, the future of the Baltic Sea, and the EU's neighbourhood and migration.
Inquiries: Raili Lahnalampi, Chief of Cabinet, Office of the Minister for Foreign Affairs, tel. +358 50 550 7546 
The Foreign Ministry's email addresses are of the format firstname.lastname@formin.fi.
Tilaa tiedotteet sähköpostiisi
Haluatko tietää asioista jo ennen kuin ne uutisoidaan? Kun tilaat tiedotteemme, saat ne sähköpostiisi yhtä aikaa suomalaisen median kanssa. Tilauksen voit halutessasi perua milloin tahansa.
Lue lisää julkaisijalta Ulkoministeriö/Utrikesministeriet
Uutishuoneessa voit lukea tiedotteitamme ja muuta julkaisemaamme materiaalia. Löydät sieltä niin yhteyshenkilöidemme tiedot kuin vapaasti julkaistavissa olevia kuvia ja videoita. Uutishuoneessa voit nähdä myös sosiaalisen median sisältöjä. Kaikki STT Infossa julkaistu materiaali on vapaasti median käytettävissä.
Tutustu uutishuoneeseemme