New record: Finnish beer restaurant indulged its customers with no less than 1,035 different beers in 2022
Finnish Olutravintola Konttori is known among beer enthusiasts for its fast-rotating beer selection. Nevertheless, it came as a surprise to the restaurant folks that the number of beers sold exceeded one thousand in the 2022 statistics.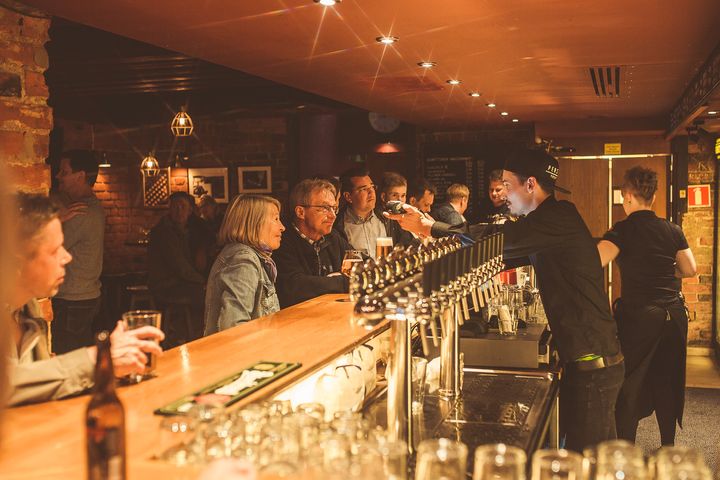 "We had 619 different draught beers during the year, and when you include beverages sold in bottles and cans, you end up with as many as 1,035 different beers. This all-time record indicates that beer as a tasting product is of interest", says Konttori's restaurant manager Antti Hannula.
Olutravintola Konttori is centrally located in the centre of Tampere.
"In any case, 2022 was an encouraging year – people returned to restaurants after the coronavirus and there was good buzz in the city centre area, for example, thanks to the events held at the new multi-purpose Nokia Arena. Ice hockey world championships organised at the Nokia Arena brought thousands of Finnish and international tourists to the city, and it is great that the games will be held in Tampere for the second time in spring 2023", Hannula says.
IPAs held up as the most popular
The production of heavily hopped IPAs increased significantly with the microbrewery boom of the 21st century, as they became the first product of many artisanal breweries. The trend continues, and hundreds of different styles of IPAs were sold from Konttori's taps during 2022.
"To be precise, we offered 345 different IPAs, while our selection included about fifty each of lagers, dark stouts, and porters. Sour beers made their final breakthrough in 2022, and we had more than 130 different kinds to taste on tap alone. I dare to promise that Konttori will always have a suitable option for both enthusiasts already immersed in beer tasting and those who have not really cared for beer before," Hannula says.
Selection is being developed together with beer enthusiasts
Antti Hannula says that Konttori's reputation as one of the places of pilgrimage for beer enthusiasts was built gradually.
"Of course, our expert personnel are at the core of it all, but we also work closely with importers as well as domestic and foreign breweries. We are constantly following new developments in the field and are looking forward to future novelties. However, the main thing is not the number of beers on offer, but we always put the products on sale quality first, yet with bold experimentality", he says.
According to Hannula, breweries are delightfully active in offering their products for Konttori's selection, but customers contribute to developing the restaurant's selection as well.
"As always, we engage in ongoing dialogue over the counter, but the Untappd app focusing on beer reviews has become a very important tool. During the past year, Konttori's beer menu received well over 100,000 views in the app, and more than 17,000 of our drinks were reviewed. News on interesting taste experiences travel fast between the restaurant and the customers but within the beer enthusiast community as well", Hannula describes.
About Restbar Group
Restbar Group is a Finnish family owned company whose industries include restaurants, catering, DJ and karaoke services, and personnel services. Kaupunkiravintolat Ltd and Olutravintola Konttori is part of Restbar Group.
Olutravintola Konttori is a Finnish beer restaurant, located in a beautiful jugend house in the core of Tampere city centre. Olutravintola Konttori continuously serves 21 different beers on tap of which 11 are quickly rotating. All together Olutravintola Konttori serves over 400 different beers on tap yearly. The bottle and can selection is wide aswell – at least 200 carefully selected beers is always on the list. Olutravintola Konttori´s updated beer menu is on Untappd application.