Press conference on Tue 27 Oct at 10 am: Eeva-Leena Eklund :)
Eeva-Leena Eklund's exhibition is part of the collaboration between Saastamoinen Foundation and EMMA in which one new work is commissioned annually from a seminal and topical contemporary artist for the foundation's art collection. This occasion also marks the premiere of Biblion, a video installation by Saara Ekström and Eero Tammi, as well as new additions to the Saastamoinen Foundation collection display Touch: The new section Humans and Nature and Maaria Wirkkala's work Beyond This Point.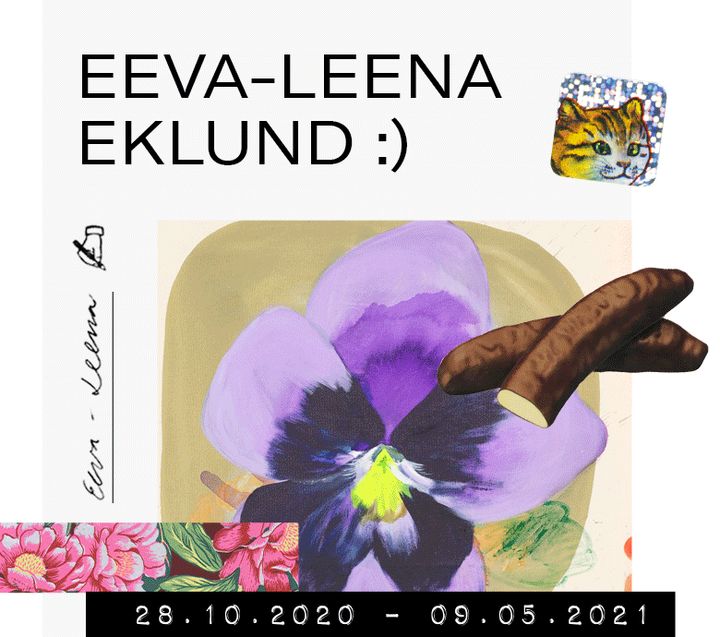 Eklund's exhibition and the new additions to the Touch exhibition will be presented for the media on Tuesday 27 Oct at 10 am. Päivi Karttunen from Saastamoinen Fundation will be speaking. Artist Eeva-Leena Eklund and the curator of Eklund's exhibition Anna Tuori will be interviewed as well as the artists behind the video installation Biblion, Saara Ekström and Eero Tammi. The exhibition is open for preview until 12 noon. Press conference language is Finnish.
RSVP and interview requests by Thursday 22 Oct: asta.teravainen@emmamuseum.fi 

The speeches can be watched remotely via this link emmamuseum.fi/press. The link will take you directly to the broadcast from Tue 27 Oct, 9.45 am onwards. Interviews can also be conducted remotely. Please request them in advance.

EMMA is the largest art museum in Finland in terms of area and you can attend the press conference while maintaining safety distances. Masks are strongly recommended. Read our guidelines for a safe visit as you plan your arrival on site.

Eeva Leena Eklund :) 28.10.2020–9.5.2021
The world can be a troubled and knotted place, and Eeva-Leena Eklund's works echo this. Eklund's paintings are firmly anchored in reality and observations of it. Motifs for her work may include the fabric of a sofa, tomatoes, her grandfather's wartime postcards from the battlefront, or streetscapes. Eklund looks beyond everyday curiosities; at the windowsill where unattainable longing has been replaced by staring animal figurines made of porcelain. 
Eeva-Leena Eklund's exhibition continues the collaboration between the Saastamoinen Foundation and EMMA where, every year, a new work is commissioned from an interesting and topical artist and added to the foundation's art collection. Eeva-Leena Eklund will create a large site-specific installation for the space and architecture of EMMA. The exhibition is curated by Anna Tuori.

Saara Ekström & Eero Tammi: Biblion 28 Oct 2020–25 Apr 2021

The new video installation by Saara Ekström and Eero Tammi is premiered in EMMA's media space. The work examines the medium of the book, exploring its hypnotic and layered essence as a carrier of changing, growing and disappearing information. The weight of the masses of books ending up in libraries, second-hand bookshops, storages and landfills also represents the weight and legacy of our history – an irreplaceable treasure to one, an unwanted burden for another.


Collection exhibition Touch permanently on display
Touch presents a curated pick of Finnish and international contemporary works from the Saastamoinen Foundation Art Collection. With the overarching theme of humanity at its core, the show delves into fundamental questions concerning the human condition and the nature of human existence.

Works on view in the new section by artists Tilo Baumgärtel, Maria Duncker, Latifa Echakhch, Juhani Harri, Pekka Jylhä, Kimmo Kaivanto, Sanna Kannisto, Otto Karvonen, Essi Kuokkanen, nabbteeri, Inka Nieminen, Roland Persson, Jani Ruscica, Hanna Saarikoski, Olli Suorlahti, Jaakko Tornberg, Janna Syvänoja, Ferdinand von Wright and Wilhelm von Wright. 
About EMMA – Espoo Museum of Modern Art
EMMA – Espoon modernin taiteen museon kokoelma- ja näyttelytoiminta profiloituu kotimaiseen ja kansainväliseen modernismiin, nykytaiteeseen sekä designiin. EMMA sijaitsee Espoon Tapiolassa, professori Aarno Ruusuvuoren suunnittelemassa betoniarkkitehtuuria edustavassa Näyttelykeskus WeeGeessä. Näyttelytilat ovat pinta-alaltaan Suomen suurimmat, ja pelkistetty moderni arkkitehtuuri tukee EMMAn, Saastamoisen säätiön ja Tapio Wirkkala Rut Bryk Säätiön kokoelmien sekä vaihtuvien näyttelyiden kokemuksellista esittämistä. Tervetuloa!
@emmamuseum