Press conference on Tue 28 Sep at 10am: Konrad Mägi – The Enigma of Painting and Leena & Kalle Nio: Painting Machine
Join us for a press preview of Konrad Mägi – The Enigma of Painting, autumn's major exhibition at EMMA. The retrospective showcases the Estonian modernist's work on an unprecedented scale. The second preview takes place at EMMA Areena: Painting Machine, the first collaborative work by Leena Nio, known for her multi-layered paintings, and Kalle Nio, visual artist, magician and theatre director.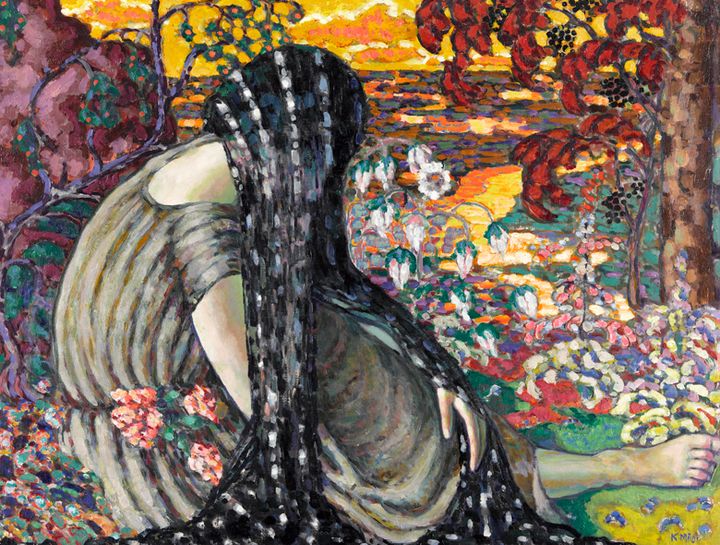 Taking place on Tuesday, 28 September 2021 at 10:00 at EMMA – Espoo Museum of Modern Art, the preview is a hybrid event that can be attended either in person or virtually. The Konrad Mägi exhibition will be presented by EMMA's Museum Director Pilvi Kalhama, who also curated the show. The Painting Machine artists will be interviewed by the show's curator, Ingrid Orman. You can visit the exhibitions until 12:00. The languages are Finnish and English.
You can watch the press preview remotely via Zoom by following this link. You can also ask questions via the stream's chat function.
The media premiere of Painting Machine will take place at 11:00 on site at EMMA. The performance lasts 30 minutes. Seats for the performance must be booked in advance.
Interviews can be conducted remotely and in person at EMMA. Enquiries, interview requests and reservations must be submitted by Monday, 27 September to: iris.suomi@emmamuseum.fi tel. 044 7601930.
Konrad Mägi – The Enigma of Painting 29.9.2021–23.1.2022
Konrad Mägi (1878–1925) was the foremost representative of the Golden Age of Estonian modernism and remains a popular artist in Estonia today. He was an avantgarde innovator who developed a distinctive colouristic style all his own. The exhibition at EMMA presents approximately 150 works from Konrad Mägi's oeuvre, highlighting his expressive power, stunning use of colour and uniqueness as an artist of his time. Curated by EMMA's Museum Director Pilvi Kalhama, the show presents an unprecedented selection of the artist's surviving paintings, including landscapes and his portraiture gems. The exhibition is accompanied by a book, written and edited by Pilvi Kalhama, that examines Mägi's life and works from new perspectives. In line with EMMA's bold strategy, we highlight an artist on the fringes of modernism that should be written into the history of art.
The exhibition is produced by EMMA in collaboration with the Kumu Art Museum.
Leena and Kalle Nio: Painting Machine 29.9.2021–12.12.2021
Painting Machine is the first collaborative work by Leena Nio (b. 1982), a visual artist renowned for her multilayered paintings, and Kalle Nio (b. 1982), a visual artist, magician and theatre director. Blending performance art and visual art, the installation includes weekly live performances, in each of which a painting is created. At the end of each performance, the unique painting produced by the Painting Machine is hung in the exhibition space. Between the live performances, the Painting Machine is on display in the exhibition space as an audio-visual painting installation.
If you are unable to attend the press conference in person, we offer the media the opportunity to watch Painting Machine rehearsals during week number 38. Public performances will take place every Saturday throughout the exhibition. Registration for the performances is now open at EMMA website. The performance is included in the admission price.
EMMA is Finland's largest art museum in terms of its floor area, and we have plenty of space for everyone to enjoy art safely. We ask you to observe safe distancing during the preview. Please read our instructions for a safe visit here.
About EMMA – Espoo Museum of Modern Art
EMMA – Espoon modernin taiteen museon kokoelma- ja näyttelytoiminta profiloituu kotimaiseen ja kansainväliseen modernismiin, nykytaiteeseen sekä designiin. EMMA sijaitsee Espoon Tapiolassa, professori Aarno Ruusuvuoren suunnittelemassa betoniarkkitehtuuria edustavassa Näyttelykeskus WeeGeessä. Näyttelytilat ovat pinta-alaltaan Suomen suurimmat, ja pelkistetty moderni arkkitehtuuri tukee EMMAn, Saastamoisen säätiön ja Tapio Wirkkala Rut Bryk Säätiön kokoelmien sekä vaihtuvien näyttelyiden kokemuksellista esittämistä. Tervetuloa!
@emmamuseum