Research: Service Centre an ideal location for co-creation
New ethnographic research on Iso Omena Service Centre states that the Service Centre would be an ideal location for developing resident services in cooperation between public administration, companies and municipal residents. This supports the City of Espoo's plan to executeco-creation projects at the Service Centre under the slogan "Make with Espoo".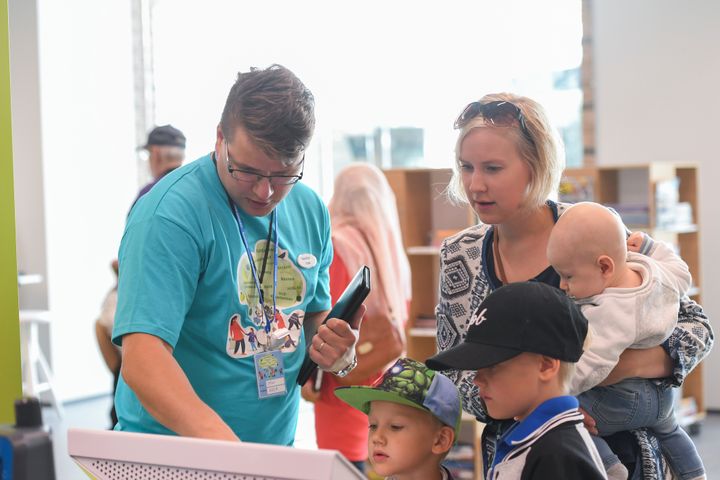 The ethnographic research identified three vital prerequisites for co-creationthat the Service Centre, opened in August 2016 and located in the extension of the Iso Omena Shopping Centre, has:
Environment and facilities: The large, public open space is open both spatially and from the viewpoint of its operating culture. Temporary, mobile pop-up facilities are best suited for co-creation.
Atmosphere and operational culture: The staff of the Service Centre are highly motivated and have a positive outlook on experiments. During the first year of operation, the staff from ten different units have had a good start in adopting a new operational culture, where their joint customer is at the centre of the services. The customer is viewed as an entity, not just as a customer of one unit, and is quickly directed to various other services. Companies also appreciate the Service Centre staff's views of what kind of services are needed.
Unique flow of customers: The Service Centre has brought public services to where the people are. This has lowered people's threshold for seeking services and has involved young people and other customer groups that are traditionally difficult to reach. The customers of the Service Centre also seem to be more active in participating than people on average.
The research shows that the most important prerequisite of co-creation is a shared goal. This goal has to be defined based on needs identified either by the customers or by staff. From companies and other partners, co-creation requires independent initiative and an active touch, for example in communication. The role of the Service Centre is mostly to enable communication between companies and municipal residents.
Neutral environment for running errands and spending time
The ethnographic research confirmed the results of previous studies that suggested that locating public services inside a shopping centre lowers people's threshold for seeking services. A commercial environment is a more neutral place to spontaneously pop in than a traditional office, where you have to make it your business to visit.
Customers also appreciated the fact that the Service Centre is a public place where you can "just spend time", although some people also felt that people hanging out at the Service Centre added to the general restlessness of the facility.
On the other hand, locating particularly health services in a recreational facility challenges traditional views and requires independent initiative from the customer to assume correct ways of operating and to search for information. For many people, this is fine, but for senior citizens and immigrants particularly, the new way of accessing services with self-service machines and queue numbers has been a steep learning curve.
However, customers feel that the staff are helpful, particularly the support service staff, such as the cleaners and security guards, as well as librarians. The research indicated that these staff groups play a particularly large role in improving customer experience. Indeed, in general, customers feel they are running errands at the Service Centre, not just at the separate service they happen to be using at the time, and feel that everyone wearing the Service Centre staff badge is happy to assist them.
More comprehensive and proactive services
The Service Centre staff views the customer in a more comprehensive way than in traditional public services that are located separately from one another. This is due to the fact that the staff are more familiar with the other services that are available than they would be at separate locations. The staff also guide customers to proactive support services. When needed, cooperation between various units can be executed simultaneously in meetings between people from different professions.
The ethnographic research was commissioned by the City of Espoo and conducted by Kenno Ethnographic Consulting. It is based on observations and interviews with staff members, customers and companies at the Service Centre during autumn 2017.
The research was funded by the Six City Strategy (6Aika) project, in which the six largest cities in Finland are developing services that are more open and intelligent based on a shared Six City Strategy.
Yhteyshenkilöt
Project Manager Veera Vihula, tel. 043 826 9183, veera.vihula@espoo.fi

Service Centre Manager Juha-Pekka Strömberg, tel. 043 826 8538, juha-pekka.stromberg@espoo.fi

Tilaa tiedotteet sähköpostiisi
Haluatko tietää asioista jo ennen kuin ne uutisoidaan? Kun tilaat tiedotteemme, saat ne sähköpostiisi yhtä aikaa suomalaisen median kanssa. Tilauksen voit halutessasi perua milloin tahansa.
Lue lisää julkaisijalta Espoon kaupunki - Esbo stad
Uutishuoneessa voit lukea tiedotteitamme ja muuta julkaisemaamme materiaalia. Löydät sieltä niin yhteyshenkilöidemme tiedot kuin vapaasti julkaistavissa olevia kuvia ja videoita. Uutishuoneessa voit nähdä myös sosiaalisen median sisältöjä. Kaikki STT Infossa julkaistu materiaali on vapaasti median käytettävissä.
Tutustu uutishuoneeseemme