Social impact drives young people to act: Ashoka Nordic awards two young changemakers in Finland
Panashe Kauhanen, Founder of Turku's underground Fashion show and Maija Kuivalainen, youth climate delegate of Finland for 2021-2022, are the changemakers of the year 2023.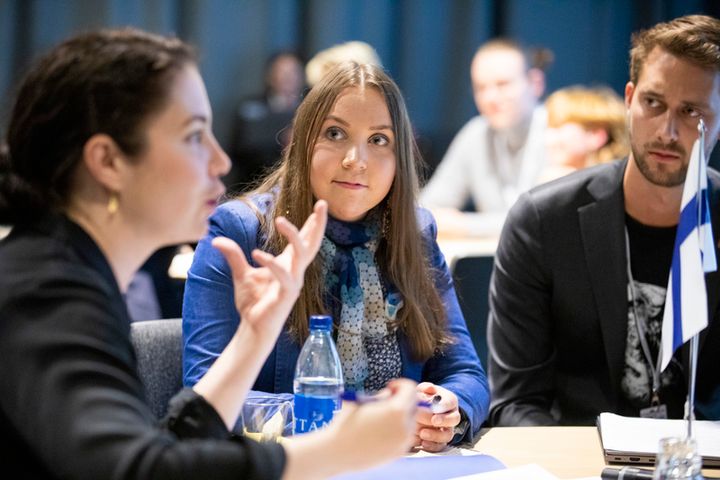 Ashoka Nordic granted the award to two new, innovative solutions. The recognition is intended to support new and entrepreneurial initiatives founded by young people that offer solutions to social challenges. The award was given out in Finland for the third time, as part of Ashoka's global network of changemakers and social entrepreneurs, established in 1980 and operating in over 90 countries worldwide.

The core business of the award-winning FASHCENE is the production of contemporary and modern fashion shows to promote inclusion among youth in Finland. FASHCENE welcomes 15- to 25-year-old youth to bring together street culture, indigenous culture and cultural history to the spotlight through art fashion, culture and music. Panashe's goal is to create a platform where young people can show their talents in a safe and welcoming environment. Behind the less than one-year-old brand is a team of three young innovators, Panashe Kauhanen, Aada Peltoniemi and Eveliina Salminen, and the unconventional fashion show they are running which has already attracted the interest of numerous stakeholders and media.

"Young people are the key to our future. For that to happen our voices must be heard so our problems are understood. I am only one person representing many more youth who have a solution to a problem but have not been heard yet.", says Panashe Kauhanen.

The second award-winning advocate and activator, Maija Kuivalainen, is the founder of Kestävä Pieksämäki, a sustainable development group for anyone interested in the field of climate advocacy and activism. As youth climate delegate and city councilor in Joensuu, Maija mobilizes people to act jointly, avoid duplication of work and create a real impact against climate change, biodiversity loss and pollution, tackling the root causes of these crises like overconsumption, inequality and lack of common regulation.

"One of the main problems of Finnish environment and climate advocacy has been that the actors are working in silos. Together with All in-network, those members could jointly fight to solve the planetary crisis, as the ecocrisis is interlinked with all the aspects of our societies", says Maija.

Changemakers receive support in developing their solution from experienced mentors who are experts in their field. Ashoka connects the awarded young people with a global network of over 3800 social entrepreneurs and offers them the opportunity to participate in events and develop their solution together with these international influencers.

The changemakers were chosen by a jury convened by Ashoka Nordic, which included several well-known and respected people in their fields, such as Founder of Cigale & Fourmi and Member of the Board of the Louise och Göran Ehrnrooth Foundation, Anna Fromond, Founder of  Måndag Arto Sivonen, Co-Founder and Chief Operating Officer of GraphoGame Jesper Ryynänen among others.

"A changemaker is a young person with empathy and the ability to lead themselves and others. The young people we reward think creatively and critically, and strive not only to identify society's challenges, but also to find solutions to them. We believe that these young changemakers will also inspire others to act. A changemaker is an active young person who believes in their own abilities and wants to positively influence the future," says Amanda Sundell, Ashoka's Director in the Nordics.
Johanna Ahlström / Community Manager Finland (Finnish, Swedish, English)
+358 40 5106376
email: jahlstrom@ashoka.org
More Information
About Ashoka

Ashoka identifies and supports the world's leading social entrepreneurs, learns from the patterns in their innovations, and mobilizes a global community that contributes to change in positive ways. In the Nordics, Ashoka is the first independent and system-oriented organization. We bring 40+ years of experience working globally with social entrepreneurship in over 90 countries.

For additional information visit www.ashokanordic.org and see this video: https://youtu.be/ycslk2K6S-8
Tilaa tiedotteet sähköpostiisi
Haluatko tietää asioista ensimmäisten joukossa? Kun tilaat tiedotteemme, saat ne sähköpostiisi välittömästi julkaisuhetkellä. Tilauksen voit halutessasi perua milloin tahansa.
Lue lisää julkaisijalta Ashoka Nordic