Solution for South European Forest Fires: Presenting Finnish Fixteri in Catalonia on 31st January
Fixteri is an intelligent Finnish solution for treating and using forests sustainably and productively. At the same time, Fixteri is an excellent tool to prevent forest fires. Due to increased international interest, Fixteri's harvesting show is organised on 31st January in Catalonia, Spain.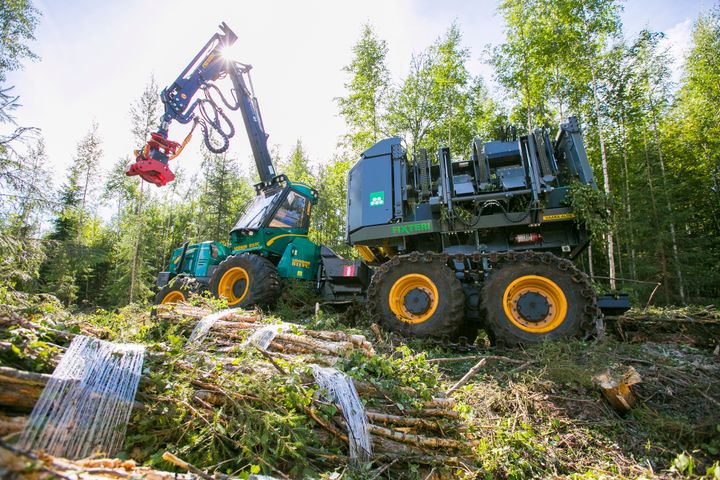 Press Release 25th January 2018
Fixteri offers an efficient solution for thinning of combustible forestry areas, as untreated forest is exposed to forest fires especially in the dry climate of Southern Europe.
The Fixteri bundler is used as an attachment to forestry machinery. It collects and bundles small trees more cost-effectively than any other technology. Fixteri's significantly better efficiency in thinning and regeneration felling has been proven in several Finnish and international studies. Find out more about these reports on Fixteri's website: www.fixteri.fi.
In a young untreated forest, the trees do not grow properly, and small wood will be left unused. Ecological thinning by Fixteri supports the forest industry's targets and forestry becomes more profitablethan ever before. At the same time, Fixteri creates an infrastructure for the diversified use of the forest and carbon neutrality for society.
Why this harvesting show?
International interest towards this unique Finnish technology has lately risen in Europe, Latin America, and Asia. The Fixteri solution is global: It works as well in the snowy forests of Finland as in chestnut forests on Iberian Peninsula, and wide plantations of Southern Hemisphere. Thus, this harvesting show will be attended by some of the biggest players of the forest and bioenergy sectors from different parts of the world, including Great Britain and Brazil.
Fixteri international harvesting show in Spain demonstrates the whole supply chain of biofuel raw material: From forest thinning to forwarding of bundles, storage and chipping of the wood material, and continuation of logistics towards the bioenergy facility.
Location: 17421 Riudarenes, Girona, Catalonia
Time: Wednesday 31st Jan, from 10:00 (local time)
About the programme: The event starts at 10:00 in the Lignia Terminal, where hosting companies present themselves: Lignia Biomassa (Marc Figueras), Econova (Xavier Solanes), Forest-Linna Oy (Vesa Kärkkäinen), and Fixteri Group Oy (Minna Lappalainen and Juha Tapanen). The harvesting show and presentation of the method starts at 11:00 in a nearby forest. In the afternoon the benefits of Fixteri in storing and chipping will be presented.
Registration to event and Fixteri Group Oy contact information
- In Finland and internationally:
Partner Minna Lappalainen, +358 40 705 4395, minna.lappalainen@fixteri.fi  
- In Spain:
Timo Meriläinen, +34 609 88 7648, timo@tmforest.com  
Jesus Martinez Ben, +34 622 390297, jesus.martinez@fmc-galicia.com
Tilaa tiedotteet sähköpostiisi
Haluatko tietää asioista ensimmäisten joukossa? Kun tilaat mediatiedotteemme, saat ne sähköpostiisi välittömästi julkaisuhetkellä. Tilauksen voit halutessasi perua milloin tahansa.
Lue lisää julkaisijalta Fixteri
Uutishuoneessa voit lukea tiedotteitamme ja muuta julkaisemaamme materiaalia. Löydät sieltä niin yhteyshenkilöidemme tiedot kuin vapaasti julkaistavissa olevia kuvia ja videoita. Uutishuoneessa voit nähdä myös sosiaalisen median sisältöjä. Kaikki STT Infossa julkaistu materiaali on vapaasti median käytettävissä.
Tutustu uutishuoneeseemme