'Streets of Crime and Love' takes you to Kallio as seen on film
Dozens of films and TV series have been filmed north of the Pitkäsilta Bridge in Helsinki for over a century. Villa Hakasalmi's new exhibition 'Streets of Crime and Love' presents a fictional version of the Kallio neighbourhood where people have loved, worked and resorted to crime. The highly visual and cinematic exhibition is open from 1 April 2022 to 12 February 2023.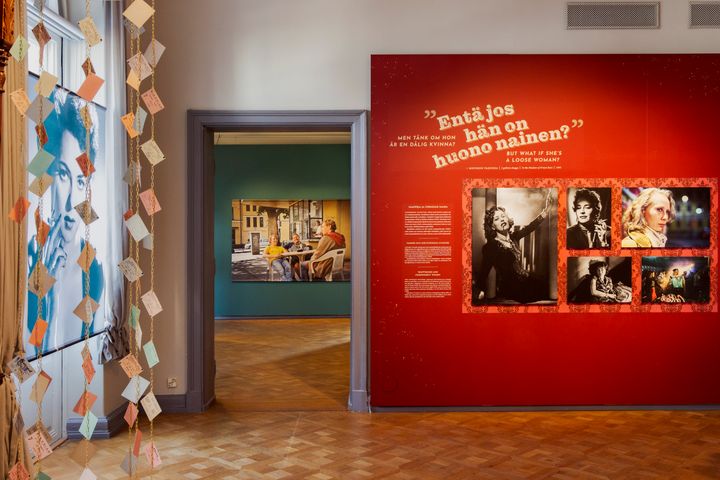 The unique landscapes, layered history and rugged atmosphere of Helsinki's old working-class districts have appealed to filmmakers decade after decade. Even the oldest Finnish narrative film that has been preserved in full, Ollin oppivuodet from 1920, was partially filmed in the Hermanni district. A century later, last autumn, a new season of the popular drama Aikuiset was shot in the Kallio district. Numerous well-known Finnish film professionals have worked in this area north of the Pitkäsilta Bridge, including directors from Edvin Laine to Aki Kaurismäki and actors from Ansa Ikonen to Anna Airola.
Since the era of silent films, various conceptions of the area and its residents have been created on the silver screen and in television. From the 1930s to the 1950s, middle-class filmmakers used the districts north of thePitkäsilta Bridge as a setting for sombre stories about fallen women and youngsters who resort to crime. In the 1970s, creators with a working-class background gave their fiction a more realistic touch and feel of life. In the most recent depictions, the increasingly middle-class, trendy and affluent Kallio is even shown as a sunny idyll.
"'Streets of Crime and Love' is an exceptional museum exhibition in that it focuses on the realm of fiction and on how fiction reflects reality. This exhibition is a real goldmine of opportunities for people like me who are always fascinated by how films use real cities in fiction," says the exhibition's curator Minna Santakari.
In Streets of Crime and Love, the fictional Kallio of the films is interwoven with real local history and narrativesare placed on the map of the actualcity. The fictional image of the Helsinki districts north of thePitkäsilta Bridge is viewed from the perspectives of crime and love, as well as family and friends. Does the myth of the nest of criminals, drunks and depraved youth, repeated since the 1920s, still persist? Are the film clichés shifting now that the neighbourhoods have radically changed?
In the exhibition, you can delve into the world of cinema where clotheslines sway in the yards, shady characters sneak about the alleys at night and something strange is happening at a suspicious second-hand shop. On the touchscreen map, you can pick a set that interests you and see the scenes from the various films shot there. In addition to views you may recognise from modern Helsinki, you also get a look at a Helsinki that no longer exists. What kind of films were shot in the wooden houses of Linjat or by theSörnäinen Harbour where the neighbourhoods of Kalasatama and Sompasaari are now located?
The exhibition is curated and designed by set designer and film researcher Minna Santakari, in cooperation with the Helsinki City Museum's team. The exhibition graphics were designed by Samppa Ranta, a graphic designer also distinguishedin the Finnish film industry. The exhibition has received an extremely broad selection of rare photos and film clips, which have been compiled in cooperation with the National Audiovisual Institute, the Finnish Broadcasting Company and several production companies.
__________________________________________
Streets of Crime and Love
Kallio in the Movies
Villa Hakasalmi, Mannerheimintie 13 B
1 Apr 2022 – 12 Feb 2023, Tue 11.00–19.00, Wed–Sun 11.00–17.00.
Admission fee €12/10, free of charge to under-18s and Museum Card holders.
The media will have the opportunity to see the exhibition before it opens to the public, on Mon–Wed 28–30 March 2022.
Contacts
Book your tour:
Stina Alapirtti, Communications Planner, Helsinki City Museum, stina.alapirtti@hel.fi, tel. +358 40 487 9531

Enquiries
Minna Santakari, Curator, minna.santakari@gmail.com or +358 50 337 6370.
Jere Jäppinen, Producer, Helsinki City Museum, jere.jappinen@hel.fi or +358 50 325 5440

Images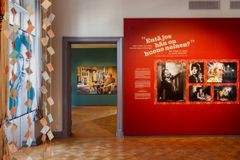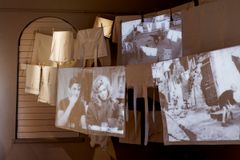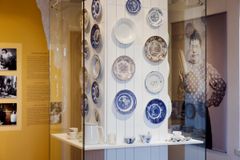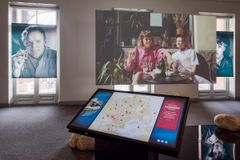 About Helsingin kaupunki, kulttuurin ja vapaa-ajan toimiala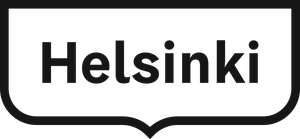 Helsingin kaupunki, kulttuurin ja vapaa-ajan toimiala
https://www.hel.fi/kulttuurin-ja-vapaa-ajan-toimiala/fi/
Villa Hakasalmi – a museum since 1911
Villa Hakasalmi is located between Finlandia Hall and the Helsinki Music Centre, near Töölönlahti Bay. The elegant building is a fine example of a Neoclassical villa. The best-known resident of Villa Hakasalmi was Aurora Karamzin (1808–1902). Today, Villa Hakasalmi is a part of Helsinki City Museum and houses temporary exhibitions.
Subscribe to releases from Helsingin kaupunki, kulttuurin ja vapaa-ajan toimiala
Subscribe to all the latest releases from Helsingin kaupunki, kulttuurin ja vapaa-ajan toimiala by registering your e-mail address below. You can unsubscribe at any time.
Latest releases from Helsingin kaupunki, kulttuurin ja vapaa-ajan toimiala
In our pressroom you can read all our latest releases, find our press contacts, images, documents and other relevant information about us.
Visit our pressroom