The pain threshold for monthly fees was revealed: This is how much Finns are willing to pay for streaming services – one age group ready to invest clearly more euros
Almost half of Finns are willing to pay 10–19 euros a month for streaming services, and about a fifth more than this, according to a study commissioned by the telecommunication operator DNA. One third of households have one paid service and 40 per cent have at least two or more. However, one fifth of Finns are not ready to pay anything for streaming services yet.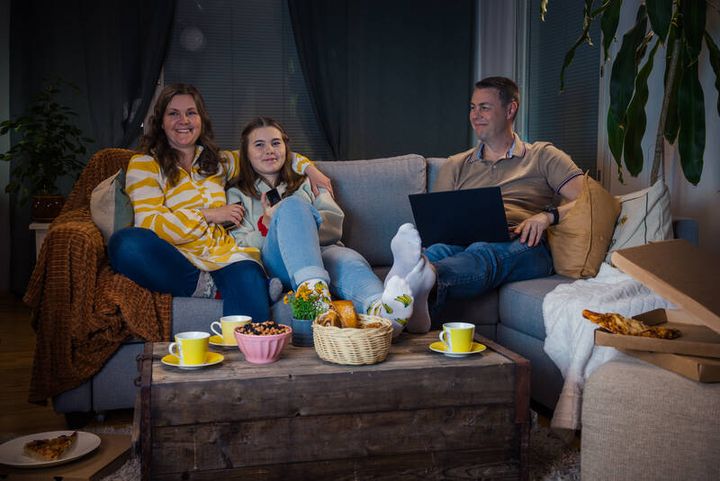 The biggest differences in buying behaviour can be found between different age groups. The youngest group of respondents, aged 18–24, has the highest willingness to subscribe. Of these, only 5 per cent are not willing to pay for streaming services at all, and 57 per cent are willing to spend 10–19 euros or more per month on subscriptions. Correspondingly, of the 65–75-year-olds, who represented the oldest age group in the survey, 40 per cent did not want to pay anything for access rights.
On a monthly basis, 35–44-year-olds seem to spend the most money, as one in five of them is willing to pay 20–39 euros for streaming services and almost a tenth (8%) more than 40 euros per month. 25–34-year-olds end up in almost the same euros.
'Although 25-44-year-olds are willing to spend more money on streaming services, they are using fewer services than 18–25-year-old respondents. This is probably due to the fact that more people have children at that stage in their lives and less time to spend on content. Usually, slightly more expensive packages that are better suited to the family are subscribed to, such as sports and Netflix family packages,' says Mikko Saarentaus, Vice President, Entertainment Business at DNA.
For surprisingly many, it is unclear how much money they spend on the services
One in five Finns have access to at least three paid streaming services and 40 per cent to two services. Young people clearly have more active services than older respondents, as 36 per cent of adults under the age of 24 say they subscribe to at least three services. In the oldest group of respondents, aged 65–75, only eight per cent subscribe to that many streaming services.
On the flip side of the number of subscriptions, surprisingly many respondents have uncertainty about how much money a month is spent on different services. According to the study, 15 per cent of Finns do not know how much money they spend on streaming services per month. In addition, 39 per cent feel that they pay for services partly in vain as there is not enough time to watch different services.
'When there are several services in parallel, you can definitely forget a subscription from time to time, or you will not be able to watch a certain service while the invoicing is running automatically. We have addressed this in the DNA TV Hubi service interface, where you can now subscribe to and cancel streaming subscriptions from one place. In addition, we are developing a model in which all active services are clearly visible on a single monthly invoice,' Saarentaus says.
Separate IDs and difficulty finding what to watch from different services are annoying
The three most annoying things for Finns in streaming services are separate IDs in different services, paying for streaming that you feel you're hardly using, and finding certain content between services.
'The study has confirmed our view that we have developed the DNA TV Hubi service in the right direction, because, to exaggerate slightly, we Finns seem to be annoyed by too large a selection both in the services and in their content. In addition to this, finding new content is often perceived as challenging. We have solved this with the possibility to search for programmes from several services in one search and by developing a referral feature to cover the most popular content from different streaming services,' Saarentaus says.
Further information for the media:
Mikko Saarentaus, Vice President, Entertainment Business, tel. +358 44 549 0374, mikko.saarentaus@dna.fi
DNA Corporate Communications, tel. +358 44 044 8000, communications@dna.fi
DNA TV Hubi is an Android-based open ecosystem that enables customers to watch TV and use online applications, play games and listen to music via one easy-to-use service. The service can be used to watch both traditional TV and pay-per-view streaming services. The device is 4K compatible and enables downloading applications such as games and music services. It can also be used to rent movies and to record content from free channels.