Tremendous Growth in Trade, Exports Between Finland, U.S.
New Trends for U.S.-Finland Trade in new Finland Supplement to Transatlantic Economy Report 2022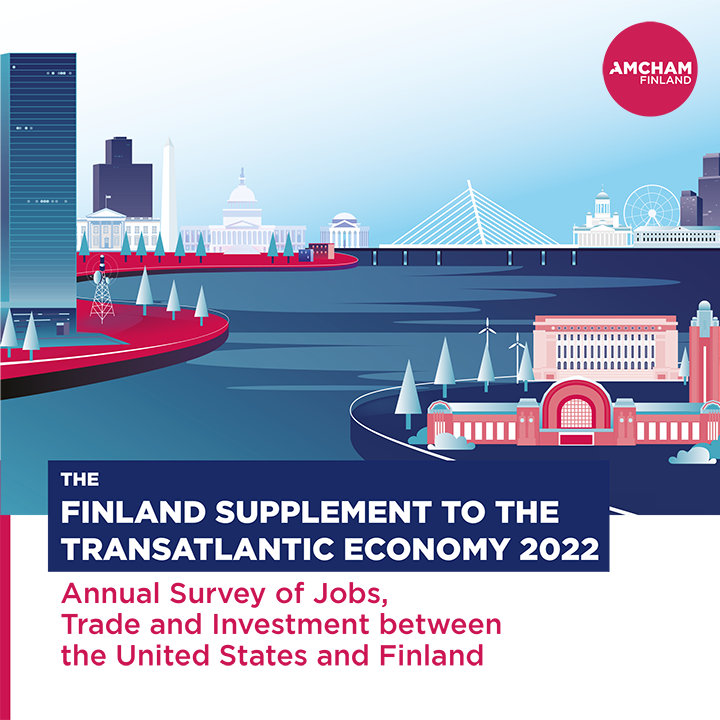 On April 6, Amcham Finland published its Finland Supplement to the Transatlantic Economy Report 2022. The supplement provides key insights about the U.S.-Finland trade relationship. Our full report can be read here and is under embargo until 16:00 EEST April 6.
The findings will be discussed in a hybrid event at 16:00 EEST featuring Ian Campbell, Chargé d'Affaires ad interim at the U.S. Embassy in Finland as well as leading economic experts and business leaders:
Joseph P. Quinlan, Senior Fellow at the Transatlantic Leadership Network and John Hopkins School of Advanced International Studies, Antti Koskivuo, Markets Analyst, Nordea. Other speakers and panelists include: Mike Shoemaker, Lockheed Martin, VP F-35 Customer Programs; Tapio Korpeinen, CFO, UPM-Kymmene Corp. and Executive Vice President UPM Energy; Erno Muuranto, Managing Director at GE Healthcare Finland; Mervi Airaksinen, CEO of Microsoft Oy
Our report launch and panel discussion can be joined virtually at: https://www.enchant.fi/amcham/060422
An EU-focused Transatlantic Economy Report 2022 was published on March 24by AmCham EU and the United States Chamber of Commerce in Washington. The report is co-sponsored by Amcham Finland and four other European AmChams.
The Finland Supplement includes contributions from Joseph P. Quinlan, Senior Fellow at the Transatlantic Leadership Network, and Antti Koskivuo, Markets Analyst at Nordea, Juho Kostiainen, Economist, Senior Analyst, Nordea and welcome messages from Ian Campbell, Chargé d'Affaires ad interim at the U.S. Embassy in Finland, and Ville Skinnari, Minister for Development Cooperation and Foreign Trade, Ministry for Foreign Affair Finland.
Some key insights from the supplement:
The US remained the second-largest trading partner for Finland in 2021 as both countries surpassed pre-pandemic GDP levels
Finnish exports to the US increased by 12.5% in 2021, double-digit growth for the third year running
The value of service exports surpassed the value of goods exports between Finland and the US for the first time in 2021
In 2021, the US was by far the most important service export country for Finland, worth EUR 5.6 billion and accounting for 20% of Finland's total exports of services
The US accounts for 13% of total foreign direct investment in Finland – second largest source of FDI in Finland after Sweden
The HX Fighter Program will increase US imports to Finland by EUR 10 billion directly and industrial participation is estimated to increase trade both ways via industrial participation
The supplement outlines how Finland once again ranks 7th in the Global Innovation Index 2021 an important measure for U.S. life-science companies among others operating in Finland. American multinationals also appreciate Finland'sprotection of intellectual property rights, macroeconomic stability and transparent institutions. Finland also ranked 5th out of 130 countries for Network-Ready Countries and 37 out of 100 for Brand Finance Most Valuable Nation Brands, 2021. Finland ranked 8th out of 64 countries for IMD World Talent Ranking.
From green energy to digital developments, there is tremendous opportunity for growth in the U.S.-Finland economic relationship. "It is clear from these findings that there is significant potential to continue to grow together for an even stronger and more intertwined economic and investment relationship between Finland and the U.S," said Alexandra Pasternak-Jackson, CEO of Amcham Finland.
Visit www.amcham.fi to find out more about our organization and to view the Finland Supplement and the Transatlantic Economy Report 2022.
For Media Inquiries and questions, please contact Amcham Finland Director of Communications Cindy Kent at cindy.kent@amcham.fi / +358 504303443
About Amcham Finland
We are an international business community taking care of inbound companies building their presence in the Finnish market and outbound companies entering the United States and beyond. Through business advocacy and public-private dialogue we work toimprove and internationalize the business environment in Finland, and launch Finnish brands into the U.S. market.
Subscribe to releases from Amcham Finland
Subscribe to all the latest releases from Amcham Finland by registering your e-mail address below. You can unsubscribe at any time.
Latest releases from Amcham Finland
In our pressroom you can read all our latest releases, find our press contacts, images, documents and other relevant information about us.
Visit our pressroom