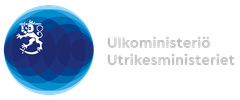 UM: Statement on behalf of the participants of the track 2 conference on Northeast Asian issues
Please find attached and below a press statement issued by the participants of the track 2 conference on Northeast Asian issues at Königstedt Manor, Finland.
From 20-21 March, participants from the US, DPRK, and ROK, along with observers from the United Nations and Europe, met in Helsinki, Finland.This meeting was one of a series of academic sessions over many years that have explored approaches to building confidence and reducing tensions on the Korean Peninsula.
It was planned well in advance of recent promising developments related to the Korean situation. The participants had a constructive exchange of views in a positive atmosphere.
The conference participants expressed their appreciation to the Finnish Foreign Ministry for graciously hosting the conference.
Tilaa tiedotteet sähköpostiisi
Haluatko tietää asioista ensimmäisten joukossa? Kun tilaat mediatiedotteemme, saat ne sähköpostiisi välittömästi julkaisuhetkellä. Tilauksen voit halutessasi perua milloin tahansa.
Lue lisää julkaisijalta Ulkoministeriö / Utrikesministeriet
Uutishuoneessa voit lukea tiedotteitamme ja muuta julkaisemaamme materiaalia. Löydät sieltä niin yhteyshenkilöidemme tiedot kuin vapaasti julkaistavissa olevia kuvia ja videoita. Uutishuoneessa voit nähdä myös sosiaalisen median sisältöjä. Kaikki STT Infossa julkaistu materiaali on vapaasti median käytettävissä.
Tutustu uutishuoneeseemme