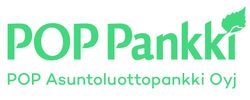 POP Mortgage Bank Plc: Authorities have approved POP Bank Group's sale of Finnish P&C Insurance Ltd to LocalTapiola
POP Mortgage Bank Plc, Stock Exchange Release, 25 May 2023 at 12.30 P.M. EEST, Other information disclosed according to the rules of the exchange 
POP Mortgage Bank Plc: Authorities have approved POP Bank Group's sale of Finnish P&C Insurance Ltd to LocalTapiola
Finnish Competition and Consumer Authority and the Financial Supervisory Authority have approved the agreement which POP Bank Group and LocalTapiola have signed on March 14, 2023 to sell POP Bank Group's majority shareholding of 70 per cent in Finnish P&C Insurance Ltd to LocalTapiola. 
Finnish P&C Insurance Ltd will come a part of LocalTapiola Group. The company continue to operate as an independent company and the transaction has no immediate effect on customers or the products of the Finnish P&C Insurance Ltd that is also known for its brand POP Vakuutus. POP Bank Group continue to own 30 per cent of the company's outstanding shares.
The transaction has a significant positive impact on POP Bank Group's performance in the financial year 2023. The transaction will have no impact on POP Mortgage Bank Plc's performance. 
POP Mortgage Bank Plc
For more information:

Timo Hulkko, CEO of POP Mortgage Bank Plc, tel. +358 500 894 008

Tony Tötterström, Deputy CEO of POP Mortgage Bank Plc, tel. +358 50 530 6623
Distribution
Nasdaq Helsinki Ltd
Main Media
www.poppankki.fi


POP Mortgage Bank Plc is a subsidiary wholly owned by POP Bank Centre coop and it also belongs to amalgamation of POP Banks. POP Mortgage Bank Plc is responsible for the POP Bank Group's secured funding by issuing covered bonds.
Subscribe to our company announcements
Keep up to date with our company announcements by subscribing.
Visit our pressroom and see more company announcements from us.
Our pressroom