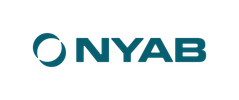 NYAB Oyj - Managers' Transactions
NYAB Plc
MANAGERS' TRANSACTIONS
26 May 2023 at 15:45
NYAB Oyj - Managers' Transactions
____________________________________________
Person subject to the notification requirement
Name: Anders Berg
Position: Member of the Board/Deputy member
 Issuer: NYAB Oyj
LEI: 743700UX7WTIOT3QO547
Notification type: INITIAL NOTIFICATION
Reference number: 32434/5/4
____________________________________________
Transaction date: 2023-05-26
Venue: FIRST NORTH GROWTH MARKET FINLAND (FSME)
Instrument type: SHARE
ISIN: FI4000153515
Nature of transaction: ACQUISITION 

Transaction details
(1): Volume: 231 Unit price: 0.73 EUR 
(2): Volume: 500 Unit price: 0.73 EUR 
(3): Volume: 2377 Unit price: 0.73 EUR 
(4): Volume: 6915 Unit price: 0.728 EUR 
(5): Volume: 1586 Unit price: 0.728 EUR 
(6): Volume: 391 Unit price: 0.724 EUR 
(7): Volume: 13959 Unit price: 0.724 EUR 
(8): Volume: 39 Unit price: 0.722 EUR 
(9): Volume: 9672 Unit price: 0.72 EUR 
(10): Volume: 6088 Unit price: 0.72 EUR 
(11): Volume: 242 Unit price: 0.72 EUR 
(12): Volume: 1869 Unit price: 0.72 EUR 
(13): Volume: 6466 Unit price: 0.718 EUR 
(14): Volume: 17105 Unit price: 0.72 EUR 
(15): Volume: 1411 Unit price: 0.72 EUR 
(16): Volume: 6484 Unit price: 0.72 EUR 
Aggregated transactions (16): 
Volume: 75335 Volume weighted average price: 0.72191 EUR
Contacts
Investor Relations
NYAB Oyj
About NYAB Oyj
NYAB is a builder of a clean future with decades of experience in complex and demanding projects. We are enabling green transition in the Nordics by providing engineering, construction, and maintenance services to public and private sector clients regarding renewable energy and sustainable infrastructure. NYAB is headquartered in Oulu and it has more than 350 employees at different locations in Finland and Sweden.
NYAB Plc's Certified Adviser is Augment Partners AB, info@augment.se, phone +46 8 604 22 55.
Subscribe to our company announcements
Keep up to date with our company announcements by subscribing.
Visit our pressroom and see more company announcements from us.
Our pressroom