Global animal health and nutrition company Alltech and Finnish aquaculture innovator Finnforel join forces
Alltech and Finnforel announce the acquisition of a fish feed production facility that will complete the unique fish farming chain that Finnforel refers to as an aquaculture gigafactory.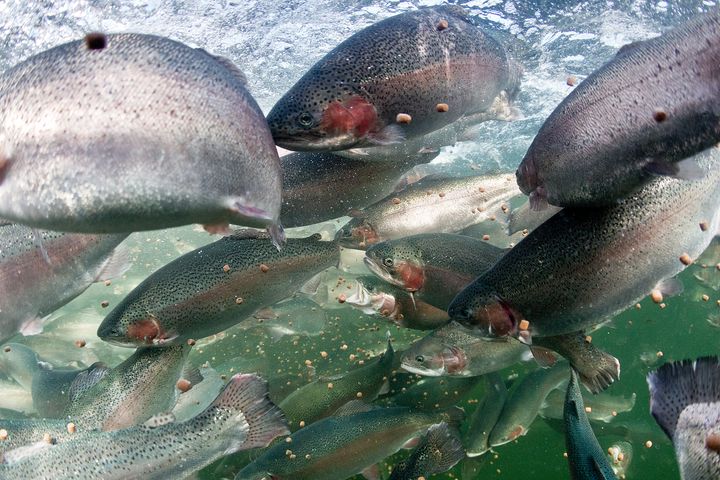 Alltech, global animal health and nutrition company, and Finnish circular economy company Finnforel are joining forces to acquire the Raisioaqua fish feed production facility from Finnish company Raisio. The acquisition will complete Finnforel's sustainable circular economy fish farming chain while enhancing aquaculture producers' access to Alltech's nutritional technologies.


"Feed developed in accordance with the principles of a sustainable circular economy represents the last link in the chain," added Jussi Mekkonen, CEO of Finnforel Oy. "We have another new aquaculture facility that will be completed in spring 2023, after which we will be able to produce the eggs used in fish farming. After this, the entire fish-farming chain will be ready to be exported to the world."


Finnforel's production chain is based on recirculating aquaculture, which has been in use around the world for several decades. This method consumes 99% less water than traditional methods and is the most environmentally friendly way to produce fish.


What is unique about Finnforel's solution is how it combines recirculating aquaculture with a complete, efficient, and functional fish farming chain in its own hands.


"At the heart of Finnforel's strategy are so-called gigafactories specialised in sustainable aquaculture. In these, the entire production chain is in our own hands, from the parent fish and the eggs they produce to the consumer products," says Pekka Viljakainen, Chairman of the Board of Finnforel Oy.


Alltech brings to Finland strong expertise in sustainable solutions


"Aquaculture continues to be one of the world's fastest growing sources of protein, according to Alltech's annual Agri-Food Outlook, and is one of the key focus areas for our business," said Dr. Mark Lyons, president and CEO of Alltech. "Together, with Finnforel, we will be enhancing the quality and availability of nutrition for sustainable aquaculture systems. Aqua producers will benefit from the strength of Alltech's scientific research and commercial expertise globally, including a dedicated aqua nutrition research center, Alltech Coppens Aqua Centre in the Netherlands, which specializes in nutrition for recirculating aquaculture systems (RAS)."


Alltech continues its commitment to Working Together for a Planet of Plenty™ by partnering with companies like Finnforel to deliver smarter, more sustainable solutions for aquaculture, resulting in better nutrition and a decreased environmental impact. Backed by over 40 years of research and customer success, Alltech's specialty feed ingredients and Alltech Coppens aquafeeds offer superior nutritional solutions for fish and shrimp. The Alltech Coppens Aqua Centre (ACAC) in the Netherlands is one of Alltech's five bioscience centers globally.


"Finnforel and Alltech Coppens have been working together for several years on sustainable aquaculture practices," said Ronald Faber, CEO of Alltech Coppens. "This joint acquisition reflects the ambition of both companies, our shared values and the strength of our partnership."


"Already now it is already possible to produce the new ecological raw materials for fish feed, which are at the core of the bio and circular economy, from Finnforel's side streams, either directly or indirectly. In the future, we will also be able to provide a platform for large-scale feed testing, which will speed up the transfer of research results to practical applications," says Tommi Mäkinen, Chief Technology Officer at Finnforel.


Sustainable recirculating aquaculture systems viable even in deserts


Finnforel's aim is to export Finnish aquaculture expertise to the world in the coming years. Finnforel's sustainable circular economy aquaculture chain is also suitable for countries where there is a shortage of water or where fish cannot be farmed using other methods. In this way, the gigafactory itself can be taken to where the consumers are, eliminating the need to transport fish from one country to another.




About Finnforel:



Founded in 2017, the Finnish technology company Finnforel has quickly claimed a spot among the world's leading ecologically friendly aquaculture companies. The company's fish farm is located in Varkaus in Finland, where it raises fish in flowing water using a recirculating aquaculture system. The fish are raised in a carefully optimised environment indoors. The company's products are currently available in over one thousand Finnish grocery shops under the Saimaan Tuore brand.


In November 2020, the company achieved a remarkable milestone when its million-ton production facility in Varkaus achieved maximum capacity to produce high-quality fish. Finnforel's production capacity will be increasing from one million kilos to three million kilos with the opening of their new Gigafactory in 2023, and they will also be breaking ground by launching Finland's first brood fish and smolt production operation at their selective rainbow trout breeding centre in Hollola.


About Alltech:


Founded in 1980 by Irish entrepreneur and scientist Dr. Pearse Lyons, Alltech delivers smarter, more sustainable solutions for agriculture. Our diverse portfolio of products and services improves the health and performance of plants and animals, resulting in better nutrition for all and a decreased environmental impact.
We are a global leader in the agriculture industry. Our team produces specialty ingredients, premix supplements, feed and biologicals, backed by science and an unparalleled platform of services.
Strengthened by more than 40 years of scientific research, we carry forward a legacy of innovation and a unique culture that views challenges through an entrepreneurial lens. As a private, family-owned company, we adapt quickly to our customers' needs and focus on advanced innovation.
We believe agriculture has the greatest potential to shape the future of our planet. Our more than 5,000 talented team members worldwide share our purpose of Working Together for a Planet of Plenty™. Together, we can provide nutrition for all, revitalize local economies and replenish the planet's natural resources.
Headquartered just outside of Lexington, Kentucky, USA, Alltech serves customers in more than 120 countries, has five bioscience centers, and operates more than 80 manufacturing facilities across the globe. For more information, visit alltech.com, or join the conversation on Facebook, Twitter and LinkedIn.


About Alltech Coppens: 


Alltech Coppens, established in 1993, is a respected leader in innovative feed solutions focused on maximising feed efficiency. For more than 30 years, Alltech Coppens has earned a strong reputation for being an innovative, high-quality feed producer. The company's specialities include RAS feeds, temperate and tropical marine and freshwater diets for a variety of juvenile and adult species. The company also produces top-quality koi, ornamental and bait feeds.


Active in more than 60 countries around the world, the specialist team at Alltech Coppens have expert knowledge to guarantee high-quality, innovative aquatic feed developed for many fish species at all life stages. 


The Alltech Coppens Aqua Centre provides a scientific platform for product development and the provision of innovative solutions to meet the challenges of aquaculture producers worldwide. For further information, visit www.alltechcoppens.com.