Tulikivi introduces a novel, compact, stove-size fireplace collection
In the new Jero collection, the technology and quality of a heat-retaining fireplace has been combined with the compact size and modern design of a stove.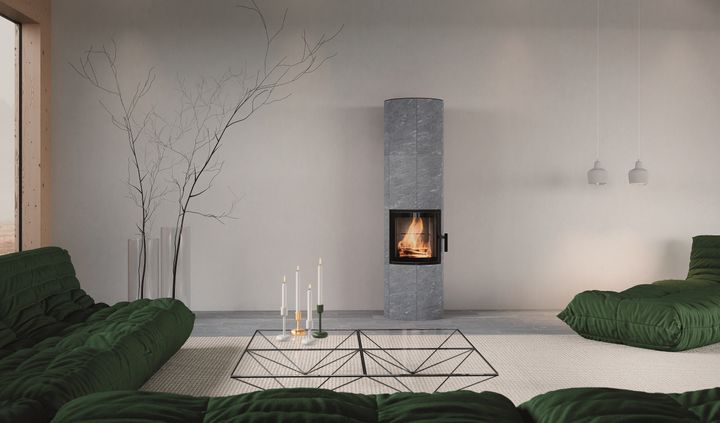 TULIKIVI CORPORATION PRESS RELEASE 17 APRIL 2023 AT 5 PM
Tulikivi has been modernizing its product line in recent years and seeking to design fireplaces for new customer groups. As part of this development, Tulikivi is now launching the new Jero collection of fireplace products.
The Jero collection is particularly suitable for customers who have found traditional heat-retaining fireplaces too large and space-consuming. The new collection combines the compact size of stoves with the efficient heating and heat-retaining properties of Tulikivi's traditional soapstone fireplaces.
The collection will be unveiled for the first time at the World of Fireplaces tradeshow in Leipzig from 17 to 19 April, 2023. The tradeshow will display the round Puro models and square Korpi models of the new Jero collection.
Significant markets in Europe for stove-sized fireplaces
Consumers in Central Europe often prefer compact, stove-sized fireplaces. With the new Jero collection, Tulikivi offers the best features of heat-retaining soapstone fireplaces in the compact size of a stove.
Like traditional wood-burning soapstone fireplaces, the Jero collection emits pleasant radiant heat even several hours after the fire has been put out.
Another central goal in designing the Jero collection was to speed up the installation process of the fireplace. With their compact size and quick installation, the Jero fireplaces become suitable for new customer groups. They are also significantly more affordable than traditional large heat-retaining fireplaces.
New Northern design for a compact size range
Tulikivi's design philosophy is based on the union of fire and stone, combined with modern Northern aesthetics. The product design emphasizes the natural essence of soapstone, new stone surface textures, and the experiential and visual aspects of real fire.
The new Jero collection brings the heat and visual experience of the original Tulikivi wood-burning soapstone fireplaces to a whole new size range of products. The new compact, highly functional, heat-retaining fireplaces, where the visual and experiential aspects of fire are optimized, serve broader customer groups than previous product lines.
Made in North Karelia
The Jero collection fireplaces are made of soapstone from Tulikivi's own quarries, and combined with recycled ceramic mass from Kermansavi. All Tulikivi fireplaces are designed and manufactured in North Karelia. The new collection is named after Lake Jero, which is located near the famous Koli fell in North Karelia.
"It is truly great to be launching the Jero collection in these times. European consumers are looking for affordable heating solutions for next Winter. Thanks to the Jero collection, more people will have the opportunity to purchase an authentic Tulikivi fireplace. This new collection will offer Tulikivi the opportunity to increase sales in the large wood-burning stove markets of Central Europe," says CEO Heikki Vauhkonen.