Atte Jääskeläinen appointed as the President of Sitra
Jääskeläinen succeeds Jyrki Katainen in the position, following Katainen's decision to take up a new role with a private company. The President was appointed by Sitra's Supervisory Board. The fixed term of the new President will last until the end of 2028.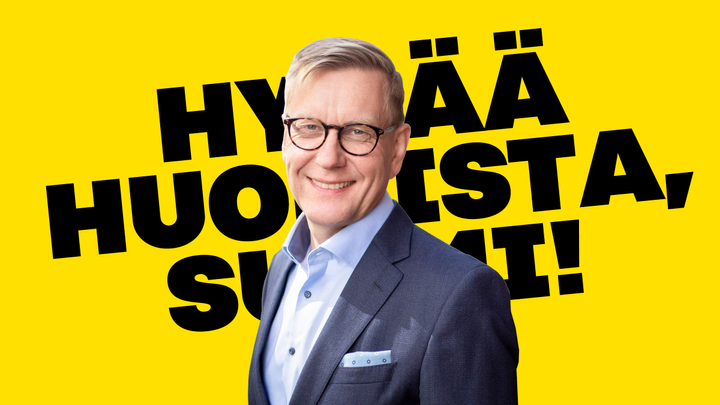 "Sitra's task is to build a successful Finland for tomorrow. Atte Jääskeläinen's considerable experience as a leader of organisations made an impression on the Supervisory Board," says Tarja Filatov, Chair of Sitra's Supervisory Board."Under his leadership, the Finnish future fund will be able to continue to create value for Finland at a time when our operating environment is undergoing major change."
Sitra's Supervisory Board got a proposal from Board of Directors. The Supervisory Board interviewed two candidates selected Atte Jääskeläinen after a vote that was split 8–5. The other candidate for Sitra President was Tommi Laitio, who is currently an inaugural Bloomberg Public Innovation Fellow at the Bloomberg Center for Public Innovation at Johns Hopkins University. A total of 20 applicants applied for the position.
Atte Jääskeläinen assumes the leadership of Sitra from his position as the Director General of the Department for Higher Education and Science Policy of the Ministry of Education and Culture. He has previously worked as a Professor of Practice at LUT University, Visiting Senior Fellow at the London School of Economics and at Oxford University, Director of News and Current Affairs at Yle and Managing Director of the STT Finnish News Agency. Jääskeläinen is a Master of Law.

"I could not think of a more fascinating and at the same time challenging task than that of Sitra's: building a successful Finland for tomorrow. I'm happy to assume the position and take Sitra forward intoa new phase. The strong foundation that has been laid by Sitra employees and previous Presidents has created a good starting point," says Jääskeläinen.
The position of Sitra President became vacant when the current President Jyrki Katainen announced that he will leave Sitra later this year. Katainen has led Sitra since the beginning of 2020.

Atte Jääskeläinen is Sitra's 10th President.
Sitra works to accelerate Finland's development, sustainable economic growth and competitivenessin order tocreate work and well-being for future generations.
Sitra's President is tasked with leading Sitra's operations in an efficient and results-oriented manner. The tasks include spearheading its funding and investment operations as well as broad stakeholder work in different sectors of society. The President is also responsible for developing the operations of the fund (Act on Sitra, section 12).
Contacts
Further information:

Tarja Filatov, Chair of Sitra's Supervisory Board, tel. +358 9 432 3112


Interview requests for the new President, please contact Sitra's communications sitra@sitra.fi, tel. +358 40 548 0794


Information about Sitra:
Elina Ravantti, Director of Communications and Public Affairs, tel. +358 40 869 1281

About Sitra

Sitra
Itämerenkatu 11-13, PL 160
00180 HELSINKI
0294 618 991
http://www.sitra.fi
Sitra is a future fund that collaborates with partners from different sectors to research, trial and implement bold new ideas that shape the future. Our aim is a Finland that succeeds as a pioneer in sustainable well-being.