Finnish boating industry launches summer season in Helsinki with major demo event
Representatives of the Finnish boating industry will launch the summer season on Friday 12 May with a major demo event on the island of Lauttasaari in Helsinki. More than 40 different motorboats and jet skis from 25 Finnish and international boating brands will be available to the public for demos.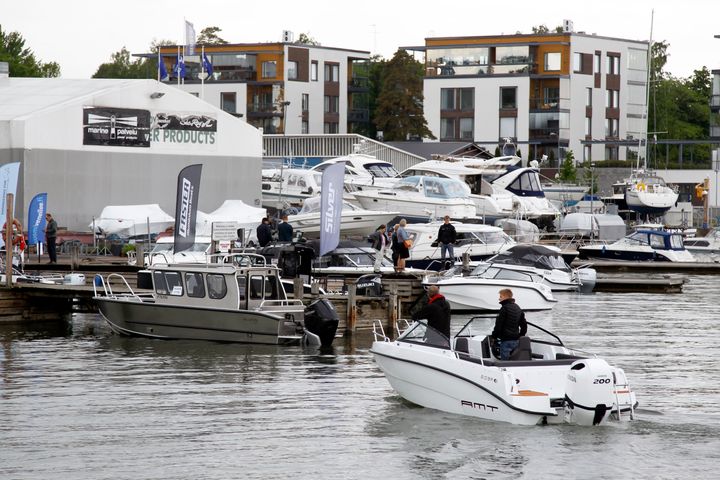 "What makes the event unique is that the focus in Lauttasaari will be strictly on demoing the watercraft. The motorboats and jet skis represent almost all boat building materials, from wood to fiberglass and aluminium, as well as all engine options, from gasoline and diesel to electric," says Jarkko Pajusalo, CEO of the Finnish Marine Industries Federation Finnboat.
The demos will be offered on a non-stop basis from 12:00 to 20:00 on Friday and from 10:00 to 18:00 on Saturday. Departures for demos will take place every half hour; the last departure will be at 19:30 on Friday and at 17:30 on Saturday.
The event is free of charge for the public, and a professional skipper will be onboard for each demo.
The demo event is being organised by Finnboat and the Helsinki International Boat Show together with numerous Finnish boat manufacturers and importers. The summer season will also be opened by the boating businesses along Veneentekijäntie street, as well as by other boating industry companies that will present themselves in the event area. Veneentekijäntie (literally "Boat Makers Street") in Lauttasaari is Finland's largest boating hub that offers a wide range of industry services, from repair yards to boating supply stores.
Late spring and economic uncertainty have hampered boat sales
According to forecasts, the weather will favour the demo event, but for the Finnish boating industry as a whole, the late spring has impacted especially sales of small motorboats with outboards.
The prolonged frosts have delayed the start of the boating season in many places, and it has also hampered boat sales. "For example, the ice on Kallavesi lake has only started to clear this week, and planned demos inland have had to be cancelled," says Pajusalo.
According to the Finnish boating industry barometer, 29% of the companies who responded to the latest survey indicated that the number of customers decreased during the beginning of the year, compared to 20% a year ago. However, fewer orders have been cancelled than in spring 2022. Also, 40% of respondents reported lower turnover in the first quarter of 2023 than in the corresponding period last year, while 29% reported higher turnover than a year earlier."
"A significant portion of Finnish boat sales is related to summer cottages and small motorboats with outboards that are popular for cottage use. The general economic uncertainty that is impacting the market for summer cottages is therefore also impacting the sales of boats for summer cottages," Pajusalo points out.
However, the changes in demand for larger boats have been minor, and delivery times are still measured in years.
A quarter of companies in the Finnish boating industry reported a growing need for employees. Micro businesses and SMEs require additional employees ranging from a few individuals to a few, while midcap companies have a need for up to dozens of workers.
The disruptions in international supply chains in recent years that have disrupted boating industry production and sales have not completely disappeared, but they have decreased. Of the companies responding to the barometer, 28% reported disruptions in the supply chain, compared to 34% in spring last year.
The Finnish boating summer culminates in Lauttasaari in August, when the Helsinki In-Water Boat Show will present the product highlights of the season and premiere next season's new boats from Thursday to Sunday, 17-20 August 2023.
About Finnboat
Finnboat
Käenkuja 8 A 47
00500 Helsinki
http://www.finnboat.fi/
Finnish Marine Industries Federation Finnboat is the umbrella organisation for Finland's marine industry and trade. Finnboat membership represents close to one hundred percent of both the nation's domestic marine industry turnover and the value of boat export