Top chefs Kape Aihinen and Olli Kolu open new restaurant in Merikortteli, Helsinki
A new à la carte restaurant opening at the end of 2023 will serve timeless and deeply rooted cuisine reflecting the owners' style. On weekdays, an excellent lunch will be served.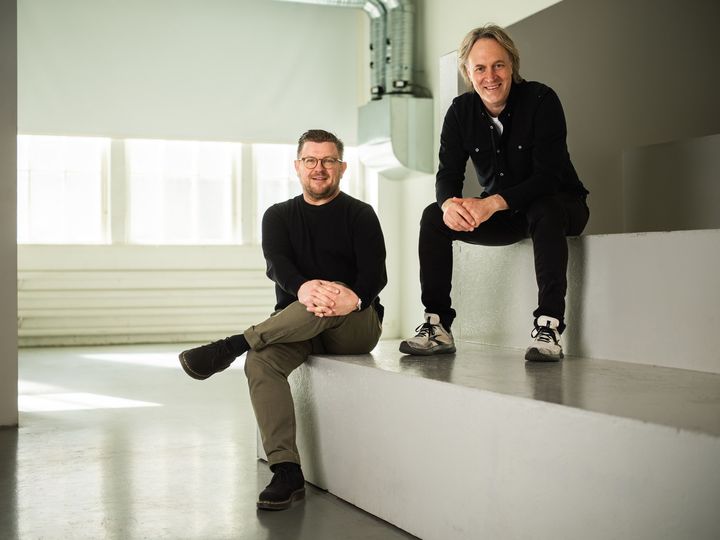 Kari "Kape" Aihinen and Olli Kolu, two of Finland's most famous chefs, are opening a restaurant in Antilooppi's Merikortteli property. The restaurant is currently set to open on Telakkakatu in December 2023.
"We've long dreamt of opening our own restaurant in Helsinki. After Covid, our need to go back to our roots only got stronger. Our new restaurant will be in an absolutely delicious location in the Punavuori district, and it's going to look just the way we want it to. The stars of the show will be well-made portions, high-quality ingredients and a great atmosphere. We're also going to invest in a high-quality à la carte lunch," Kari Aihinen says.
Aihinen and Kolu are experienced restaurant professionals who run the successful Roster Turku together. In addition, they manage the popular Chefslive cookery school. The men have earned their experience in the legendary Savoy and other fine dining restaurants. They have also collaborated with the Roster Helsinki and Version restaurants. Aihinen is known from TV programmes such as MasterChef Finland and his cookbooks.
Serving Helsinki's most exciting tastes
The food philosophy of the new à la carte restaurant will be based on the honest-to-goodness, timeless and seasonal flavours typical for Aihinen and Kolu. The owners' extensive experience and background in classic cuisine will guarantee quality. Aihinen and Kolu also intend to ensure there is a good price-quality ratio. When asked about their target clientele, they want to welcome everyone from businesspeople to passers-by.
"The food offering is going to reflect our style and background with a small modern addition. We're going to cook with respect for the seasons and the ingredients available. In addition to food, the drinks are also a big part of the joy of dining. This will be seen in our quality drinks selection, ranging from cocktails to wines, which will also be available by the glass. Everyone is welcome to join us, no matter what the occasion," Olli Kolu says.
Dinner will be served from Monday to Saturday and lunch from Monday to Friday. The heart of the space is the beautiful, social open kitchen, where staff and the owners can greet customers as they pass by. The restaurant will seat around 80, in addition to which there will be a private function room upstairs. The space will feature a stylish bar, which will bring an interesting addition to the happening after-work drinks culture of the Punavuori district.
Merikortteli: an atmospheric building with a unique dining setting
Both Kolu and Aihinen say they fell in love with the industrial chic of Merikortteli. It provides an impressive location for the restaurant, which extends from one side of the building to the other.
"Merikortteli impressed us at first sight. An enticing atmosphere is very important for us, and that is created by a gorgeous space but also by interior design, music and people. For example, art is going to play a prominent role in our restaurant. The most important thing is, of course, that our clients and staff enjoy themselves and feel good," Kolu says.
"We feel really confident about starting this project. Thumbs up for our amazing collaboration with Antilooppi! We have butterflies in our stomach knowing that we can start getting our hands dirty and opening our restaurant as soon as possible," Aihinen adds.
Merikortteli has become a popular, vibrant meeting place for people from dawn to dusk, featuring a bakery/restaurant, pizzeria and cinema. The positive development reflects Antilooppi's desire to improve not just its properties but also the surrounding urban areas. The company has a significant property holding in districts such as Hakaniemi, where the freshly renovated Siltasaari 10 building has gained a reputation as a popular hub of offices and restaurants.
"We strongly invest in the diverse services available at our properties, which benefit both our tenants and local residents. This new restaurant is the missing piece of the puzzle in the already fabulous restaurant offering at Merikortteli," Maarit Kivelä, Asset Manager at Antilooppi, says.
"Aihinen's and Kolu's new restaurant is an extremely welcome addition. This top-notch restaurant will also be an excellent complement to the local lunch offering. The two owners are sterling restaurant professionals," Associate Director Tero Nyström says.
Read more about Antilooppi's Merikortteli property and its broad range of services here.
Yhteyshenkilöt
Kape Aihinen
Tel. +358 40 504 3780

Olli Kolu
Tel. +358 40 509 8811

Tero Nyström, Food & Beverage, Retail, Associate Director, Business Development
Antilooppi
Tel. +358 50 427 3889


Maarit Kivelä, Asset Manager
Antilooppi
Tel. +358 50 390 0337

Tietoja julkaisijasta
Antilooppi is a sustainable real estate owner that focuses on office properties in the Helsinki Metropolitan Area. We own, develop and manage work environments sustainably and over the long term to enable the success of our customers and wellbeing in the workplace. We create innovative and flexible space solutions for changing working life, based on customers' needs and operations. We understand that success is created by happy and healthy employees, and are aware of how spaces, the surrounding environment and its services can have an impact on people well-being. We focus on maintaining and developing already existing properties sustainably, extending the life cycle of buildings. Properties always have a close connection to their immediate surroundings – it is especially important for us to develop not just the property, but also its services and the surrounding areas.
Tilaa tiedotteet sähköpostiisi
Haluatko tietää asioista ensimmäisten joukossa? Kun tilaat tiedotteemme, saat ne sähköpostiisi välittömästi julkaisuhetkellä. Tilauksen voit halutessasi perua milloin tahansa.
Lue lisää julkaisijalta Antilooppi
Uutishuoneessa voit lukea tiedotteitamme ja muuta julkaisemaamme materiaalia. Löydät sieltä niin yhteyshenkilöidemme tiedot kuin vapaasti julkaistavissa olevia kuvia ja videoita. Uutishuoneessa voit nähdä myös sosiaalisen median sisältöjä. Kaikki tiedotepalvelussa julkaistu materiaali on vapaasti median käytettävissä.
Tutustu uutishuoneeseemme