A new functionally bilingual nursing education model takes part in solving skills shortages in Finland
There is a shortage of nurses in Finland. A functionally bilingual education model (TOKASA) has been developed and piloted by Metropolia and Tampere universities of applied sciences to help address country's skills shortage in the social and health sector. A new feature of the model is that international students do not need to know Finnish at the beginning of their studies. In addition for having the nursing degree, the model supports students' Finnish language learning, employment, and integration into Finnish society.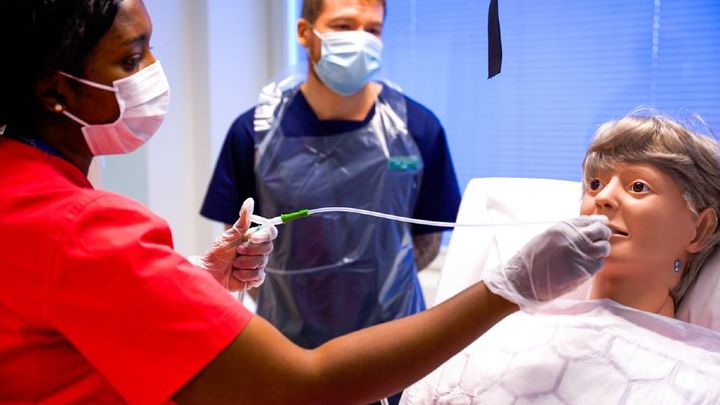 The aim of this higher education is that a graduated student will master the Finnish language so that he or she can operate at the level of language proficiency required by the nursing profession.
Finnish language learning is included in the studies and internships
In the model, students learn Finnish language both as part of their studies and as part of practical training that promotes their professional skills. In addition, the curriculum includes 20–23 credits of Finnish language studies. In learning situations, language is genuinely seen as an enabler of interaction and understanding between people.
For students with an immigrant background, it makes sense to study for a profession, learn Finnish and integrate into Finnish working life as quickly as possible. This will also generate savings for society.
"Now that Finland has a labour shortage to solve and the vision is to promote education-based immigration, we need bilingual education and sufficient funding from the state to implement it. This type of education can genuinely address the skills shortage and accelerate the transition of talent into the workforce. The model is generic; it can be partially or fully implemented in any field of education," says Hanna Repo Jamal, Lecturer in Nursing and Project Manager at Metropolia University of Applied Sciences.
TOKASA has attracted and selected highly motivated students from all over the world
The role of higher education institutions is also to support international students socially; to help them integrate into Finnish culture and find employment in Finland more quickly. Teachers praise the students' activity and motivation.
"The students are investing in learning nursing and the Finnish language because they want to work as nurses in Finland in the future. They are thirsty for knowledge and interested in developing their skills. In addition to a nursing degree, one of the most important reasons for applying for training has been the opportunity to learn Finnish during their studies. It gives the occasion to go directly into working life with the language skills required for the profession", says Sanna Laiho, Lecturer in Nursing and Project Manager at Tampere University of Applied Sciences.
The first bilingual nursing students started in spring 2022, and one of them, Sharon Adje from Zimbabwe, praises the way the course is being run. Graduation is targeted for spring 2024.
Adje says that the Finnish vocabulary of nursing is actively discussed in the lessons. In medical care, theory is studied in English and Finnish, followed by skills practice in both languages with the support of a Finnish language teacher. Internships support the development of language skills by writing instructions in Finnish.
"My employment prospects in Finland are very good and I hope to get a job in primary health care. I appreciate the opportunity to practise my language and working skills in a real, safe environment without pressure. I have also been actively encouraged to speak Finnish."
The results of the pilot show that the TOKASA training model works
The piloting, evaluation and development of the training model developed in the three-year project will continue until the end of 2024. The model is based on an evaluation study carried out in the project and on the expert opinions of subject teachers, Finnish language teachers and representatives of working life.
The aim is a permanent and dynamic qualification model for functionally bilingual degree education. According to preliminary results, it seems to work well, especially from the point of view of Finnish language learning.
"We know well the trends in education and training, so every training provider does not need to reinvent the wheel. We are already working with different universities of applied sciences. We want to make their work easier and to promote functionally bilingual education in a way that it becomes a broad part of the Finnish educational landscape", says Repo Jamal.
Presentation of the education model
The model is presented in Finnish and English at Metropolia and TAMK websites. The TOKASA project is funded by the Ministry of Education and Culture and the Ministry of Economic Affairs and Employment in Finland as part of the Talent Boost Programme. The training model will be presented at the project's webinar on 7 November, 2023.
More information
Hanna Repo Jamal
hanna.repojamal@metropolia.fi
Metropolia University of Applied Sciences
Sanna Laiho
sanna.laiho@tuni.fi
Tampere University of Applied Sciences
Tampere University of Applied Sciences
Tampere University of Applied Sciences is a multidisciplinary university for working life, responding to the changing skills needs of business and industry by providing the best higher vocational education and innovation. We work in active cooperation with the higher education community and partners in working life, in national and international networks. Our core competences focus on promoting learning, exploiting new technologies, eco-innovation, and socio-cultural challenges. TAMK has over 15 000 students and around 750 permanent staff members.