DNA surveys: Finns need more support for everyday information security
The annual Digital Life and School surveys commissioned by DNA show that Finns' interest in information security is on the rise. Increased remote working and phishing, for instance, are factors that make Finns increasingly interested in the most secure devices and connections.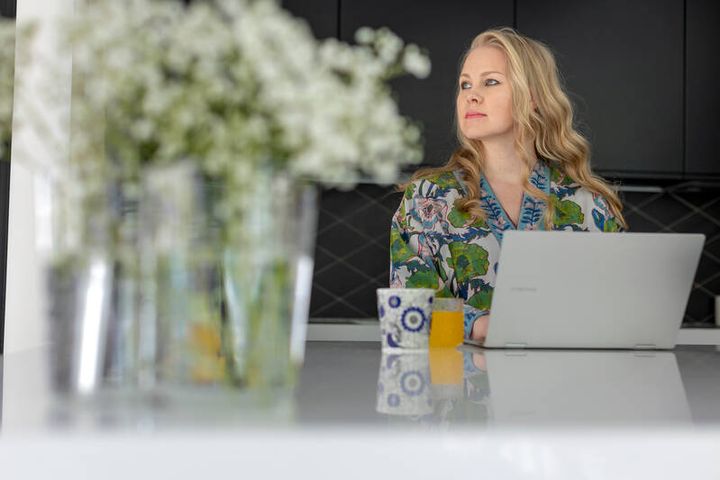 Increased remote work increases the importance of information security – including at summer cottages
The autumn holiday season is starting up again and an increasing number of people are heading off to work remotely from their cottages, even for longer periods of time. This highlights the importance of the Internet for those who long for a working environment close to nature, without compromising on connections. In addition to reliable Internet, information security solutions also become more relevant when dealing with work-related matters.
"These days, many employers don't mind where you work as long as everything gets done properly and on time. The number of scams is also still on the rise, targeting both ordinary citizens and the employees of organisations. With the increase in remote working, our customers increasingly value secure connections in addition to reliable Internet", says Cedric Kamtsan, Vice President, Mobile Business at DNA.
DNA's Digital Life study has shown how especially people under the age of 25 perceive their information about information security threats to be sufficient (75%). Although young people feel that they know enough about information security threats, they are also the most uncertain about how to protect themselves from information security threats – as many as 41 percent of people under the age of 25 said they were afraid that they did not understand what they could do to protect themselves online.
DNA has recently launched the Selausturva add-on service for its subscriptions, which both detects and blocks spyware and harmful sites. The add-on service, which was originally launched only for DNA phone subscriptions, has now been extended to mobile broadband subscriptions as well. This allows you to ensure that browsing the Internet is more secure on all devices when using the connection at your cottage, for example. The service does not require you to install a separate application on your phone; it operates on DNA's mobile network itself. When enabled, the service offers pre-emptive protection on all browsers.
"Phishing, for instance, often requires the victim to make a mistake in order to be successful, and recognising scams is not always easy as they are getting more and more sophisticated. That's why you should use solutions that provide pre-emptive protection. Selausturva recognises situations and scam sites that could subject customers to things like phishing and blocks access to those sites automatically", Kamtsan says.
DNA Selausturva has two levels of filtering for customers to choose between: security threats and security threats and harmful content. The latter option allows you to do things like preventing children from seeing sites with adult entertainment or violent content.
"As a parent, it can be challenging to find a balance in how much you should interfere with your child's phone use. The Selausturva service can alleviate these worries by providing increased protection against the child being exposed to harmful content online", Kamtsan says.
For more comprehensive support for limiting devices than that provided by the Selausturva add-on service, DNA offers the Digiturva service which includes, for example, a more comprehensive information security package and the possibility to limit applications and their usage time.
More information on the DNA Selausturva add-on service: www.dna.fi/tuki-selausturva
More information on the DNA Digiturva service: www.dna.fi/tietoturva
More information on DNA's surveys: https://corporate.dna.fi/tutkimukset-ja-artikkelit/tutkimukset
Media Inquiries:
Cedric Kamtsan, Vice President, Mobile Business, DNA Plc, tel. +358 (0)44 906 2377, cedric.kamtsan@dna.fi
DNA Corporate Communications, tel. +358 44 044 8000, viestinta@dna.fi
DNA is one of the leading telecommunications companies in Finland. Our purpose is to connect you to what matters most. We offer connections, services and devices for homes and workplaces, contributing to the digitalisation of society. Already for years, DNA customers have been among the world leaders in mobile data usage. DNA has about 3.6 million subscriptions in its fixed and mobile communications networks. The company has been awarded numerous times as an excellent employer and family-friendly workplace. In 2022, our total revenue was EUR 997 million and we employ about 1,700 people around Finland. DNA is a part of Telenor Group, a leading telecommunications company across the Nordics. More information: www.dna.fi, Twitter @DNA_fi, Facebook @DNA.fi and LinkedIn @DNA-Oyj.