A bike messenger from Kallio Library will be making exercise equipment home deliveries starting from 8 July
Helsinki City Library is implementing a summer campaign, in which a bike messenger will be delivering exercise equipment borrowed from the library home to people at highest risk from coronavirus. Customers may borrow pedometers, dumbbells, ankle weights, walking poles, press-up handles, pilates balls, balance pads, and exercise and resistance bands. The bike messenger service is available 8 July–28 August.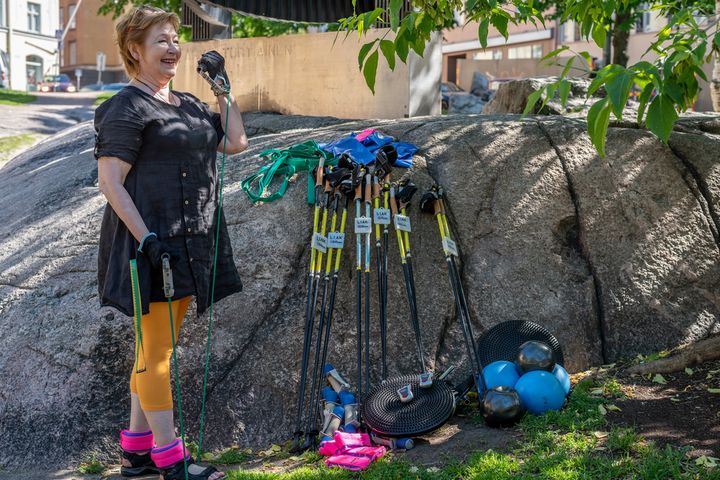 You can order exercise equipment by calling or sending an email message to Kallio Library. The bike messenger service is available at least in the Munkkiniemi, Kallio, Oulunkylä, Pasila and Viikki areas and central Helsinki. You can ask whether the messenger will deliver to your address by contacting Kallio Library.

The service is intended for customers who have a difficult time exercising during the coronavirus pandemic. The service aims to ensure that those at risk also have the opportunity to borrow exercise and sports equipment from the library. We hope that the messenger service reaches customers that have not used the exercise equipment borrowing service previously or have been unable to use the service.

The equipment is loaned for two weeks at a time, after which the messenger collects the equipment and brings it back to the library. The safety of using the equipment is ensured through disinfecting all equipment between uses and the staff handling it with gloves on. Messengers wear disposable gloves and surgical masks when they meet customers at their door.

The library's bike messenger service is one of the ten winners of the 'Kesätöitä kiertotaloudesta' (circular summer jobs) ideas competition organised by the Finnish Innovation Fund Sitra. The competition was held to find projects that would promote circular economy in the summer of 2020 and provide summer jobs for young people or other jobseekers. The winning projects could use Sitra's funding to hire a summer employee to realise the project.
Contacts
Kallio Library
09 310 85953
anna.tykkylainen@hel.fi

Images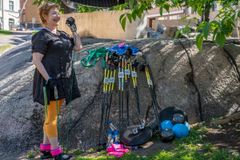 About Helsingin kaupunki, kulttuurin ja vapaa-ajan toimiala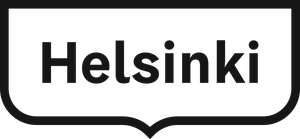 Helsingin kaupunki, kulttuurin ja vapaa-ajan toimiala
https://www.hel.fi/kulttuurin-ja-vapaa-ajan-toimiala/fi/
* * *
Helsingin kaupunginkirjasto on Suomen suurin yleinen kirjasto ja hoitaa myös yleisten kirjastojen valtakunnallista kehittämistehtävää ja Kirjastot.fi-verkkopalveluja.

Helmet on pääkaupunkiseudun kaupunginkirjastojen kirjastoverkko - Helsinki Metropolitan Area Libraries. Siihen kuuluvat Helsingin, Espoon, Vantaan ja Kauniaisten kaupunginkirjastot.