Amcham Finland Announces Six New Members to Join Board of Directors
Additions include Rolf Ladau, Paulig CEO; Austin Vance, Yousician COO; and Patricia Drake, MSD Finland CEO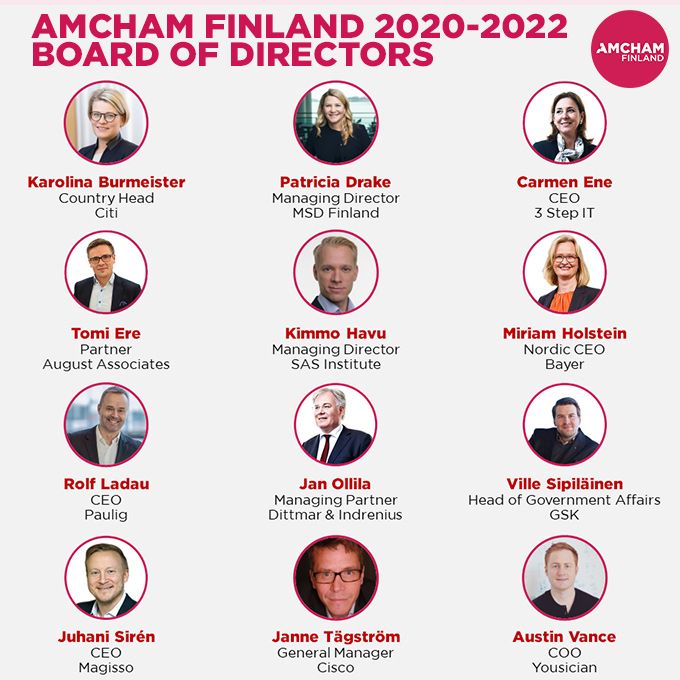 Helsinki, FI – Amcham Finland, the leading transatlantic-focused business association and the voice of international business in Finland, announced today the addition of Rolf Ladau, Chief Executive Officer, Paulig; Austin Vance, Chief Operating Officer, Yousician; Patricia Drake, Managing Director, MSD Finland; Karolina Burmeister, Country Officer and Head of Corporate Banking, Citi; Janne Tägtström, Managing Director Finland & Baltics, Cisco; and Kimmo Havu, Managing Director, SAS Finland & Baltics, to the Amcham Finland Board of Directors. These appointments increase Amcham's Board of Directors to 12.
"The seniority and diversity of our board slate 2020-2022 brings the passion, energy, and expertise we need to lead Amcham Finland forward into a new era," said Alexandra Pasternak-Jackson, Amcham CEO."The extraordinary professionals on this board were chosen for their commitment to Finland and their highly constructive attitudes."
New additions were selected to serve alongside an already impressive list of Finland's business influencers. Continuing members of the board are: Carmen Ene, CEO, 3 Step IT; Miriam Holstein, Nordic CEO, Bayer; Jan Ollila, Managing Partner, Dittmar & Indrenius; Juhani Sirén, CEO, Magisso; Tomi Ere, Partner, August Associates; and Ville Sipiläinen, Government Affairs Director, GSK.
Rolf Ladau, CEO of Finnish food-industry corporation Paulig, is excited about guiding an organization that already provides tangible benefits to his company. "I have first-hand experience of the concrete value that Amcham can bring to a business. Now, more than ever, is the time to reinforce transatlantic bridges and prepare for future growth, and Amcham can play a key role in facilitating that."
Having recently moved to Finland from America, Yousician COO Austin Vance is thrilled to support goals he identifies with, whichare growing community, connectivity, and commerce between Finland and the United States.
Echoing her support for the mission, MSD Finland CEO Patricia Drake said, "Multinational companies need a favorable operating environment to grow and succeed, which is also great for Finland´s economy and employment.  Amcham supports that endeavor, and I´m pleased to help progress their agenda."
About Rolf Ladau
Rolf has extensive marketing and business experience from some of the leading international FMCG companies in the world. Before his current position, he was Managing Director of Fazer Confectionery, and he worked for more than seven years in leading international marketing and commercial positions within the Coca-Cola Company. Prior to this, he has also worked for Procter&Gamble, Gillette, the Kellogg Company and Unilever. He has studied Business Administration at the Turku School of Economics, and he has lived and worked in six different countries spanning Europe and NorthAmerica.
About Austin Vance
Austin is Chief Operating Officer at Yousician, a Finnish interactive music service to learn and play a musical instrument. Before his role at Yousician, Austin held positions in marketing, brand development, and strategy at global companies such as Under Armour, eBay and Live Strauss & Co. He received his Bachelor of Arts in History from Syracuse University in New York, and he received an MBA from Stanford University in California.
About Patricia Drake
Patricia (Pattie) Drake has spent her entire professional career at MSD (known as Merck & Co., Inc. globally). She has progressed her career through sales, marketing, strategy and operations functions, predominantly in the United States, but also throughout Latin America and Canada. Known as an excellent communicator and passionate, authentic leader solely focused on organizational success, Pattie has been the Managing Director of MSD Finland Oy for nearly 2 years.
About Karolina Burmeister
Karolina is the Citi Country Officer and Head of Corporate Banking in Finland since December 2019. She joined Citi in 2018 as a senior coverage banker. Prior to joining Citi, Karolina worked at OP Financial Group, a local bank and insurance company, in various corporate and investment banking roles for 20 years. Karolina was born in Helsinki, Finland, and she holds a Master's degree in International Finance from Hanken School of Economics in Helsinki. She is also a Certified European Financial Analyst (CEFA).
About Janne Tägtström
Janne Tägtström has 12 years of technical and management experience at Cisco Finland & Baltics. Janne previously served as Chief Technology Officer and Expert, and he was appointed CEO of Cisco Finland and the Baltic region in early 2020. Throughout his tenure at Cisco, Tägtström has played a strong role in implementing the strategy and building new as-a-service solutions. In addition, he has helped clients take advantage of new innovative business solutions.
About Kimmo Havu
Kimmo Havu is currently the Managing Director for SAS Finland & Baltics. In this role Kimmo leads SAS' business which aims at helping organizations improve their business and operations by making better decisions through data, analytics and artificial intelligence. Kimmo is also responsible for SAS' business with the banking sector in the Nordic market. Previously, Kimmo has held various leadership positions at IBM both on the Nordic level and locally in Finland, and during an assignment at IBM Europe headquarters in Madrid, Spain. Kimmo has an M.Sc. in Economics from Aalto University and has taken complementary professional education at Boston University, INSEAD and London Business School.
About Amcham Finland
Amcham Finland is a transatlantic-focused non-profit business association for senior decision-makers, ensuring that the voice of international business is heard in Finland, and helping Finnish companies succeed in the U.S. market. Amcham Finland promotes policies that encourage foreign direct investment (FDI), and articulates the issues and ideas that emanate from the international business community.
Subscribe to releases from Amcham Finland
Subscribe to all the latest releases from Amcham Finland by registering your e-mail address below. You can unsubscribe at any time.
Latest releases from Amcham Finland
In our pressroom you can read all our latest releases, find our press contacts, images, documents and other relevant information about us.
Visit our pressroom