Another successful demo event for boats in Helsinki, Finland
The second annual Suomiveneilee.fi ("Finland goes boating") demo event for boats was held 5–6 June in Lauttasaari, Helsinki. The growing popularity of boating this spring was clearly visible, and among the visitors were both those who were getting acquainted with boating for the first time and especially those who were planning to buy a boat right now.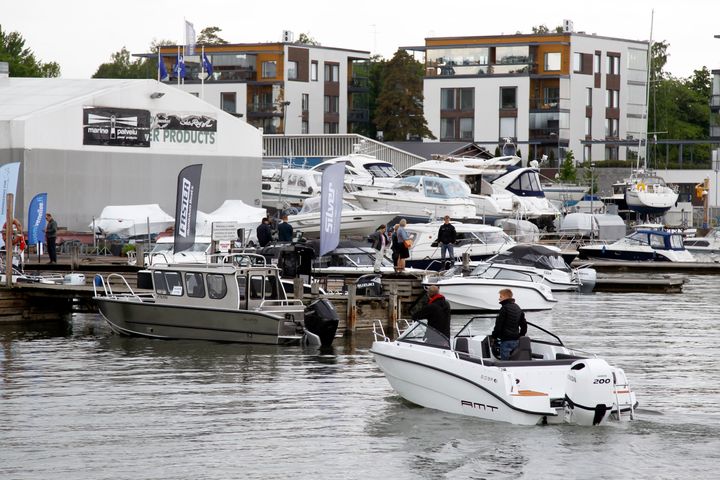 Over two days, on Friday and Saturday, over 700 visitors completed almost 300 test runs with around 30 boats. Although the rainy weather on both mornings may have kept some prospective boaters away, those who were serious about buying a new boat were not put off. When the sun came out on both afternoons, there were even short queues on the piers with visitors waiting for their test runs.
"There was clearly demand for this kind of event in these exceptional times: people are increasingly interested in boating, and this demo event provides an excellent opportunity for them to view and test different boats at the same time," says Jarkko Pajusalo, CEO of the Finnish Marine Industries Federation Finnboat, which coordinated the event.
"Prospective buyers were active right from the start of the event and were not put off by a little rain. Friday afternoon was even busier, as the weather improved and people came to the event after work. Visitors were impressed by the wide range of boats available for test runs, and 6- to 8.5-metre day cruisers were particularly popular," says Erkan Fere, Managing Director of Bike & Boat World.
Jointly organised by a group of boating industry players in Finland, the event presented many different sizes and types of boats, from small boats with outboard motors to luxury electric boats and even catamaran yachts.
Growing popularity of summer cottages and boating clearly visible
The growing popularity of summer cottages and boating was reflected in the number of visitors who wanted to test the boats. The event attracted many groups of friends and entire families, especially on Saturday. While some of the visitors were just becoming acquainted with boating, most visitors were clearly considering buying a new boat. Some groups were also interested in buying a new boat together.
"A surprisingly high percentage of visitors, perhaps 75 per cent, were interested in buying a new boat right now. We also had visitors who were new to boating and had just purchased a new summer cottage that could do with a boat. Especially on Saturday, entire families came to see and test our boats," says Mikael Winqvist, Managing Director of AMT Boats.
"It was clear that people were ready to invest the money they would have spent on traveling abroad this summer on a new boat instead. Small and medium-sized boats for summer cottages are in particularly high demand right now. Purchases of larger boats over 9 metres have been somewhat postponed this spring, but over the weekend even these boats found buyers," Erkan Fere adds.
Many visitors thanked for the opportunity to try different boats and ask questions related to boating.
"Some of the visitors were boating for the first time, so we instructed them on the basics – everything from starting the boat to changing gears and using the throttle. Not many places allow you to test boats, so for many newcomers, this was a great chance to try boating, compare different models and find the one that best suits their needs," Mikael Winqvist continues.
Outdoor event appropriate in the circumstances
The demo event was held outdoors across a wide area, making it easy to maintain safe distances. Visitors were also offered disposable gloves and masks to protect themselves. Boats were made available to visitors one group or family at a time, and operators were instructed to clean the railings, steering wheel and controls in between tests. The cabins of larger boats were also disinfected with hydrogen peroxide in between test days.
"Thanks to the large size of the area, we were able to avoid congestion. Some short queues formed on Saturday, as we did not want to put more than one group at a time in each boat, even if it was big enough to do so. Safety is always paramount, so we made sure to maintain a safe distance between visitors at all times," Jarkko Pajusalo confirms.
The event was organised by the Finnish Marine Industries Federation Finnboat and the Finnish Marine Retailers' Association together with the Helsinki International Boat Show and numerous Finnish boat manufacturers and importers. In addition, the boating companies based on Veneentekijäntie in Lauttasaari also played an important role, organising their traditional season kick-off events at the same time.
Helsinki Boat-Afloat Show in August
The next major boating event in Finland takes place at the end of the active boating system in mid-August, when the Helsinki Boat-Afloat Show will be held at the HSK yacht club in Lauttasaari. More than a hundred exhibitors have already registered for the event, which traditionally includes unveilings for the next model year. The Helsinki Boat-Afloat Show will take place from 13-16 August 2020 if permitted by restrictions at that time.
About Finnboat
Finnboat
Käenkuja 8 A 47
00500 Helsinki
http://www.finnboat.fi/
Finnboat on maamme venealan teollisuuden ja kaupan toimialajärjestö. Finnboatin jäsenkunta vastaa lähes sataprosenttisesti alan kotimaan liikevaihdosta ja Suomen veneviennistä. Sivulta www.suomiveneilee.fi löydät nopeasti ajan tasalla olevat tiedot jäsenyritysten uusista ja käytetyistä veneistä ja moottoreista sekä tarvikkeista ja muista palveluista.