Australia's longest EV highway to feature Kempower rapid charging technology
JET Charge will supply 42 Kempower C-Stations along the new EV highway in Western Australia. Stretching for more than 5,300 kilometers, the project is one of the world's longest single EV infrastructure projects. Once the EV highway is completed, drivers will be able to access 98 EV chargers spread across 49 locations, at no more than 200km apart.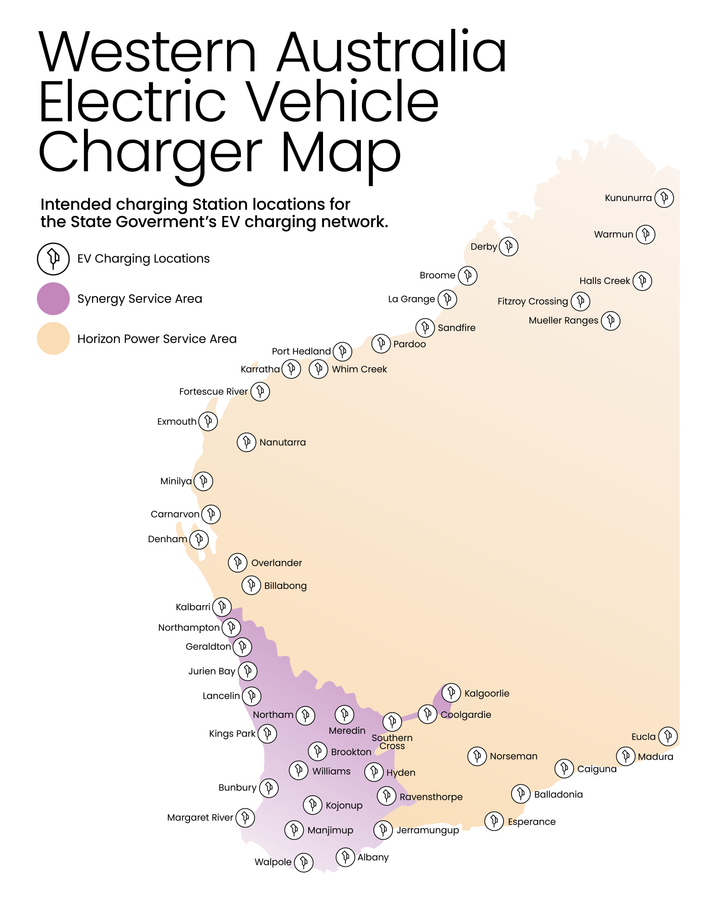 PERTH, AUSTRALIA – Rapid DC chargers from Kempower will be installed along Australia's longest EV highway, which has been given the green light by the Government of Western Australia. JET Charge, Australia's largest EV charging infrastructure specialist, has been chosen as the charging hardware solution provider for the project, which is set to extend for over 5,300 kilometers across Western Australia.
The EV highway is part of the McGowan Government's AU$21 million Electric Vehicle Fund and delivers on the State Electric Vehicle Action Plan for Western Australia. The State Government is delivering the highway through its' energy utilities Synergy and Horizon Power. Stretching from Kununurra in the north to Albany in the south and Eucla in the east, the project will see a range of EV chargers installed at locations across Western Australia, including metropolitan and regional sites, as well as into the outback. Once the highway is completed, EV drivers will have access to 98 EV chargers spread across 49 locations at no more than 200km apart.
JET Charge has ordered 42 Kempower C-Stations, which combine a charging power unit and charging satellite into a single unit. Depending on the site, these chargers will deliver 150 kW of power dynamically to two outputs and can be upgraded up to 200 kW with four outputs. JET Charge selected the Kempower C-Station for the EV highway project due to its robust design, dynamic power management, high voltage and practical driver interface experience. The modular design architecture of the Kempower C-Station also easily allows for future expansion.
Commenting on the project, Tomi Ristimäki, CEO of Kempower, said:
"We partnered with JET Charge at the beginning of this year to accelerate the Australian EV transition by supplying fast, reliable and economical charging solutions, so we're thrilled to see our technology chosen for such a massive project in the country. The new Western Australian EV highway, which is one of the world's longest single EV infrastructure projects of its kind, will ensure EV drivers can explore the state with the confidence that they can find charging infrastructure when needed, even when travelling on some of the most isolated highways in the world."
Tim Washington, CEO of JET Charge, added:
"We started JET Charge almost a decade ago to accelerate the transition to low emissions vehicles in Australia by breaking down the barriers to EV charging. We are so proud to be involved with a landmark EV charging network that features a lot of Australian-made innovation and will absolutely smash those barriers, allowing people to drive EVs all over the great state of Western Australia."
Media enquiries:
Paula Savonen, Communications Director, Kempower
+358 400 343 851
paula.savonen@kempower.com
About Kempower: 
Kempower designs and manufactures Level 3 fast charging solutions for electric vehicles and machines. We're a team of electric vehicle enthusiasts with a deep understanding of the charging market and a hands-on mentality. Our product development and production are based in Finland, with a majority of our materials and components sourced locally. We focus on all areas of transportation, from personal cars and commercial vehicles to mining equipment, boats and motorsports. With Kemppi Group's 70 years' experience in perfecting DC power supplies, we set the bar high in engineering and user-experience design. Kempower is listed in the Nasdaq First North Growth Market Finland.