CANCELED: Global Travel Restart 2021: Press Conference 25 August 2021 at 8.30 AM
**Global Travel Restart and the press conference have been canceled because of the meeting restrictions.** The Association of Finnish Travel Industry (SMAL) in cooperation with MATKA Nordic Travel Fair will organize the Global Travel Restart 2021 event on 25 August 2021 at Messukeskus Helsinki. The event will review international travel this autumn and upcoming winter and evaluate the prerequisites for travel around the world. The event brings together a number of top names in international tourism in a unique way. At the beginning of the Global Travel Restart we will organise a press cenference, to which you are warmly welcome.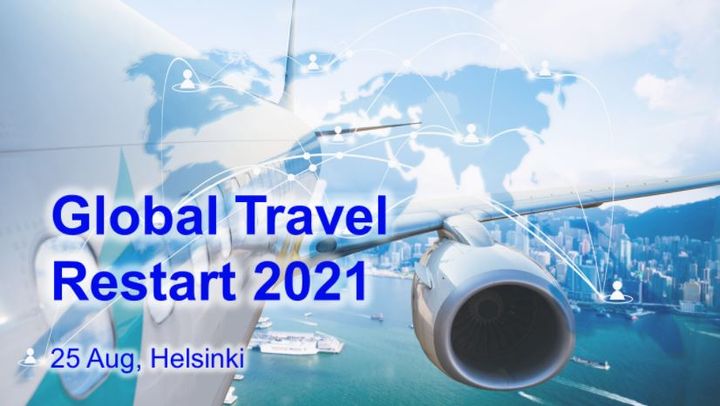 The event starts on 25 August at 8.30 AM at Messukeskus Siipi in Congress Hall 101 (Messukeskus Siipi entrance, street address Rautatieläisenkatu 3).


At the press cenference, Chairman Anne-Marjut Väänänen and Managing Director Heli Mäki-Fränti of the Association of Finnish Travel Industry as well as Lumia Ankkuri, Business Manager of MATKA Nordic Travel Fair, will cover the event and give background information about the day's key themes. After this, media will have the opportunity to ask questions from the event organisers as well as from the event introducers and panelists who will also be present.
Please accredit to the event in advance latest by 24 August 2021 at 12 noon: Accreditation >>
The official part of the media event ends at 9 AM, after which you will have the opportunity to private interviews with the event performers. If you want to secure an interview with a specific expert, please notify us in advance by email: jenni.kemppainen@smal.fi.
The press conference will be organized live and we hope to meet you face to face! However, you can also participate in the Global Travel Restart event virtually. Therefore, we will also send a link to the event to all pre-accredited before the start of the programme.
More information about the event:
Heli Mäki-Fränti, Managing Director, Association of Finnish Travel Industry SMAL, +358 40 575 1303
Anne-Marjut Väänänen, Chairman, Association of Finnish Travel Industry SMAL, +358 41 522 2322
Lumia Ankkuri, Business Manager, MATKA Nordic Travel Fair, +358 50 387 0023
Global Travel Restart programme and speakers 25 August 2021
There will be three different expertise panels at the event, consisting of respected international leaders. The presentations of the panelists can be read at www.smal.fi/restart. The themes and speakers of the panels are:
Opening presentation
Mrs. Elsi Katainen, Member of the European Parliament
Aviation – Reconnect the World
Mr. Rafael Schvartzman, IATA Regional Vice President, Europe
Mr. Ole Orvér, CCO, Finnair
Mr. Gijs van Popta, GM North Europe, Air France KLM
Mr. Svend Leirvaag, VP Industry Affairs, Amadeus
Mr. Juha Järvinen, CCO, Virgin Atlantic
Mr. Paul Starrs, SVP Western Region, Qatar Airways
Destinations – Rediscover the World
Mr. Eduardo Santander, Executive Director of European Travel Commission
Mr. Roger Dow, President and CEO of U.S Travel Association (video greeting)
Mr. Neale Herridge, Group GM ATS Pacific, Australia and New Zealand
Mrs. Alexandra Wolframm, Strategic Advisor for European and Legal Affairs, German Tourism Association
Mr. Julio Jiménez, Ministry of Tourism of the Government of Spain
Mrs. Kristiina Hietasaari, Senior Director, Visit Finland
Services – Reset the Cooperation
Mr. Pawel Niewiadomski, Chairman ECTAA
Mr. Benjamin Bouldin, VP Royal Caribbean International
Mr. Carsten Østberg, Regional Managing Director – Europe, CIBTvisas
Mr. Ian Chapman, Chief Operations Officer at TUI Musement, Tours & Activities division of TUI Group
Mr. Dimitris Manikis, President for Europe, Middle East, Eurasia and Africa (EMEA), Wyndham Hotels & Resorts
Mr. Anders Kjong, President Europe – WebBeds
Contacts
Heli Mäki-Fränti, Managing Director, Association of Finnish Travel Industry SMAL, +358 40 575 1303
Anne-Marjut Väänänen, Chairman, Association of Finnish Travel Industry SMAL, +358 41 522 2322
Lumia Ankkuri, Business Manager, MATKA Nordic Travel Fair, +358 50 387 0023

About Messukeskus

Messukeskus
Messuaukio 1
00520 HELSINKI
+358 40 450 3250
http://www.messukeskus.com
Messukeskus on ihmisläheinen media ja turvallisuudestaan palkittu tapahtumatalo, joka luo kasvua aitojen kohtaamisten kautta. Suomen suurin tapahtumajärjestäjä tuottaa laadukkaita tapahtumia sekä vuokraa tilojaan ja palvelujaan live-, hybridi- ja virtuaalitapahtumien areenaksi. Messukeskuksen tapahtumissa vieraili vuonna 2019 1,1 miljoonaa vierasta. | Messukeskus – sata vuotta tapahtumien keskipisteessä | www.messukeskus.com | #messukeskus | twitter.com/messukeskus 
Messukeskus Helsinki, Expo and Convention Centre, creates growth through encounters. We are the largest event organiser in Finland producing or hosting 50 exhibitions and one thousand meetings and congresses with 1,1 million visitors annually. We provide a perfect venue with 7 adaptable halls, 40 conference spaces, the 4,400-seater Amfi Hall auditorium, 21 restaurants, a fully renewed event hotel, and all event services, including live, virtual and hybrid events. | Messukeskus – A century in the centre of events | www.messukeskus.com | #messukeskus