Data and AI key to Finland's success – new network outlines ways to boost data economy
Finland has some catching up to do in the transition to data-driven economy. The new national Roadmap for a Fair Data Economy shows the direction and measures to be taken to advance the well-being, green transition and competitiveness of Finland through the use of data.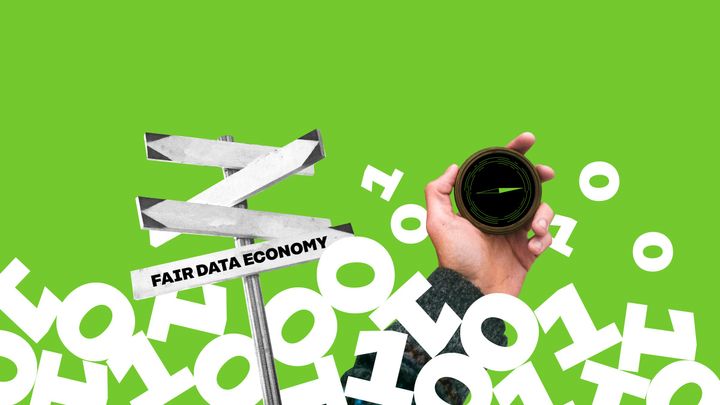 Data and AI can help improve the quality, efficiency and accessibility of public services and boost economic growth. However, Finland still has to overcome a number of hurdles in making the most of our good data assets.
The aim of the new national Roadmap for a Fair Data Economy launched by Sitra is to accelerate the building of a data-driven economy and society and to show the direction and measures. As economic growth slows, business life and public finances need better labour productivity.
Snapshot and databank of data economy
"Here we have a tool for Finland to seize the opportunities of the data economy. It provides an up-to-date snapshot and a comprehensive databank on developments in the data economy. It also shows a common direction and indicates the measures required for change," says Laura Halenius, Project Director at Sitra.
The roadmap work has identified the priority areas where changes need to be made in Finland for the fair data economy to progress. These include business transformation, developing human-centred services, skills and funding models, and bolstering the data economy infrastructure and data economy advocacy in the EU.
"Data can benefit us in many ways, which is why its use should also be at the centre of the government negotiations," says Kristo Lehtonen, Director of the Fair Data Economy theme at Sitra.
The network involved in the roadmap proposes a strategic programme of change that spans government terms to utilise the potential of digitalisation, the data economy and AI and, among other things, to combat cyber threats. In order to assist those involved in negotiations on forming the next government, the network has listed 3+1 inputs to support the reform of the Finnish economy with data.
The steering group of the extensive roadmap network included, in addition to Sitra, the Confederation of Finnish Industries, Technology Industries of Finland, Federation of Finnish Enterprises, Business Finland, VTT Technical Research Centre of Finland, Association of Finnish Local and Regional Authorities, Ministry of Transport and Communications, Ministry of Economic Affairs and Employment, Ministry of Finance and Ministry of Education and Culture. They are committed to renewing Finland through the use of data.
From digital product passports to revamping social welfare and health data use
The roadmap network has launched more than 20 reforms to accelerate the building of a data-driven economy.
For example, the green transition is being advanced by piloting digital product passports in partnership with companies. Digital product passports provide consumers with information on product use, maintenance, raw materials and recycling. They improve transparency, collect data on sustainability and can facilitate the circular economy.
In the social welfare and healthcare sector, the potential of the better use of health data and circulation of data among different entities for Finnish healthcare, research and companies operating in the sector is being explored.
Business transformation is also being supported through various change programmes, such as Business Finland's Data Economy programme, which provides companies with up to EUR 135 million to boost challenging data economy development projects. Peer examples on data utilisation are also being compiled for companies.
"Practical examples help in seeing how data can reform business and public services. At Sitra, we have opened a call for applications for the new most interesting data economy companies list, for which we are looking for pioneering solutions, meaning products, services and operating models in which data is used in an impactful and fair way," says Halenius.
Databank to help monitor data economy development
The Data economy snapshot databank collates previously unavailable aggregated information on the progress of data economy in Finland and in relation to the EU. Companies, the public sector, educational institutions and other operators need a more accurate and predictive view of data economy trends to better plan and develop their activities and capacities.
Data is one of the most valuable raw material of the future that will significantly transform all sectors. The commercialisation of data in the EU is estimated to have grown at an annual rate of up to 30% in this decade. In Finland, though, the growth rate is projected to reach only half of this. When data is being commercialised, it is used to generate economic benefits.
The slower growth may be an indication of the lack of capacity of Finnish companies to operate in the data economy and create value from data in the form of services, products or market exchanges.
Kristo Lehtonen believes that the roadmap can inspire many operators to seize data-related opportunities.
"Companies using data in their business have reported increased productivity and profitability. But there is no time to lose, as our competitors have also woken up to the potential of data."
Sitra has invited more than 700 professionals from the public, private and third sectors to participate in the roadmap work. The launch of the national Roadmap for a Fair Data Economy will take place at Sitra (Itämerenkatu 11–13) and online on Wednesday, 19 April at 13.30. Sign up to participate.
Further information
Kristo Lehtonen, Director, Fair Data Economy theme, Sitra
kristo.lehtonen@sitra.fi, tel. +358 40 803 2638
Laura Halenius, Project Director, the Roadmap for a Fair Data Economy project, Sitra
laura.halenius@sitra.fi, tel. +358 29 461 8303
Johanna Kippo, Specialist, Communications and Public Affairs, Sitra
johanna.kippo@sitra.fi, tel. +358 29 461 8220
About Sitra

Sitra
Itämerenkatu 11-13, PL 160
00180 HELSINKI
0294 618 991
http://www.sitra.fi
Sitra is a future fund that collaborates with partners from different sectors to research, trial and implement bold new ideas that shape the future. Our aim is a Finland that succeeds as a pioneer in sustainable wellbeing.