DNA to again host a televised summer concert at SuomiAreena
DNA, the main partner of SuomiAreena, continues from previous years in arranging an impressive summer concert at the event. Held in Pori on Wednesday, 18 July, performers in the concert will include Finland's top artists Pete Parkkonen, Jonna Tervomaa ja Olavi Uusivirta. The event will also be televised.
For the fifth year, DNA is the main partner of SuomiAreena, held between 16-20 July 2018, and will provide extensive telecommunications connections for the event. As in previous years, DNA will also provide SuomiAreena with its own TV channel, SuomiAreenaTV*. DNA will also install large screens at key locations in the centre of Pori to allow the public to follow the SuomiAreena events.  
Top evening entertainment in Pori and for all TV viewers
"As part of our partnership with SuomiAreena, we also held our traditional summer concert at last year's event. On that occasion, the concert turned out an all-time success, with almost 9,000 people in attendance and some 200,000 TV viewers. We want to continue this tradition and organise a similar concert at this year's event. Delightfully, MTV has also announced that it will again broadcast the summer concert for all television viewers in prime time on Saturday night, right after the event," says Vilhelmiina Wahlbeck, Vice President of DNA's Corporate Communications.
The DNA summer concert will be held on the SuomiAreena Purje stage in Raatihuoneenpuisto, Pori on Wednesday, 18 July at 6:30 pm. Entertainment at the summer concert will be provided by top Finnish artists Pete Parkkonen, Jonna Tervomaa and Olavi Uusivirta. The event will be hosted by comedian Jaakko Saariluoma and Vilhelmiina Wahlbeck, Vice President of Corporate Communications at DNA.
DNA's concert "Tähdet Porin illassa" ("Night with stars in Pori") will be broadcast live on the SuomiAreenaTV channel on 18 July. The recorded event may also be viewed on the MTV3 channel on Saturday, 21 July at 8 pm.
DNA will also feature smart homes and a discussion panel hosted by Roope Salminen in Pori
In addition to the summer concert on Wednesday, DNA will arrange a public discussion panel in Antinkatu 5 hosted by Roope Salminen on Tuesday 17 July at 13. The smart home and 5 generations event peeks into the future of home life. Tech YouTuber Miska "MKVD" Kytö, Mamma rimpuilee blogger and podcast host Laura Satamo, digital influencer Jyrki Kasvi, nettimuori ("Internet granny") Marjatta Laine and telecommunications visionary Pekka Väisänen from DNA join the discussion with Roope Salminen on what kinds of new smart devices would be the most useful for their homes.
Throughout the SuomiAreena week, DNA will also showcase its vision of the future development of living and home services at its DNA Smart Home booth at the SuomiAreena Kansalaistori, next to the MTV main stage.
Further information:
Vilhelmiina Wahlbeck, Vice President, Corporate Communications, DNA Plc, tel. +358 (0)44 040 1671, vilhelmiina.wahlbeck@dna.fi
DNA Corporate Communications, tel. +358 (0)44 044 8000, viestinta@dna.fi
*You can find SuomiAreenaTV on channel position 265 in the DNA and Finnet cable TV networks and on channel position 29 in terrestrial network. The channel positions will be available on these networks starting from week 24, and actual broadcast will begin one week before the SuomiAreena event. Most television sets and set-top boxes will find the channel automatically. If not, run the channel search again. To view this channel, you need a T2 receiver, recognisable by the Antenna Ready HD label, in the terrestrial network, and a Cable Ready HD labelled receiver in the cable TV network. In addition, the SuomiAreenaTV channel will be available in the DNA TV service for phones, tablets, computers and television sets, where it can be found in the channel list of live broadcasts from 9 July onwards. SuomiAreenaTV can be found also from MTV Katsomo.
Tietoja julkaisijasta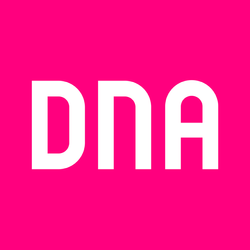 DNA Oyj
PL 10
01044 DNA
http://www.dna.fi
DNA Plc is a Finnish telecommunications group providing high-quality voice, data and TV services for communication, entertainment and working. DNA is Finland's largest cable operator and the leading pay TV provider in both cable and terrestrial networks. For DNA, the key area for growth in corporate business is the new way of working, independent of time and place, facilitated by smart terminal devices, diverse communications services and rapid connections. In 2017, DNA recorded net sales of EUR 886 million and an operating profit of EUR 124 million. DNA has more than 3.9 million subscriptions in its fixed and mobile communications networks. The Group also includes DNA Store, Finland's largest retail chain selling mobile phones. DNA shares are listed on Nasdaq Helsinki Ltd. For further information, visit www.dna.fi or follow us on Twitter @DNA_fi and Facebook.